Description

Side-by-Side Celebrity Chef Cooking Series
Presented by The Trustees
Join The Trustees for an unforgettable cooking and food experience at The KITCHEN at Boston Public Market. Cook side-by-side with celebrated Boston chefs who are committed to highlighting New England's local farmers, fishermen and artisans on their menus. The series kicks off with Chef William Kovel from Catalyst in November, Chef Matt Jennings of Townsman in December, and Chef Irene Li of Mei Mei in January. Sign up for this rare opportunity!
Each General Ticket comes with a year-long membership to The Trustees! Use it to explore our properties around the state and receive 20-50% programming at The KITCHEN and our other locations. Couples can chooose either individual memberships or family membership.
Series Highlights:
Hands-on cooking class; attendees cook in small groups along with the chef.
Listen and learn from the masters themselves.
Four-course tasting menu made with the highest quality seasonal ingredients sourced from local farmers and food artisans from the Boston Public Market.
Intimate class size of no more than 20 people.
Local wine and craft beer pairings with each course.
Celebrity Chef Cooking Series
Chef William Kovel of Catalyst | November 11th, 6 pm-9 pm
Chef Matt Jennings of Townsman | December 9th, 6 pm-9 pm
Chef Irene Li of Mei Mei | January 20th, 6 pm-9 pm
The KITCHEN at The Boston Public Market
100 Hanover Street, Boston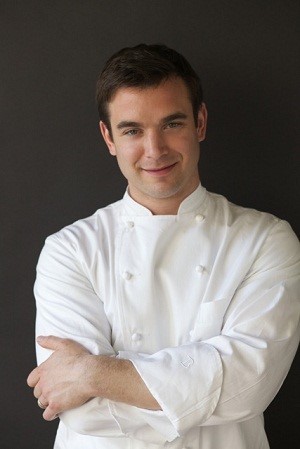 Chef William Kovel | November 11
Chef Kovel is chef/owner of Catalyst Restaurant and Catalyst Cafe in Cambridge. Catalyst Restaurant opened in 2011 with the goal of creating a restaurant that is about what the guest wants, an approach shaped by his experience working for master chefs, a Michelin-star restaurant and a five-star hotel. Chef Kovel marks his growth as a chef and restaurateur through his time at Jardinière under Chef Traci Des Jardins in San Francisco; running the kitchen as Michael Schlow's sous chef at Radius in Boston; in London as Chef de Partie at Orrery; and as Chef de Cuisine of Aujourd-hui at Four Seasons Hotel Boston. The resulting culinary style focuses on a commitment to the freshest local ingredients, an unforgiving level of attention to proper French technique and an hotelier's approach when it comes to guest satisfaction. During his tenure at the Four Seasons, Kovel was recognized by Boston Magazine as one of a talented group of "Boston's Best Young Chefs;" was honored by Chaine des Rotisseurs and achieved the AAA Five Diamond Award. Since opening Catalyst, Kovel studied and passed the first two levels of the Court of Master Sommelier exams, making him the only Boston area chef with a sommelier designation.
Cooking Class Menu:
Catalyst Curried Oyster Chowder with fresh oysters from Red's Best and Appleton Farms cream
Fall Panzanella Salad using Somerville Bread Co, seasonal vegetables from Stillman's Farm, and herbs from Cornerstalk Farm
Tournedos of Beef, Creamed Kale, Bacon, Roasted Shallot, Foie Gras Butter, Black Truffle Sauce
Cranberry-Apple Galette with Red Apple Farms apples, Amaretto Ice Cream made with Appleton Farms cream, Almond Tuile

Chef Matt Jennings | December 9
Chef Jennings hails from Jamaica Plain and Wellesley, Massachusetts. Growing up in New England and in a family who embraces the culture of food, Jennings' cooking style has been greatly affected by his surroundings. The experiences of his youth- whether tending his parent's elaborate vegetable gardens, fishing for Bluefish and Striped Bass on the Cape and Islands, cooking together in the family's coal fired oven, or making pot pie from scratch on Sunday nights, have left an indelible imprint on the sensibility of his cuisine. Matt has received multiple nominations from The James Beard Foundation for Best Chef Northeast- as well as received other significant awards. Matt has authored and been featured in national and international publications and has been on The Food Network and PBS Television Programming. He currently lives in Belmont with his Pastry Chef wife Kate, and two sons Sawyer and Coleman.
Cooking Class Menu:
Roasted Oysters from Red's Best with Parmesan Rind Zabaglione using fresh cheese from Appleton Farms
Cheddar & Squash Dumplings with vegetables from Stillman's Farm
Charred Brussels Sprouts With Lardo & Fiore Sardo
Molasses Shortcakes

Chef Irene Li | January 20
Irene Li co-owns and operates the Boston-based food truck, restaurant and shipping container enterprise collectively known as the Mei Mei Group. Founded with her two older siblings, their award-winning food businesses merge modern techniques and genre-bending creativity with sustainable practices and tech-savvy communications. Their work has been featured by Food & Wine, Eater Boston & National, The New York Times, Restaurant Hospitality, People, Bon Appetit, The Boston Globe, and more. Irene believes food can and should be delicious, fun, and just. Her background of living on an organic farm, working the restaurant line, and organizing for social justice inform her leadership of the food and sourcing elements of the company. She recently graduated from Cornell University with a BA in Food Systems and Cultural Studies, received her third consecutive James Beard Rising Star nomination, and an Eater National Young Gun award.
Cooking Class Menu:
Hand wrapped Pork dumplings with soy vinegar dipping sauce
Hand pulled noodles with Sichuan peppercorn lamb from Chestnut Farms and scallions
Braised cabbage from Stillman's Farm with miso
Caramel oranges with local caramel
Tickets – Buy all three and save!
Single Event Tickets: Trustees members $120; Nonmembers $150 (General Tickets come with a FREE Trustees membership)
Package of all THREE Event Tickets: Trustees members $320; Nonmembers: $400
About our Hands-on Cooking Classes
Our hands-on cooking classes are structured as a group learning experience; you'll work with other students to create a seasonal meal led by our professional chef instructors. We focus on learning new cooking styles and techniques to increase your confidence and enjoyment in your own kitchen. Here are a few things to know before booking a class with us:
Each class is centered on the local, seasonal farmers and artisans of the Boston Public Market, so menus may change slightly based on what's available the day of the event.
During each class, you'll learn 3 or 4 recipes, you'll work with between 4 and 5 other students to create each one, and you'll enjoy a plentiful taste of each.
Classes are usually between 2 and 3 hours long, unless otherwise noted.
Please be prepared to be on your feet, standing at a table, and cooking for the duration of class.
We recommend comfortable, non-slip, and closed-toe shoes.
Support The Trustees of Reservations, The KITCHEN, and your local food system
Proceeds from the series benefit the Trustees of Reservations and The KITCHEN. As one of the largest owners of agricultural land and the premier steward of the cultural and natural landscape of Massachusetts, The Trustees extends its leadership to transform the local food system by connecting residents and visitors back to the land and sharing the Commonwealth's collective agrarian heritage through innovative retail and educational experiences at the Boston Public Market in the heart of downtown Boston.
The KITCHEN is a community gathering place, managed by The Trustees, that is restoring the craft of seasonal cooking in Massachusetts, New England, and beyond through hands-on classes and educational experiences that celebrate the farmers and artisans of this region. Partnered with the Boston Public Market, The KITCHEN embraces a whole-food approach to eating and promotes cooking as an essential cornerstone of a sustainable food system.
Join The Trustees and receive 20%-50% off all classes, workshops, and events at The KITCHEN and all Trustees properties.
Video made by Kyle Davi.