SIDC CPE, FIMM CPD & HRDF Financial Master Class-Eternal Love & Private Tru...
Description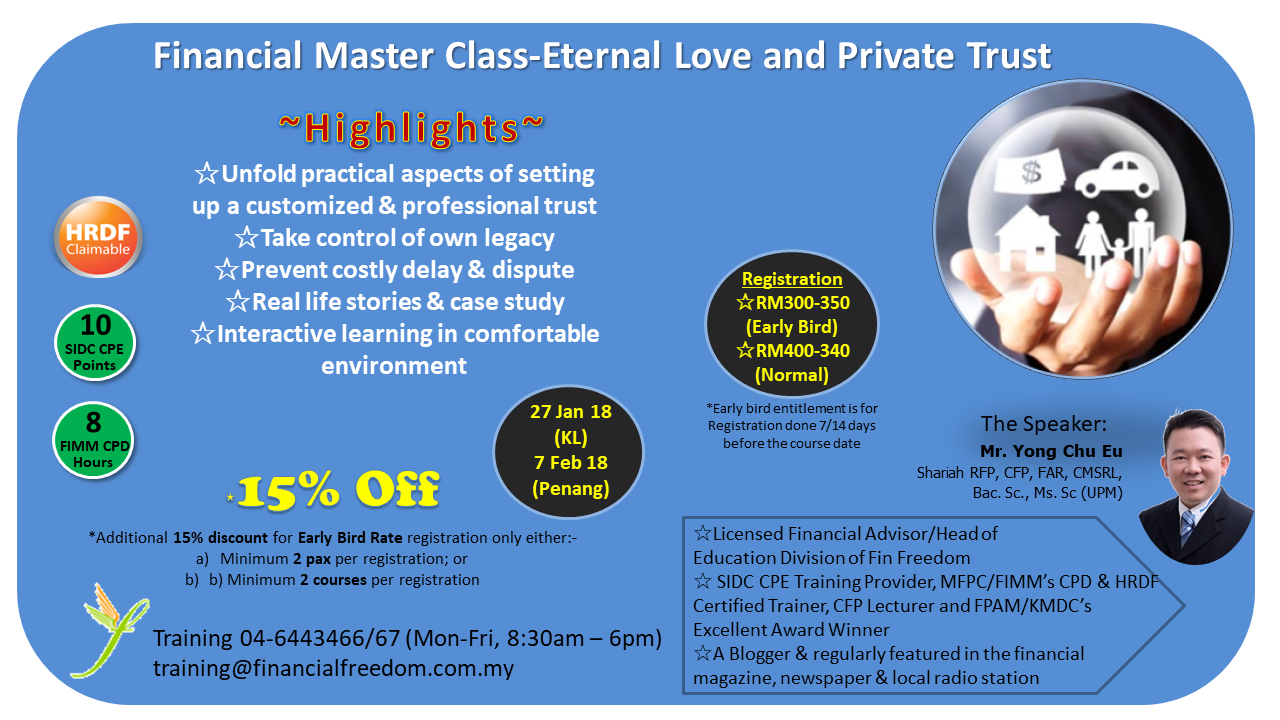 SIDC CPE/FIMM CPD/HRDF Financial Master Class-Eternal Love and Private Trust

Date: 7 Feb 2018 (Wednesday)
Time 9am-6pm
Venue: Fin Freedom Training Lounge, Penang

Highlights:
1) Unfold practical aspects of setting up a customized & professional trust
2) Take control of own legacy
3) Prevent costly delay & dispute
4) Real life stories & case study
5) Interactive learning in comfortable environment

Objectives:
Upon completion of this course, participants will be able to:
1. Employ private trust's legal knowledge, skill and its application.
2. Recognize the practical aspects of setting up a private trust.
3. Setup an effective and customized private trust to speed up the distribution and proper management of estate.

Outcomes:
Participants should be able to:
1. Plan the client's legacy left behind eternally and how it being managed without any hassle.
2. Manage well their clients' finance through professional and effective estate planning tools.
3. Manage their clients' money, family and life in a better control and balance way.
4. Guide their clients to live life to the fullest and in the same time giving and helping those
needed.

Content
1. What is trust and why is it important to have one
2. Legal requirements of a trust.
3. When do you need a trust?
4. Practical aspects of setting up a trust
5. Application of trust instruments in Estate Planning
6. Trust Operation model
7. Summary

Who Should Attend
a) Directors, Business Owners, Entrepreneurs, Managers, Team Leaders, Decision Makers who are committed to lead their team toward financial wellness and successful in career and life.
b) Financial Professionals who look for upholding their skills, professionalism and knowledge in order to serve their clients better.
Note:
1) HRDF Claimable under SBL Scheme
2) CPE / CPD point entitlement
a) SIDC CPE – 10 points
b) FIMM CPD – 8 points
c) MFPC CPD – 8 hours (only applicable for MFPC's member & subject to own application with MFPC for the CDP endorsement)
Online Registration
https://goo.gl/forms/Xket9dvyTiIK92Un1

Contact Person(s)
Training
04-6443466/6443467
training@financialfreedom.com.my
www.financialfreedom.com.my

#wealth #privatetrust #estateplanning
#CPE #HRDF #CPD #will #estate #financial #networth #legacy #financialplanning #moneymastermy #finfreedom #learning #workshop