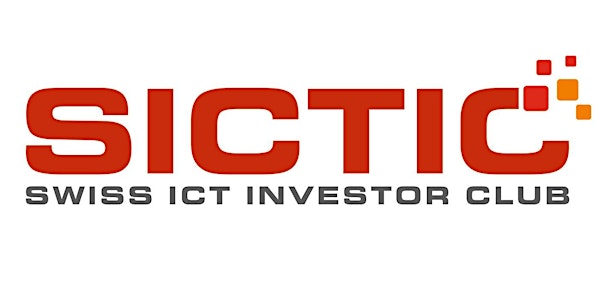 SICTIC Investor Day Lausanne
When and where
Location
Chambre vaudoise du Commerce et d'industrie Avenue d'Ouchy 47 1006 Lausanne Switzerland
Refund Policy
Contact the organizer to request a refund.
Description
8 start-ups have 90 seconds and one slide to pitch their project.
4 start-ups will be selected by the audience for an extended presentation (7 minutes).
Start-ups arrive at 16:00 at the venue location. Each start-up gets a small table (or similar) where they can set up their demos, put additional documentation, etc. They deliver their 90 seconds slide to the moderator. The voting wall is prepared: A wall with sheets labeled with the start-ups names.
The investors and supporters arrive now. They receive evaluation forms and voting points (colored self-adhesive points).
At 17:00, the official part starts. After the welcome speeches and the presentation of the innovative offering of Swiss SafeCloud for startup, each start-up will have 90 seconds time to pitch their case. The participants take notes and evaluate the short pitches. Questions are not allowed.
Here are the 8 startups that will pitch:
Teleport Ninja
New interaction paradigm in video, used for immersive virtual tours.
ShoeSize.Me
Plug-In solution for online shops to recommend the right shoe size to shoppers.
Technis
Creating the future of sports through the digitalisation of its physical infrastructures.
Prevue Medical
Easy 3D Printing Service for Doctors
ROVENSO
Agile robots for nuclear decommissioning and emergency response
Luma7
Automatic links creation between articles in the text of every page in a website according to a "distance" relationship.
Fastree3D
3d imaging sensors for autonomous vehicles, automotive driving assistance that locate and recognize fast moving objects in real-time.
Faveeo
Extracting valuable content from the social web for intelligence and marketing purposes.
After the pitches, the participants vote at the voting wall: They mark those start-ups, which they would like to give an extended presentation with their voting points.
Note that it is not necessarily a disadvantage when a start-up can't pitch. It just means that the majority of the people in the room found other cases more interesting. The chances for start-ups to find investors are roughly the same even after the voting.
When all participants have voted, the points are counted and those four start-ups with the highest number of total points are asked to give their ten minutes pitch, each followed by Q&A with high involvement of the jury.
After the pitches, the jury selects the start-up they feel was the most interesting or most convincing, and they hand over the Award to this start-up.
The most important part of the evening follows: an extended apero where investors and supporters get a chance to talk to the start-ups.
REGISTRATION DEADLINE FOR INVESTORS AND FRIENDS: NOVEMBER 6th, 17:00
This event is kindly hosted by CVCI!
Please contact Sébastien Flury for any question.