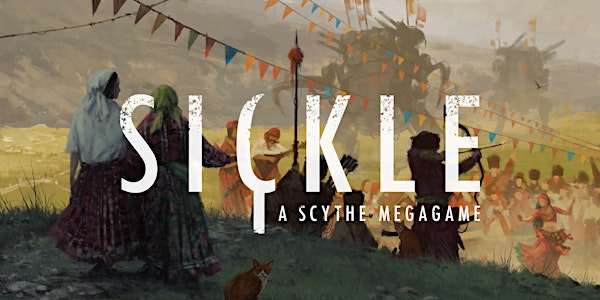 Sickle: A Scythe Megagame
When and where
Location
West Acres 3902 13th Ave S Fargo, ND 58103
Description
Sickle is a four to five hour 'Megagame' about diplomacy, intrigue, and war set in the World of 1920+, introduced to the world by the award-winning boardgame Scythe. It's a 78-player mix of semi-cooperative role-playing and statecraft.
100% of our profits from this megagame will be donated to the Sanford Children's Hospital here in Fargo via Extra Life, a program to raise money for sick kids that's part of the Children's Miracle Network.
The World of 1920+ is an alternate-history version of the Eurasian supercontinent, focusing on 'Eastern Europa'. Here it is a time of farming and war, broken hearts and rusted gears, innovation and valor. In Sickle, each player represents a character from one of seven nations who are attempting to earn their fortune and claim their stake in the lands and resources surrounding the mysterious Factory, a remnant of Nikola Tesla's scientific achievements from the Great War which has recently shuttered its doors and gone mysteriously dark.
Players will have to consort, cooperate, and compete with other high-ranking members to navigate not only their own personal and political aims, but also those of the other nation states and government officials.
All of the players are playing the same scenario, but each from different perspectives and roles, from prime ministers to party leaders, from secretaries of defense to water commissars. In this day-long event, everyone will carve a strategy with other players and react to situations as they arise in order to better their own ends.

On gameday, each player will receive the opportunity to choose from several backgrounds in order to flesh out their roleplaying personas, giving them driving motivations that thread into the universe and narrative. Whether new to roleplaying or a sourdough, every player will have the opportunity to spring off the roleplaying base these simple yet intentionally-crafted narratives will give them to start.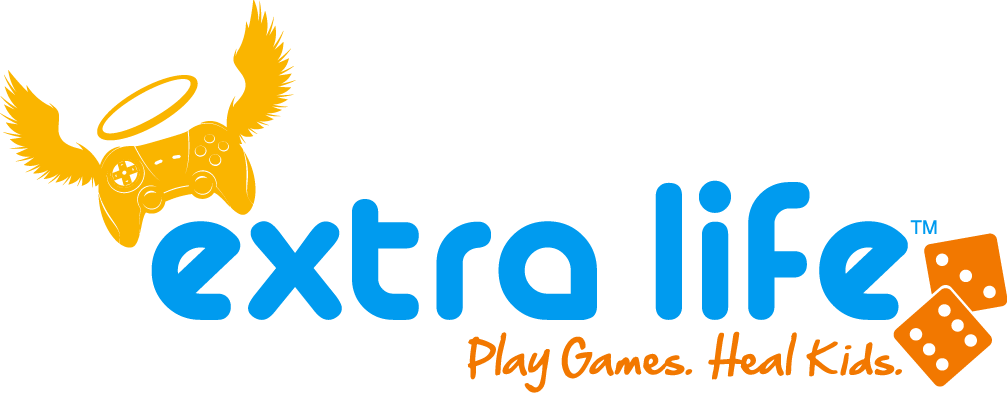 ---


The Factions in Eastern Europa


The Crimean Khanate
At the center of a geopolitical web that's complicated by valuable fertile land and oil wealth, five Great Noble Houses vie to influence the development of the Khanate.
The Nordic Kingdom
The Swedish Monarch of the Nordic Kingdom maintains absolute power over the often-disgruntled Norway and Denmark as King/Queen of the Nords. To complicate things, the Kingdom still abides by an increasingly complex system of overlapping administrative and noble rankings.
The Republic of Polania
The newly independent Polanians are furious for being pushed around for so long. Will angry Polanians isolate potential allies and provoke wars with larger neighbors? Will Polanians self-cannibalize in the patriotic march towards national security?
The Rusviet Union
With the Tsar forced to abdicate to a more symbolic role, the democratic Provisional Government now must balance the desires of the communist Revolutionaries and the conservative Tsarists.
The Saxon Empire
The Great War forced internal reform in the Empire. The Emperor now must share power with the elitist and conspiratorial Bunderstat (Senate), and the tumultuous and conspiratorial Reichstag (House of Representatives).
The Factory
Founded by Nikolai Tesla and now run by CEO Fenris, the Factory output wondrous inventions before and during the Great War. These inventions were all too frequently adapted for war. The Factory has now gone mysteriously dark.
The Albion Expeditionary Force
The A.E.F. is a band of scrappy bagpipe-blasting Celts. Led by Clan Albion, staffed by rival Clan Greyson, and bankrolled by the City-State of London, they've begun their march into the unknown of Eastern Europa. What could go wrong?
The Togawa Shogunate's Factory Task Force
The Shogun's niece, Akiko, has assembled a motley crew to search for her missing brother. Shinobi (ninjas), Samurai, Warrior Monks, and others must juggle social and military hierarchies as they debate how best to accomplish their objectives.
** Please note that some factions may not exist if we don't get enough players. Sickle will adapt to the player count to produce the best experience.
---
FAQs


Roleplaying!? Like LARPing? I'm not sure I'm up to this...

Don't worry about it. Every player, young and old, never-touched-a-d20 or DMing-their-40th-year-of-weekly-D&D, will be given a simple, yet carefully crafted narrative background to build their roleplaying off of. In fact, everyone will get at least a couple choices to choose from at the start of the game so you can each find the background that's for you. Along with these backgrounds and suggested motivations you'll also receive some hidden, secret motivations to really spur your creative juices. You'll be discussing the finer points of mech-licensing bureaucracy and sustainable battlefield agriculture with other players before you know it.
Where precisely will this be held?
The game will be on the main level of West Acres in an event space just inside the southeast entrance.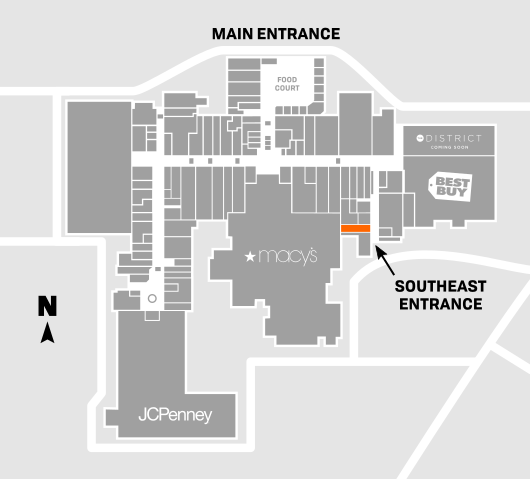 Who is doing this?
We're a group of gamers called Prairie Fire Gaming - we're striving to provide new and fun opportunities to the Red River Valley. In December of 2017 we ran another megagame at NDSU called Watch the Skies and it was a resounding success.
After helping run Sickle at Con of the North, we quickly determined that it's feasible for us to bring it to Fargo and give our neighbors an opportunity to have the same kind of fun we did. Furthermore, we've partnered with Minnesota Megagames (the creators of Sickle) to hold this event, and are co-sponosored by CoreCon, Anime Fargo, Fargo GameFest, Paradox Comics 'n Cards, Little Big Wars, Legacy Toys, the Hobby Hut, Skate City, Spicy Pie, the Fryn' Pan, Front Street Taproom, and the Würst Bier Hall, all here in Fargo.
You're doing this for charity?
We're donating the profits from Sickle to Extra Life. Not only will anything we don't spend on the production of the game go to Extra Life, but we have also worked to get pledges from local businesses to also donate to Extra Life on behalf of all of you, the gamers who'll be participating in our megagame.
Extra Life unites thousands of gamers around the world to play games in support of their local Children's Miracle Network Hospital. Since its inception in 2008, Extra Life has raised more than $50 million for sick and injured kids. Furthermore, all donations stay local to fund critical treatments and healthcare services, pediatric medical equipment and charitable care. To that end, 100% of the profits from Sickle will be donated to the Sanford Children's Hospital here in Fargo.
Are there minimum age requirements to attend the event?
All attendees must be at least 16 years of age. This event is not an appropriate place for infants and other young children, and childcare will not be provided. It will be a high-energy event in a right-sized space featuring mature subject matter.
When will I know what team I'm on?
We'll try to let you know what team you're on about two weeks before gameday, though this may not be possible. The game adapts based upon player count, so it's possible we might not even know what team you're on until gameday itself. The sooner the event fills up the better, so be sure to recruit your friends to join you in the World of 1920+ as soon as possible.
How do I choose a team?
Given the nature of the game and organizing 78 players into teams, you do not get to choose anything specific to the game, such as "the Rusviet Union." We will sort and organize you into teams on our end, doing our best to honor the preferences you express during the ticketing process.
Once teams are assigned, all you need to do is show up and join your team on game day. Part of the game on gameday itself is choosing a faction and being assigned a role within your team's nation's government. If there are specific players you'd like to be with, however, please see the FAQ regarding groups below.
There are people I want to play with - how do I make sure I'm with them?
When you purchase a ticket, you'll be asked "Do you have a group or would you like to be placed in one?" If you answer "Yes", we'll ask for your group name - this group name is for player-organizing purposes only and won't appear in-game. It's simply a way for you and other friends to coordinate that you wish to be together, and this is how we'll begin sorting players into different teams as game-day approaches.
Also, as a rule-of-thumb, if you purchase more than one ticket at once, we will interpret that to mean that you wish to be assigned to a team together and we will endeavor to make that the case. In the event you don't wish for that outcome, let us know in the comments section during your purchase.
Lastly, please note that we will endeavor to keep all players on the same team who wish to be together, but this may not always be possible. We hope you'll have fun no matter who you're with (or without).
Do I need to dress up/cosplay?
That's entirely up to you, but we do encourage it if you're comfortable. Having government officials in 1920's bureaucratic attire and other regalia is part of the fun.
What are my transportation/parking options for getting to and from the event?
Parking at West Acres is free - we suggest parking primarily near the southeast entrance, though near the Macy's or Best Buy entrances will also be quite close. Attendees wishing to ride MATBUS to and from West Acres can find more information about routes and prices here: http://matbus.com/routes
What can I bring into the event?
You may bring snacks, drinks, and your game face.
What can't I bring into the event?
West Acres is private property and you are not permitted to bring alcohol, firearms, or other weapons into West Acres, even if you have a carry permit or license that otherwise states you may.
What's the refund policy?
We have a no-refund policy, just like many other experiences such as sporting events, stage shows, and plays.
Why are you charging so much!?
We're trying to raise money for Extra Life and, outside of that, our margins are estimated to be razor-thin. Our income on this event is estimated to be entirely consumed by the costs of materials, space, advertising, organizing, and running the event; none of us are taking home any pay. We're doing it because we love gaming and the community has cried out for us to run another megagame. Furthermore, any profits we make on this event will be donated to Extra Life.
Is any of this subject to change?
Snacks: It's possible we'll be able to provide some snacks depending on how our finances shake out - we'll let you know when and if we know.
Date & Time: June 8th is our date and we're 99.9% sure that won't change. Our proposed 1 PM start is tentative, but expect the game to start around then, plus or minus an hour.
Location: 99.9% sure it'll be as planned at West Acres Mall, 100% sure it'll be within Fargo-Moorhead if we can't do it at the mall for some reason.