"Sick & Tired Syndrome" Solutions Chat

Monday, November 19, 2012 from 7:00 PM to 8:30 PM (CST)
Event Details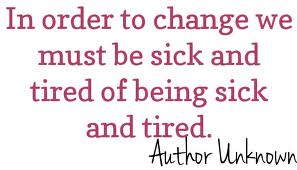 11/19/12: VIRTUAL MEETING TONIGHT ONLY!
7PM - 7.30PM CST: 559.726.1000. Code 814432#
Are you in the same condition with your health, wealth and/or mindset that you were on 1/1/12?
Do you know what to do, but lack knowledge on how to do "it" for long term success?
Does the core of you yearn to help others, yet you can barely help yourself?
HAS IT HIT YOU YET THAT HAVING SOMEONE TO SHOW YOU WHAT TO DO SAVES TIME, MONEY, ENERGY & FRUSTRATION?
Join Coach Reeshemah for an intimate conversation on what it took for her to walk away from an I.T. job that she loved at MD Anderson Cancer Center to pursue her dreams in 2000.
You will leave feeling empowered with health, wealth transformational mindset options you can implement immediately.
* The meeting will begin promptly at 7pm and end at 8pm.
8pm until 8:30 pm will be for Q&A to create your individual success plans.
To learn more about Coach Reeshemah visit http://www.naturalweightlosscoach.com.
When & Where

Panera Bread Meeting Room (290 @ Tidwell in NW Strip Center)
13704 Northwest Fwy
Houston, TX 77040


Monday, November 19, 2012 from 7:00 PM to 8:30 PM (CST)
Add to my calendar
Organizer
Coach Reeshemah Holmes
Reeshemah Holmes is an Author and a highly sought after Speaker based in Houston, Texas. Reeshemah was certified as a Health Coach from the Dr. Sears Wellness Institute. She also has health certifications for Families and Children, Expecting and Nursing Moms, Adults and Seniors. She is one of the top Health Coaches in America.
 In addition, Reeshemah is a Certified Professional Coach (CPC) and Certified Advanced Law of Attraction Expert.
 Reeshemah became a Health Coach after her own body revolted against her at an accelerated pace.
 Diagnosed with high blood pressure, high cholesterol, pre-diabetes, fibroids, migraines, peri-menopause and anxiety attacks – all at the same time – she discovered the healing and equally harmful power of foods. The physical breakdown of Reeshemah's body forced her to alter her habits and mindset. For the first time, she began giving herself the same level of quality attention that she had been giving to others.
 Starting a holistic approach to self healing, without the intervention of medicine or surgery spurred her to create The POWER Lifestyle: A Common Sense Approach to Managing Your Life & Your Health. POWER is an acronym for "People of wisdom eating right".
 Reeshemah has dedicated her life to helping others listen to their bodies, live on purpose and experience authentic abundance.
 In her free time, Coach Reeshemah does her best to keep up with her wonderful husband of 17 years, two energetic and busy teenagers and her beloved cane corso dog – who has no clue that he is not a human.

 Join Reeshemah and receive free health tips at:
 Website: AmericasTopHealthCoach.com
 Twitter: @CoachReeshemah
 Facebook: facebook.com/CoachReeshemahHolmes
Phone: 281.701.9014
"Sick & Tired Syndrome" Solutions Chat