Description
Join us for an afternoon of yin yoga practice followed by a Sakha Siberian Ritual Healing Practice, all supported by a sound healing bath. 


In this work, ritual space is first created through authentic speech, somatic practice to open the body, and meditative soundscapes to access the unconscious mind. Yin yoga calms the mind and nervous system, gently stretching the joints and connective tissues. The practice enables you to turn inward, focussing on the breath and stillness within. Sound can soothe you, raise your consciousness, and carry you into other realms of experience.
Laura Perlin was initiated into this Sakha (Siberian) collective healing practice in 2017 by her mentor YLLYKTAAKH, a shaman & traditional healer from Nyurbinskii Uluus, Sakha Republic, Russian Federation. The willing presence of each participant is required to create a safe group container that will support healing and transformation in the ways that are most necessary for personal & collective growth. After moving through the preparatory practices, participants will lie comfortably on the floor while Laura facilitates the healing work with support of her ancestors and spirit family. Hands on healing may be a part of the practice (with participant consent).
After the trance portion of the practice concludes, participants have time to journal & gather themselves, after which we engage in a group share of our experiences. The group share is an integral piece of traditional Sakha ritual and allows the collective assembled to share in the wealth of conscious and unconscious wisdom that has been brought back from the spirit world. All practices will be conducted with careful attention to ritual safety, in a non-hierarchical environmental of mutual respect and confidentiality.
This three-hour workshop includes practices of:

Opening circle to establish trust, consent & a collective container

Yin yoga & somatic practice to quiet the mind & open the body

Collective group ritual healing practice


Supportive soundscapes with tibetan & crystal bowls, chimes, rattles & khomus
Traditional sharing circle
Time for silence, reflection & integration
Admission:
Early Bird - $50 *Ends January 19th
General - $60
(
If you feel strongly called to this event and you have financial limitations, you're invited to inquire about work trade or scholarship options. Contact Laura - lauraperlin@gmail.com)
- Please arrive 15-10 minutes early to settle in. The event starts promptly at 1PM - Late comers will not be accommodated nor reimbursed.
- Please bring a yoga mat and a journal. This is a shoe free space. For your comfort you might also like to have slip-on shoes, a pillow & blanket.
Location:
2145 19th Ave.#205, between Quintara & Rivera.
There is one flight of stairs, with no elevator.
If you're driving, there is ample street parking.
Public transit: We are on the following Muni lines - 28, 28R, 48, 66 & L.

Led by two experienced facilitators: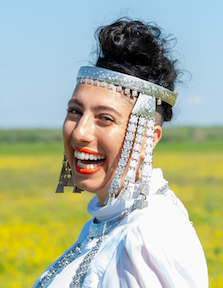 Laura Perlin is a ritualist, tarot reader & healing arts practitioner. Her work centers Sakha traditional healing modalities, although she has also studied Ayurvedic medicine, yoga, bodywork, energy medicine, and counseling. She splits time between Ohlone lands/SF Bay Area & her ancestral lands of Sakha Republic, Siberia. In addition to seeing private clients, teaching, and facilitating ritual, Laura is working on a translation of a book on Sakha shamanism and plans to lead pilgrimages to Siberia beginning in summer 2020. More info at lauraperlin.com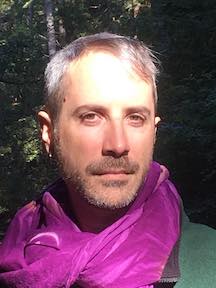 Nick Venegoni, MA, is a holistic psychotherapist and integrative counselor based in San Francisco. His practice focuses on supporting the LGBTQ+ communities to find healing from trauma and oppression. He has been practicing animism, earth-based spirituality and sound healing for 15+ years. He is also the host of The Queer Spirit podcast. (Hear Nick's conversation with Laura on the podcast here.)
Learn more about Nick's practice at HolisticTherapySF.com