Location
SIA New York Gallery
511 W 20th St. 2nd FL. 2N.
New York, NY 10011
Description
SIA NY Presents Group Exhibition
"Fluctuating Identities"

Opening Reception: Thursday, March 9 from 6pm to 9pm.
March 1 - March 13, 2017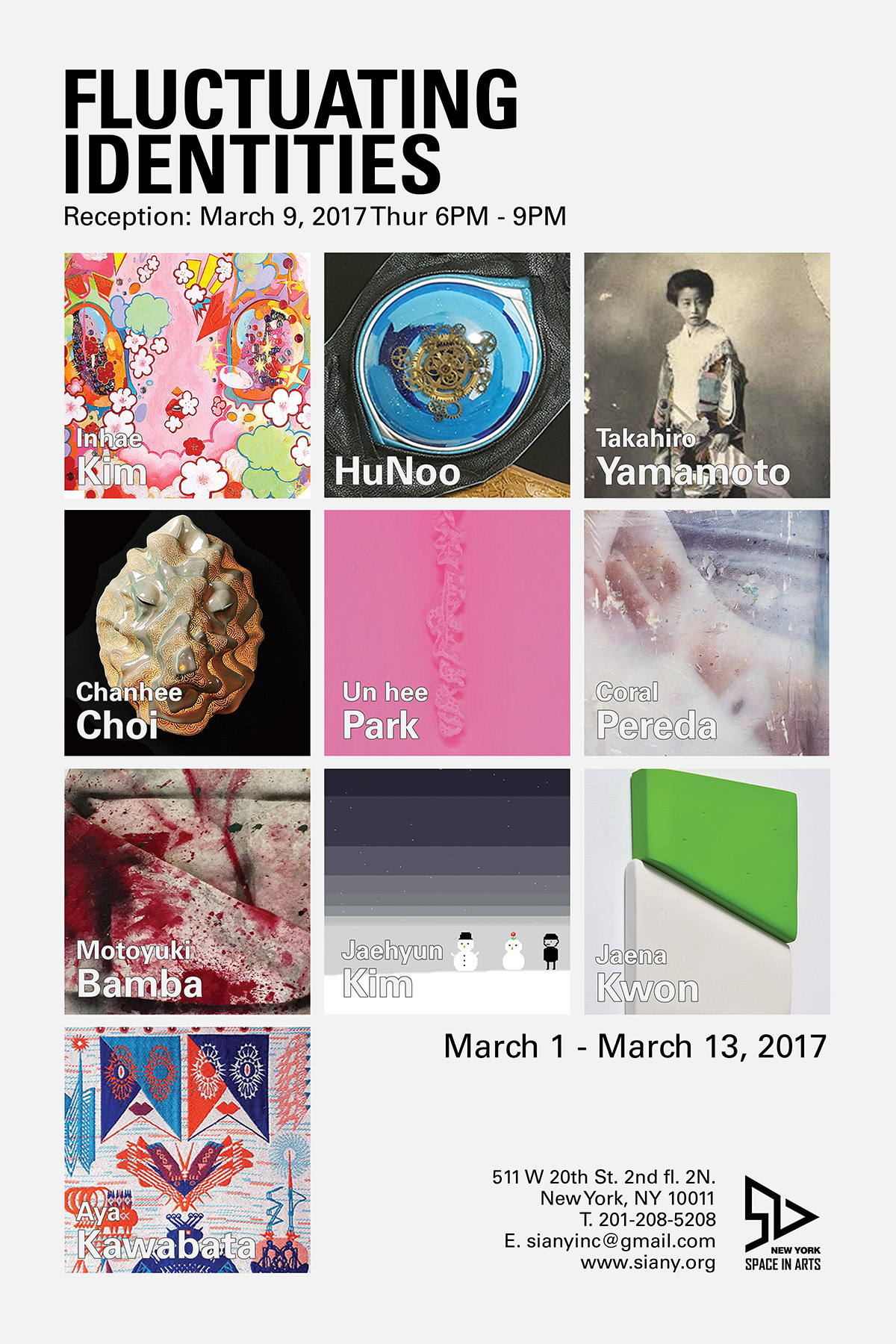 SIA NY (511 W. 20th St. 2nd Fl., NY, NY 10011) is pleased to present a group exhibition titled 'Fluctuating Identities' from March 1 to March 13, 2017. The opening reception is on Thursday, March 9 from 6pm to 9pm.
Participated Artists:
Inhae Kim
Jaena Kwon
Jaehyun Kim
HuNoo
Motoyuki Bamba
Un hee Park
Aya Kawabata
Chanhee Choi
Coral Pereda
Takahiro Yamamoto
The exhibition "Fluctuating Identities" focuses on the flexibility of the individual that has been triggered by globalization and multiculturalism. The individual artist in this show deals with the questions about perceiving self from multiple perspectives alongside one's identity in a new cultures and environment.
The exhibition is curated by Jaena Kwon, HuNoo, Chanhee Choi, members from the Korean artist group "NODAK". Korean, Japanese, Spanish artists based in New York participated in this exhibition to show works with diverse cultural background. Each work deals with the artist's identity and life story, representing individual flexibility in response to the rapidly changing society. Different genres of art from different cultural backgrounds will be presented in the show: painting, sculpture, photography, flim, videogame, and tapestry. At the exhibition, the viewers will experience a dynamic body of art in one place.

For press inquiry, please contact sianyinc@gmail.com, please visit www.siany.org