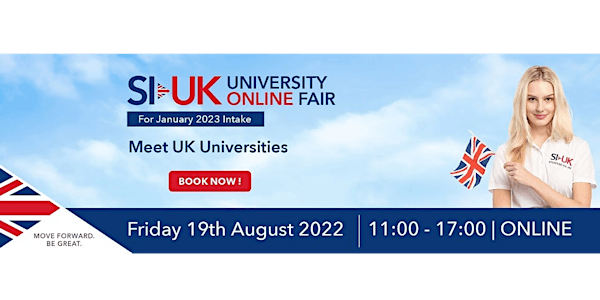 SI-UK University Fair Pune
SI-UK University Online Fair Pune 2022
About this event
The SI-UK University Fair is a dedicated physical event designed especially for Indian students who want to study undergraduate & postgraduate courses in the UK. The event provides an exclusive platform to interested students for applying to top UK universities and meet them directly. Indian students can speak to delegates from leading universities and enquire about studying undergraduate programmes starting in September 2022.
SI-UK University Online Fair is on 19th August 2022 at 11:00-17:00 PM IST.
Our expert team of international consultants and university specialists will also be available prior to the event for a pre-counselling session, as well as on the day of the event. They will help direct you to the universities you should meet, ensuring your questions about September 2022 entry, courses, scholarships and any other queries regarding studying in the UK are answered.
Meet Top UK Universities
You can speak to over 35 top universities from all over the UK. Meet the international officers and faculty members of top universities such as Bristol, Birmingham, Glasgow, Exeter, Leeds and others to discuss all aspects of studying in the UK, at the undergraduate/postgraduate level!
Coronavirus Support
UK universities are currently processing international applications as normal. Speak to universities and our education consultants at the Fair to learn more about how universities are helping students study in the UK during the pandemic