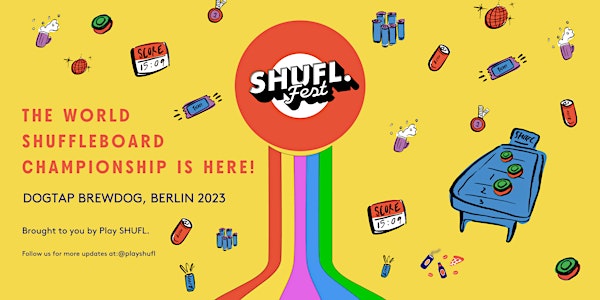 SHUFL.Fest
SHUFL.Fest is coming to Berlin, March 2023! Bringing you live music, beer tasting and... The World Shuffleboard Championship 2023!
When and where
Location
BrewDog DogTap Berlin Im Marienpark 23 12107 Berlin Germany
Refund Policy
Contact the organiser to request a refund.
Eventbrite's fee is nonrefundable.
About this event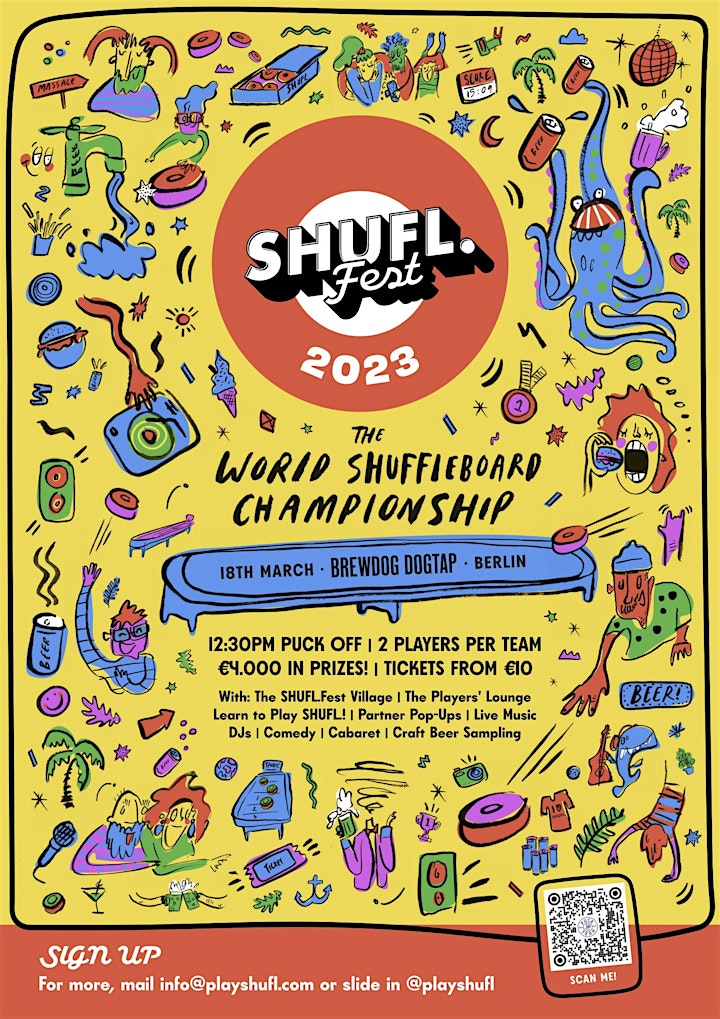 Welcome to...
SHUFL.Fest - The World Shuffleboard Championship 2023.
Date and Time: 18th March 2023, 10:30am - Midnight
Location: BrewDog DogTap, Berlin
12:30pm puck off, 2 players per team.
----------
The Day:
Join us for SHUFL.Fest '23, where we will hold a giant celebration for all our players and our partners, including:
The World Shuffleboard Championship 2023
€4.000 in Prizes
Five 22ft Grand Champion Shuffleboards
The SHUFL.Fest Village
Beer Tasting Contests
Partner Pop-Ups
The Players' Lounge
Learn to Play!
Try a variety of different shuffleboards
DJs
Live Music
Comedy
Cabaret
Face Painting
If you would like to take part in the competition - and a chance to win our €2.500 grand prize! - then please select the Early Bird Players tickets. If want to join as a guest and enjoy the music, atmosphere, beers, learn how to play shuffleboard, and pick a team to support on their journey to glory, please select General Admission tickets.
----------
The Story:
Back in 2019, with BrewDog Tower Hill, London, we hosted the European Shuffleboard Championship.
40 competitors from around the world competed to be Europe's ultimate shuffleboard player… and had (more than) a bit of a party while they were at it.
We couldn't wait for the next one! 2020, we were going big, the World Championship. Bigger prizes! Teams! More beers! Then… well you know the rest.
----------
The Format:
(The Nerdy Bit)
So, The World Shuffleboard Championship 2023 will be, for the first time, a DOUBLES tournament.
The event is inclusive, and completely beginner-friendly. Like all our events, SHUFL.Fest is for everyone, and will include those from first-time players to experienced competitors.
The tournament itself will be staged across FIVE 22ft Grand Champion Shuffleboards, and play out using the Group Stage to Knockout format.
Group Stage fixtures will be played to 10 points, with the Knockout Stages played to 15. The number of group fixtures will vary depending on number of participants. Each doubles team will play once against everyone drawn into the same group. The groups will be then ranked by the total number of points scored over all the games, with the top teams making the Knockout Stage. Any points scored over the 10-point target will count towards your cumulative score*.
Using screens on the day, and with our partners at the Tournify app, you will be able to follow your schedule and standings live throughout.
Prizes:
First Place - €2.500
Second Place - €1.000
Third Place - €500
There will also be spot prizes, for style, vibes, best team name, furthest distance travelled, weirdest hair, sweatiest vest, scoring hangers, and of course we will play a Wooden Spoon Final between our two teams yet to quite reach their potential!
----------
The Warm-Up:
We will run a meet-and-greet at BrewDog DogTap the Friday night before, to balance the boards, run an open warm-up session, share any tips and tricks for new players, and give all competitors an opportunity to get their eye in. We can even throw a casual tournament if anyone needs to practice under match conditions... all while we make sure all the beers are tasting right for the next day.
Keep your eyes peeled on our Play SHUFL. social media channels for more exclusive insights into what you can expect from the day!
Good luck, Mother Puckers!
-----------
Want to take part and qualify as seeded team, for free? We will be holding Regional Tournaments during the build-up, everywhere from Australia to Norway! To hear about these, or if you have any other questions at all, get in touch with us at: info@playshufl.com
*For example: 7-8 down before the final frame of play, your team finishes with a hanger, worth 5 points. Your team wins 12-8, taking 12 points towards the group ranking. All is not lost for your opponents, who add the 8 points on to their total from previous matches.