Description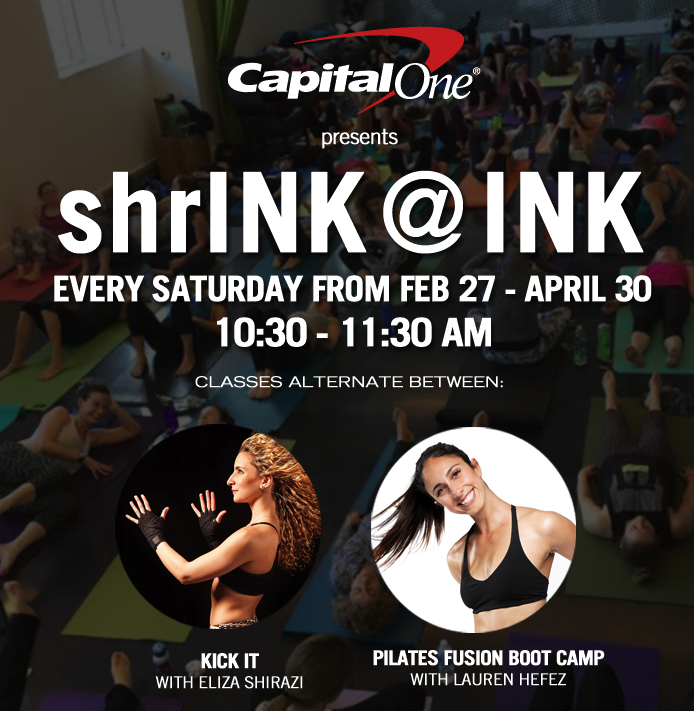 Join Boston's fitness gurus for a morning of fitness and start your weekend off right at Ink Block! shrINK @ INK is a 10 week fitness series at Ink Block presented by Capital One. This class is like no other in the region. It's filled with an hour of cardio, toning, and laughter led by Boston's most popular fitness instructurs, Lauren Hefez and Eliza Shirazi.
At the completion of each class, attendees are invited for a complimentary handcrafted beverage at the Capital One Café at Ink Block. Each participant will have the opportunity to register to win a chance to experience the Spa at Whole Foods.
shrINK @ INK classes are open to all levels. Participants are asked bring their own mats. Last years classes sold out on a weekly basis, advanced registration is required each week.
shrINK @ INK 2016 Spring Schedule:
02/27: Pilates Fusion Boot Camp with Lauren Hefez
03/05: KICK IT with Eliza Shirazi
03/12: Pilates Fusion Boot Camp with Lauren Hefez
03/19: KICK IT with Eliza Shirazi
03/26: Pilates Fusion Boot Camp with Lauren Hefez
04/02: KICK IT with Eliza Shirazi
04/09: Pilates Fusion Boot Camp with Lauren Hefez
04/16: KICK IT with Eliza Shirazi
04/23: KICK IT with Eliza Shirazi
04/30: Pilates Fusion Boot Camp with Lauren Hefez