Description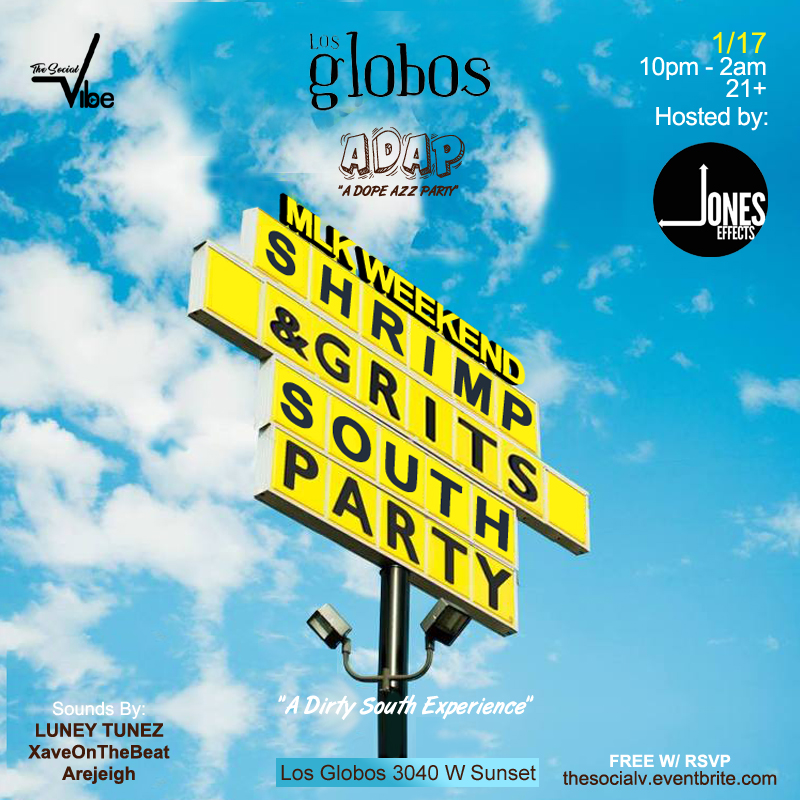 "SHRIMP & GRITS"
IF YOU'RE FROM THE SOUTH EAST REGION YOU'RE NOT GONNA WANNA MISS THIS PARTY MLK WEEKEND!
COME JOIN US AS WE BRING THE SOUTH TO LA WITH HITS FROM YOUR FAV ARTISTS LIKE:
YUNG JOC, F.L.Y, CHARLIE BOY, GORILLA ZOE, UGK, PAUL WALL, LIL BOOSIE, LIL WEBBIE, TRINA, TRICK DADDY, YO GOTTI, BOYZ IN THE HOOD, CIARA, DOE B, SLIM THUG, BEYONCE, CITY GIRLS, MIGOS, LIL BABY, LIL WAYNE, JUVENILE, SOULJA SLIM, HOT BOYZ, T.I , OUTKAST, RICK ROSS, AN MANY MORE......

HOSTED BY: JONES EFFECTS
SOUNDS BY: LUNEY TUNEZ - XAVE ON THE BEAT - AREJEIGH
COME OUT AN LETS SHOW LA HOW WE DO IT IN THE SOUTH!
FREE W/ RSVP BEFORE 11PM
10$ After 11pm
1/17
21 & UP
DOORS OPEN @ 10PM - 2AM










""""""LYFT & URBER IS BEST SUGGESTED""""""""""




SEE YOU SOON!