Description
SHPE-NYC Holiday Cena 2018
featuring the SHPE-NYC STEM Toy Drive and Scholarship Awards

Join SHPE-NYC as we celebrate the holidays with our annual Holiday Cena. The evening will consist of networking, dinner, inspiring motivational speakers, the SHPE-NYC Scholarship awards and the SHPE-NYC STEM Toy Drive. We invite our SHPE Familia, supporters and friends to join us!

Please note ALL Guests are strongly encouraged to make a donation in advance or bring a toy donation at the door.


STEM Toy Drive
The act of "giving back" is fundamental to the SHPE Familia and our overall mission. Our toy drive focuses on toys that will help to promote STEM (Science, Technology, Engineering and Math) among our Hispanic/Latinx youth. We hope these STEM toys will help to spark interest in the next generation of Engineers and Technologists. All of this is made possible with your support as we continue our tradition of "giving back" for years to come. During the Three Kings Day Celebrations, our SHPE Familia will go out to the community and share our STEM experience with the youth in the community. We hope you can also join us during these outreach events. To view our list of STEM Toy recommendations here - http://a.co/iHFbI16


Scholarship Awards
Our SHPE-NYC Scholarship is now in it's 9th year. The scholarship is focused on helping local college and HS students who are actively supporting the SHPE mission as well as those who achieve high academics. You can help support our scholarship & the SHPE Familia mission by making a donation. At the Holiday Cena, we will announce the scholarship winners and showcase their achievements. For more information: http://shpe-nyc.org/scholarship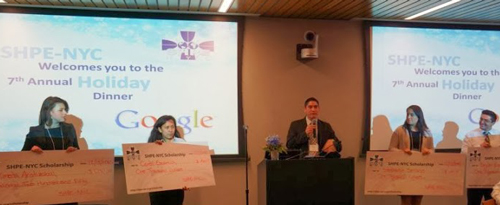 Special Thanks to our host