Description
Ticket incldues a free glass of wine with purchase through eventbrite!
Showtime Goma x ShocKA Takeover is a bespoke party/performance! The two expressives have come together to takeover Rooftop Reds and the world through a variety of music, performance, drinks, outside, with the people, good times. Empty is the life un-partied. You don't want to miss out!
Showtime Goma (Jen Goma) is performer/creator of music, videos and live shows. A self-propelled multi-media artist with "serious chops... (and) undeniable charm"--Pitchfork Music, whose debut album, Smiley Face, "shows how she can cause – and helm – a commotion while working with beats borrowed from R&B and pop."-- Rolling Stone. Her music and videos have appeared on Playboy, NPR, Pitchfork, Consequence of Sound and Stereogum . A member of the bands A Sunny Day in Glasgow and Roman à Clef, she has also collaborated with The Pains of Being Pure at Heart and Jherek Bischoff. Having recently finished a tour opening for of Montreal with Nancy Feast, she is currently alongside Kristine Haruna Lee in the Soho Rep. Theater Writer/Director Lab.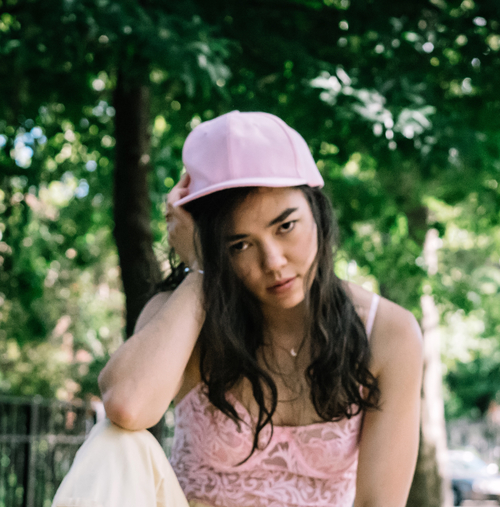 Ramono Martelli who likes to refers to himself as "Shock Star" is a stylist and fashion designer. Ramono will be performing and vogueing alongside of Showtime Goma.
He has worked as a fashion stylist for about seven years and has worked with such well known publications as Interview Magazine, AH Magazine and Vogue Italia. He recently launched his fashion and styling company ShockvintagE which is based out of Brooklyn NY.
He grew up in Atlanta, GA and would often accompany his mother on frequent shopping trips to thrift stores and garage sales. He remembers being bored by this as a young child, but found he had quite a passion for it by the time he entered high school. His first foray in to fashion design was a pair of black denim pants which became a surprise hit with his peers. He quickly found himself outfitting the student body in his one of kind jeans. After graduating from High School Martelli went on to attend Atlanta State University where he studied Fashion Design, but he quickly became frustrated with the confines of academic instruction. He left university after a year of study and decided with a rebellious friend in tow to move to New York City. This had always been his dream, but his mother who had studied law at Pace University in New York City was terrified when her son announced he wanted to pursue a career in fashion and move to New York City.
New York was a bit of an eye opener for Martelli. He soon realized it was not going to be instant success after being rejected by Heatherette and Patricia Fields as well as a number of other design houses. He again attended school briefly and studied Fashion Styling at F.I.T. But much like his first experience he quickly grew bored and left school to actually work in the field. His perseverance and hard work led him to one successful job after another and he even won Photo of the Week on Vogue Italia.com. Ramono took some time out of his busy schedule to speak to me about his work and his plans for the future.