ShowMe50 Lean In Circle: Experiential Workshop 50 Ways to Fight Bias
Description
50 WAYS EXPERIENTIAL WORKSHOP + NETWORKING

McKinsey & Company and LeanIn have studied the state of women in corporate America for four years. You might have heard the findings: Women are less likely to be hired and promoted and more like to suffer everyday discrimination than men. The best ideas are not always heard. The most talented people are not always advancing. Fewer women end up in senior leadership.
Gender bias has a lot to do with this. Good news! Employees who challenge bias can help turn the trends around.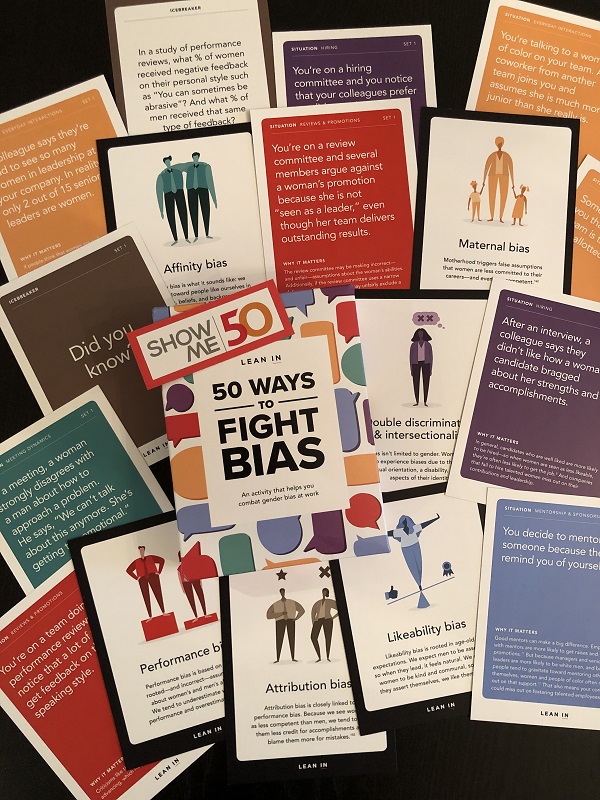 ShowMe50 is excited to bring you a powerful program from LeanIn. Become part of the solution at your company. Attend the 50 Ways to Fight Bias experiential workshop and learn how ShowMe50 can help you scale it at your office.
An entertaining and informative evening awaits. Networking with a purpose!
When: Monday, June 17, 2019 / 6:15 – 8:30
Where: Le Goût Tasting Room at The Savvy Cellars, 6690 Roswell Road, Sandy Springs, 30328
Wine and light bites provided.
Not familiar with ShowMe50 Lean In Circle Meetings?
Inspired by Sheryl Sandberg's Lean In book, they are small groups that meet regularly to exchange ideas about solving workplace challenges and to learn and grow through a network of strong peer support. Men and women are welcome.

About ShowMe50
ShowMe50.org is a one-of-a-kind social impact organization teaching individuals how to influence change at work while also teaching leadership and management skills. Our vision is to achieve 50% women leading corporate America through men and women working together for systemic change. We meet once per month in Sandy Springs for networking with a purpose! Learn more at on our website. We are a 501(c)(3) organization.
ShowMe50 is a Lean In Partner and a participant in the Lean In Circle program. ShowMe50 Lean In
is authorized to use Lean In's name, program logos and other branded materials under a license from LeanIn.Org. ShowMe50 is an independent peer support group; LeanIn.Org does not monitor or control its activities. Visit
leanin.org/circles
to learn more.