Location
Ashbourne Farms
3810 Old Westport Road
La Grange, KY 40031
An all-inclusive farm experience with live music, heavy hors d'oeuvres & artisan cocktails.
About this event
Celebrate the night with live music by The Del McCoury Band!
One Night Only. All-Inclusive Ticket Pricing.
Doors at 6:30 PM. Show 8:00 PM - 9:30 PM.
—
Music is an integral part of the Kentucky experience.
It gives voice to our spirit of hospitality and creates an unprecedented shared experience. So we set out to deliver an ongoing experience for our amazing Ashbourne Farms community to enjoy.
Space is limited at our sell-out experiences, so be sure to get your tickets today!
Our fourth installment in the Showbarn Sessions series features Del McCoury, whose sixth decade in a half-century of bluegrass bliss brings new triumphs, new collaborations, and new music to Ashbourne Farms.
Del McCoury has garnered the respect and admiration of the industry for his unmistakable work: nine IBMA Entertainer of the Year trophies; in 2003, Del's awarded membership in the cast of the legendary Grand Ole Opry; the band's first Best Bluegrass Album Grammy award, in 2005, followed by a second Grammy win in 2014 (not to mention double-digit nominations).
With hot licks, classic songcraft, and Del's matchless vocal delivery, the Del McCoury Band moves up the gold bar standard of bluegrass yet another notch.
Del passionately shared he considers himself, "traditional at heart, but I don't have any boundaries. I'm just a guy that likes to sing and play music. Whatever strikes me to do, I'll do it. Without wrecking things."
This intimate and sensory-rich live music experience is one of a kind, combined with the splendor of Ashbourne Farms on August 27th, 2022. Doors open at 6:30 PM.
We hope you and your loved ones will join us for our fourth installment of Showbarn Sessions at Ashbourne Farms.
—
All-Inclusive Ticket Pricing Includes Heavy Hors d'Oeuvres & Artisan Cocktails.
$165 Ticket Pricing
Valet Parking Available. Smart Casual Attire.
COVID-19 Information
Proof of vaccine is no longer required on the farm, and masks are fully optional.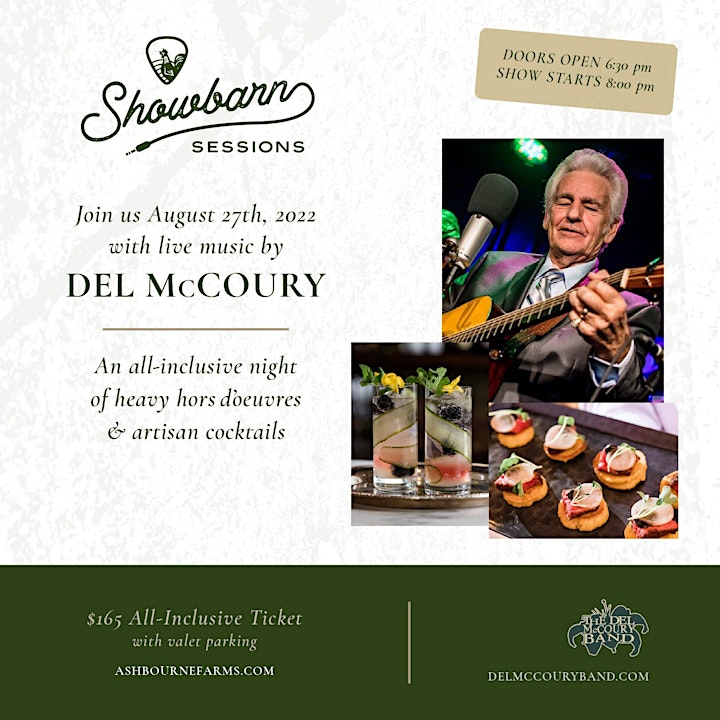 About The Showbarn Sessions:
At Ashbourne Farms, we approach music the same way we approach the land. It's to be honored, preserved, and nurtured to ensure it lasts for generations.
The Showbarn Sessions are an ongoing series of experiences highlighting a variety of musicians in a uniquely intimate environment enveloped by a serene natural landscape and the splendor of Ashbourne Farms.
Join us for our next Showbarn Session on August 27, 2022!
Introducing Canopy.
Your ticket purchase will directly benefit Canopy, whose mission is to grow Kentucky businesses to positively impact people, our planet, and our future. The Canopy Certified Program guides Kentucky businesses towards achieving measurable social and environmental Good, operating with the highest ethical standards, and taking care of all stakeholders along the way..
Hear from their Founder & CEO, Scott Koloms, in a video here.
About Del McCoury:
Even among the pantheon of music's finest artists, Del McCoury stands alone. From the nascent sound of bluegrass that charmed hardscrabble hillbilly honkytonks, rural schoolhouse stages, and the crowning glory of the Grand Ole Opry to the present-day culture-buzz of viral videos and digital streams, Del is the living link. On primetime and late-night television talk shows, there is Del. From headlining sold-out concerts to music festivals of all genres, including one carrying his namesake, there is Del. Where audiences number in the tens of thousands, and admirers as diverse as country-rock icon Steve Earle and jam-band royalty Phish count as two among hundreds, there is Del.
Emerging from humble beginnings in York County, PA nearly eighty years ago, Del was not the likeliest of candidates for legendary status. As a teen, he was captivated by the banjo playing of one of its masters, Earl Scruggs, and decided he'd be a banjo picker, too. The Baltimore/Washington, D.C. bar scene of the early 1960s was lively and rough. Del caught a break. More than a break, really. It was an opportunity of a lifetime; joining Bill Monroe's Blue Grass Boys in early 1963. Considered the Father of Bluegrass, Monroe transformed McCoury, moving him from the banjo to guitar, anointing him lead singer, and providing him with a priceless trove of bluegrass tutelage direct from the source.