Show Your Success Workshops on Social Media, Writing a Book, & Public Speak...
Description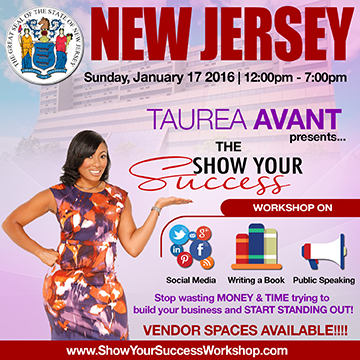 Tyler Legacy Group is so excited to be bringing Ms.Taurea VISION Avant of SHOW YOUR SUCCESS WORKSHOPS to New Jersey for our first ever Social Media / Author / Speakers Workshop!! At this workshop, we are going to have an amazing day learning about the 3 major vehicles that Ms. Avant has used in developing her business. We will also have some surprise guests to come in for addtional empowerment!
In today's world if we aren't doing things to set ourselves apart from others then we are setting ourselves up for failure. This intensive will be just an introductory to the SYSTEM Mastery Program however you are going to be able to take away some amazing nuggets that you will be able to put into action immediately.
This training will be interactive as well!
Be sure to bring your business cards as well as we will have an opportunity to network with each other as well!
Schedule of Event
12:00PM - Doors Open
12:30PM - Start the workshop
12:45PM – "How to Write a Book in 30 Days and Generate MULTIPLE STREAMS OF INCOME from it! – This is Interactive
1:45 PM – Vendor Introductions
2:00 PM - Special Guest Speaker TBA
2:30 PM - Public Speaking to SIX FIGURES - This is Interactive
3:30 PM - Visit Vendors (30 minutes) and Food Break. (There will be food for purchase at Hotel Location)
4:15 PM – Vendor Giveaways BE ON TIME!!
4:30 PM PM - Special Guest Speaker TBA
5:00 PM – Marketing on Social Media that Helped me Build MULTI-MILLION Dollar Businesses
5:30 PM - Closing Out Introduction to SYSTEM Mastery
6:00 PM – Visit Vendors and Close out Event!
7:00PM - VIP After Party Gathering and Networking (TBA to VIPs Only)

Finally there are 8 Vendor table slots available as well at $125 per Vendor. For more information on that be sure to send us an email ctyler411@gmail.com

Vendors will be listed on the website www.ShowYourSuccess.com, as well as, promoted on social media platforms. As a vendor you get a chance to do a 3 minute introduction of your business. Also we encourage all Vendors to participate in the giveaway opportunities!
There will be an opportunity to join the advanced S.Y.S.T.E.M. Mastery Program which will be offered at the end of this training.
About Taurea Avant
Taurea Avant started her entrepreneurial career back in 1999 when she first started off as a bail bondsman. She enjoyed being able to be in control of her time but after a year in that industry, she learned that her fear of guns would probably keep her from being able to really excel in that industry. Plus, most of her clients needed her times of the year where to be honest she wasn't in town. She then went on to become a licensed Life Insurance agent. After taking her life and health test three times and finally passing she quickly learned that she didn't have a passion for selling life insurance. In fact her first presentation was her last presentation. She was given a lead and drove up to the home she was to present to and got so scared and just drove off. Then she went on to try different types of businesses from selling knives, vacuum cleaners, telecommunication services and more. In 2004, she was offered an opportunity to become a television host for a local late-night show. This is where Taurea got her first taste of learning how to effectively communicate. Like a lot of people that we may come in contact with today, Taurea had a fear of networking and communicating. Her fear boiled down to the ultimate fear of rejection. She had to learn to get over this fear if she desired to be able to the best TV Host possible. While all this was going on in her life, she also graduated from Hampton University with a degree in computer science and then went on to work in "Corporate America" for 2 years of her life. She like most college graduates today struggled to land a job going temp job to temp job. In 2006 she was able to obtain a position as a database administrator with a salary of less than $30,000 per year.
It wasn't until 2007 that Taurea's life changed completely! October 2006, Taurea found out her father was diagnosed with stage 4 lung cancer. This was probably one of the most traumatic experiences in her life. Her mother already passed when she was 11 years old to cirrhosis of the liver. Her father had become her everything and she depended upon him in so many ways. She never believed that ultimately this disease would take his life, however, 7 months later her father was gone. A month after he passed she moved to Atlanta to start a new life.
In 2008 Taurea started her own multi-media company called "Echelon Media" with a partner in Virginia. She was the web designer and he was the video editor. She invested over $40,000 into this business and knew that this would be the beginning of an incredible and profitable future. Unfortunately there was nothing profitable about it. Although you could say incredible!!! At the end of the year, she only had earnings of $800. This was not what Taurea expected one bit! However one thing Taurea learned is that "failing doesn't make you failure, its giving up that does". Taurea then started working in a home-based business in 2009 also known as multi-level marketing or network marketing. In her first 6 months of being in the business, she earned over six figures in the company. In that company she was also introduced to a new concept that she never knew much about and that was personal development. She went to her first conference in 2009 where she spent a little under $500. She absolutely fell in love with personal growth and that's where her real journey to success started.
In 2010, Taurea decided that she needed to partner with a company that stood on strong leadership, a system with integrity, and a product that she could promote. She joined her company and was able to follow great principles that have now earned her over $1,000,000 in earnings in the past five years. She is one of the top 5% income earners in her industry and she has no plans of stopping anytime soon!
At the beginning of 2015, Taurea decided to launch Show Your Success Dinners and her S.Y.S.T.E.M. Mastery program. With the chances of many not understanding her passion or even not agreeing with her vision, she still made a decision to go all the way in. The reason she decided to start these events and programs is because she saw a never ending number of business owners who really didn't know what to do in building their businesses. She had many friends who were being taken advantage of and wasting a lot of money with no results. As a small business owner, the last thing we want to do is waste money. She personally knew hundreds of leaders in the industry that weren't able to obtain success like she had, even though they worked their butts off. She wanted to be able to create a program and events that were tailored to just that. Some of her goals are to be able to show business owners some of the following:
How to brand and market yourself without spending a fortune.
How to separate yourself from everyone else in your business.
How to increase your profits without spending more than you are making.
The difference in Taurea and other people offering the same services is that she actually has had the success. There are a lot of people that teach on theory, she teaches on principle!
Her mission in life is to directly impact the lives of businessmen and businesswomen in mind, body and soul one event at a time!! Join Taurea on this quest for greatness and Show Your Success!