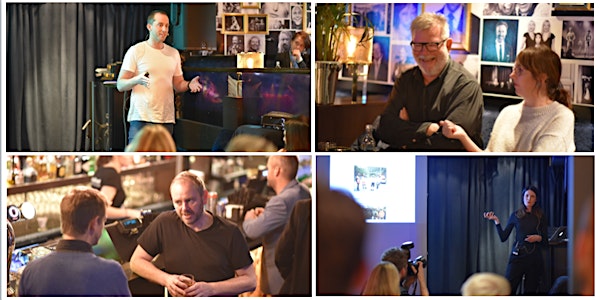 Show & Tell og sommeravslutning
When and where
Location
Storm Bar Øvre Ole Bulls plass 3 5012 Bergen Norway
Description
MEDLEMSARRANGEMENT:
Show & Tell, vår uformelle arena for tilbakelent nettverking med lave skuldre, kombinerer vi denne gangen med sommeravslutning.
PROGRAM:
Melanie Burford (EN)
Meet the incredibly talented photographer and visual journalist, Melanie Burford. Learn about the unique National Geographic Photo Camp – this summer in Bergen.
National Geographic Photo Camp will partner with photographer and Pulitzer Prize winner Melanie Burford, the Norwegian Red Cross and the Nobel Peace Center to offer a series of Photo Camp workshops for both refugee and Norwegian youth in Bergen in the spring and summer of 2017.
The mission is to encourage young people to tell their own stories, and to use the power of photography to provide youth perspectives to a wide audience. This project is an opportunity not only to empower youth and to encourage tolerance and understanding, but also to share these students' stories with the world.

Bergensia
Vi kjenner alle til FNs bærekraftmål, en felles arbeidsplan for å utrydde fattigdom, bekjempe ulikhet og stoppe klimaendringene innen 2030.
Mange av oss tenker stadig at vi burde gjøre mer, men ofte blir det med tanken. Ikke for Jan Terje Espeland. Han forlot en godt betalt jobb som forretningsutvikler i Atea, for å starte portalen Bergensia - The Sustainable Gazette, en engelskspråklig medieplattform som løfter frem, og gir en stemme til, organisasjoner og personer som jobber med bærekraftmål innen vitenskap, politikk, økonomi, samfunn, miljø eller teknologi.
- Jeg lanserer Bergensia fordi jeg tror jeg kan gjøre en forskjell, sier gründeren.


MovieMask
I januar 2016 fikk studentene Eirik Wahlstrøm og Harald Manheim idéen om å lage en bærbar kino. I november var MovieMask tilgjengelig i Eplehuset og Telenorbutikkene!
Gründerne forteller hvordan de gikk fra idé til marked på ni måneder, viktigheten av corporate power coupling og hvordan næringslivet kan bidra til å skape flere norske suksesshistorier.


Vidden blir testplattform for medieteknologi
Bruk av sofistikerte sensorer og nettvarder spredt oppe på fjellplatået, kombinert med AR-teknologi, kontekst- og geolokasjonsbaserte tjenester skal gjøre Vidden til fremtidens turistdestinasjon.

Smartteknologi på toppen av big data og visualiseringer skal gi forbedrede offentlige tjenester. Teknologien utvikles i medieklyngen, og er et resultat av et tett samarbeid mellom NCE Tourism og NCE Media. Dette er et prosjekt som allerede en rekke av medieklyngens selskaper er involvert i, og det er plass til flere.

Ved prosjektutvikler i NCE Media, Rune Smistad.
---

Bonus til slutt:
Vi gjentar fjorårets megasuksess og kaster intetanende deltakere på dypt vann i den absurde øvelsen Powerpoint-karaoke..
Vi møtes i Storm Bar (2. etg på Ole Bull-huset). Her blir det som vanlig god mat og drikke, fremoverlente presentasjoner og god stemning. Vi har også reservert terrassen denne dagen i håp om at solen titter frem.
...og det viktigste på programmet: Tid til å møtes og prate med kjente og ukjente fjes!
Påmeldingen er åpen – som vanlig er det førstemann til mølla som gjelder. Ved spørsmål, kontakt: Petter Omdal, NCE Media (petter@ncemedia.no), eller Anne Jacobsen (anne@ncemedia.no).