Location
Artifact Events
4325 North Ravenswood Avenue
Chicago, IL 60613
Description
Friday, November 16th • 5-9pm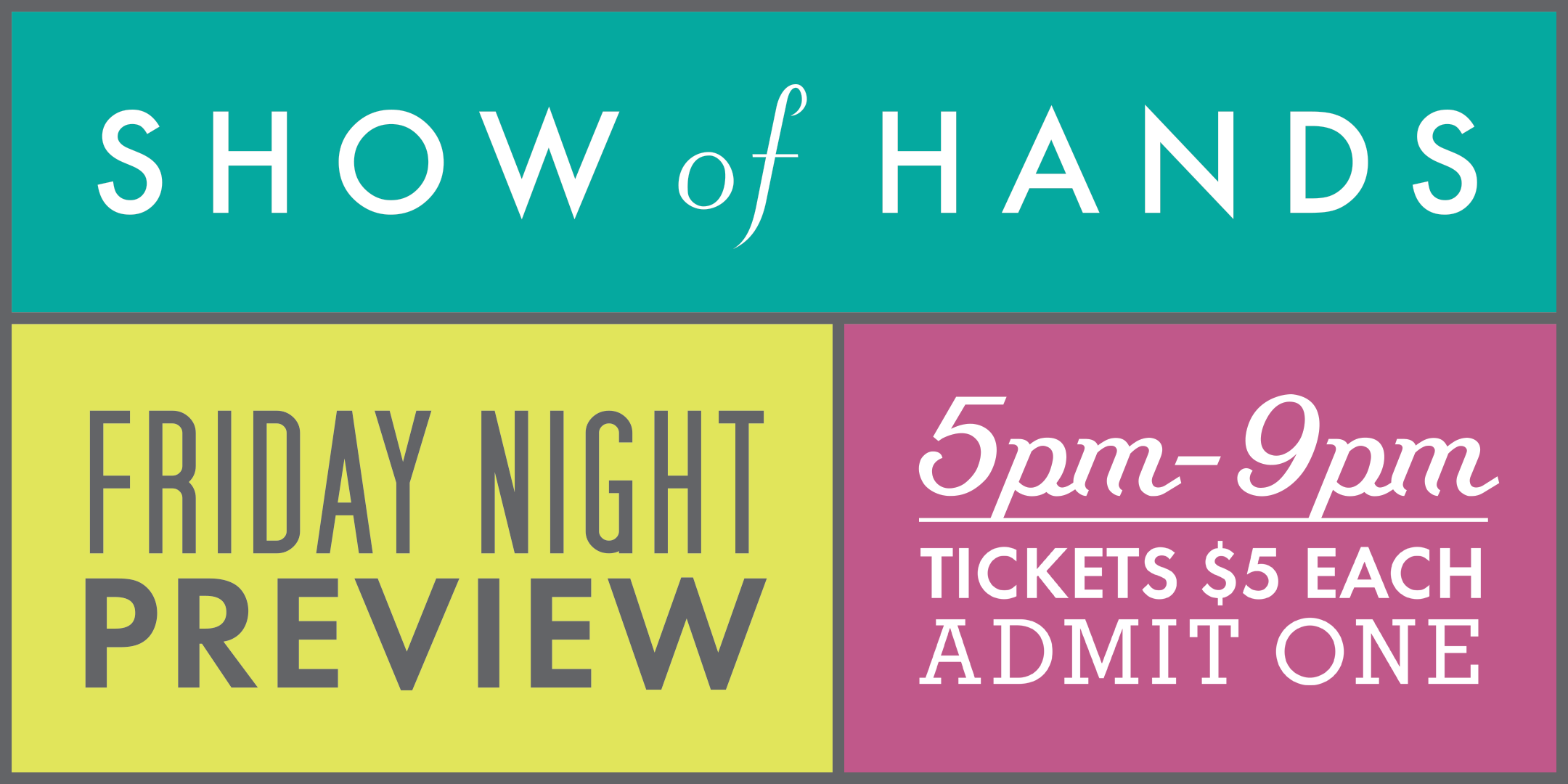 SHOW of HANDS is a high-caliber marketplace event featuring a finely-curated group of independent artists, designers & craftspeople from the Chicagoland area and beyond!
Now in our 5th year, SHOW of HANDS has become one of the most talked about shopping events in Chicago. Described as thoughtful and unpretentious, our show strives to create an enjoyable, relaxed shopping experience where the Vendors - and their exceptional products - are the main focus. Without the talent, professionalism and uniqueness of the designers that participate in each of our events, SHOW of HANDS would be just another craft show.

Our upcoming Holiday Show will be held the weekend right before Thanksgiving, November 16-18, 2018 at Artifact Events (located at 4325 N Ravenswood Avenue) in Chicago. To kick off this exciting weekend, we're hosting a Friday Night Preview Event where guests will get a sneak peek of our 115+ exhibiting vendors and enjoy refreshments including brews and cocktails from Begyle Brewing, Union Horse Distilling Co. and Jo Snow Syrups!

+Plus, the FIRST 25 TICKET HOLDERS through the door will receive one of our limited edition show tote bags filled with amazing goodies and show promos!

FOR MORE SHOW DETAILS & THE FULL LIST OF HOLIDAY 2018 VENDORS
---
FAQs
What does a "sneak peek" really mean? Will I be able to shop at this event?
Absolutely! All 115+ Vendors will be set up to show off and sell their amazing goods at the Friday Night Preview. Many of our designers have limited edition and one of a kind items that may sell out quickly over the weekend...
Getting a sneak peek means that you will be among a select group of people who will have first dibs on everything our vendors have to offer - not to mention the complementary brews from Begyle Brewing, complementary show cocktails from Union Horse Distilling Co. and Jo Snow Syrups, and a chance to mix & mingle with some of the most design-savvy folks in all of Chicago!
So, ONE ticket admits ONE person?
Yes! A $5 ticket admits one person into the Preview Night Event. Each individual ticket holder will receive ONE DRINK TICKET redeemable for either a draft beer or show cocktail (see above for details).
*NOTE: There will also be a Cash Bar at the show the entire weekend, but those drinks are not redeemable with a drink ticket.
Can I buy multiple tickets at once?
You may purchase up to (4) tickets per order. If you would like to purchase more than (4) tickets, you will need to make multiple transactions.
NOTE: All attendees must have their own individual ticket when entering, so we strongly encourage arriving to the show with your complete party.
If you are planning on arriving separately, either purchase your tickets individually OR email the tickets to each guest before the show!
Are there ID requirements or an age limit to enter the event?
There are no ID requirements to enter the event. However, those attendees who would like to drink/purchase alcoholic beverages on site will be carded when served.
Guests age 18-21 must purchase a ticket to enter, but will NOT receive a drink ticket.
KID-FRIENDLY SHOW Children under 18, accompanied by an adult, do not need to purchase a ticket. There will also be a coat check and stroller "parking" at the front of the show for those who need it!
Can I bring my well-behaved (and adorable) dog?
Yes! Artifact Events is a DOG-FRIENDLY VENUE, so feel free to bring your dog to the show! Remember, there are valuable goods (and maybe some folks who don't like dogs as much as we do) in the space, so you will be asked to keep your pup (or pups!) on a leash at all times.
WARNING pretty much all the vendors are gonna wanna stop you and pet your dog!
Does the event last all weekend?
Yes! The Friday Night Preview takes place Friday, November 16th, from 5-9pm and is ticketed.
The show continues Saturday & Sunday, November 17th-18th, 10am-5pm and is FREE & OPEN TO ALL for those two days. We encourage you come all three days so you can get ALL YOUR HOLIDAY SHOPPING DONE before it's even Thanksgiving!
Is the venue called Architectural Artifacts or Artifact Events?
Technically, it's both. You may have noticed that promotions for our last few shows list the venue as Artifact Events instead of Architectural Artifacts. Artifact Events is the event space, but this space is also the home of the amazing vintage/antique retail shop, Architectural Artifacts. So, if you've been to any SHOW of HANDS events in the last three years, you'll find us in the same place: 4325 N Ravenswood Avenue in Chicago!
I've seen mentions that the 2018 Shows are in a "NEW" space... gimme details!
Our 2015-2017 shows took place in the Lower Level Atrium space on the North Side of Artifact Events... Our 2018 shows take place in the newly-rennovated South Side of the space - and will include TWO FLOORS* of Vendors! You'll find the new entrance to the show about 500ft south of the main entrance to Architectural Artifacts.
*See below for more info on stroller and wheelchair accessibility...
What about transportation and parking?
Artifact Events is located at 4325 N Ravenswood Avenue on the north side of Chicago, just steps from the CTA Brown Line Montrose Station and bus stops for the #78 Bus. There is also ample parking along Ravenswood Avenue, as well as neighboring streets Montrose Avenue and Hermitage Avenue.*
*When driving, please be aware that Ravenswood Avenue runs on both sides of the Metra tracks. Architectural Artifacts is located on the east side of the tracks, where Ravenswood runs ONE WAY North. Please, drive up from the south; we recommend using Berteau Avenue, just north of Irving Park Road.
Is the space wheelchair accessible?
Yes! The entrance to the space is street level, giving you immediate access to approximately 2/3 of the vendors, including all food, beverages and the Women's Restroom.
The remaining 1/3 of the vendors (and the Men's Restroom) are located on the 2nd floor, which is accessible to strollers, the differently abled, and wheelchair users by an ADA passenger elevator.
Do I have to bring my ticket to the event?
YES. You will receive a confirmation email from Eventbrite which will include a PDF image of your ticket.
Please either print your ticket and bring it with you -OR- have the ticket pulled up on your mobile device.
What is the refund policy?
All ticket sales are final.
Where can I contact the organizer with any questions?
You can find contact information for Show of Hands management (OrangeBeautiful) at the bottom of this page.