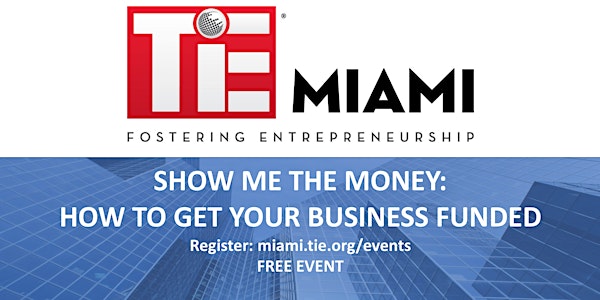 Show me the Money: How to get your Business Funded
When and where
Location
Venture Cafe Miami 1951 Northwest 7th Avenue #600 Miami, FL 33136
Description
Topic: Show me the Money: How to get your business funded
Speakers: Mark Volchek, Las Olas Venture Capital
Date: Thursday, November 15, 2018
Time: 6 PM to 8 PM
Having a good idea is the first step, but getting your business funded makes all the difference!
Join us for a riveting panel discussion featuring Mark Volchek, Founding Partner of Las Olas Venture Capital, an early stage venture fund focused on Florida and other underserved venture capital markets.
ANNOUNCEMENT: 3 entrepreneurs will have the opportunity to pitch for Mark! Email ad@tiemiami.org if you're interested in pitching!
Mark is an expert in funding, growing his own company, Higher One, from its first round of seed funding and multiple rounds of venture funding all the way to its successful IPO in 2010. He helped grow Higher One from just three founders to more than 1,000 employees and guided the company through multiple acquisitions exceeding $150mm in aggregate value. When Mark left in 2014, Higher One's products and services supported more than 1,900 schools and approximately 13 million enrolled students.
Mark is also prolific angel investor and has invested in over 30 companies.
He is also a Director of the Founder Institute – South Florida, where he helps budding entrepreneurs get their companies started.
Mark is the EY Entrepreneur Of The Year 2010 New England Financial Services Award winner and was an EY Entrepreneur Of The Year 2011 National Award finalist.
Free parking
Program Cost:Free