Description
Special Money Month EVENT - Show Me the Fund$ - featured g
uest interview with WebPT Dynamic Women Leaders, President & Co-Founder Dr. Heidi Jannenga and CEO Nancy Ham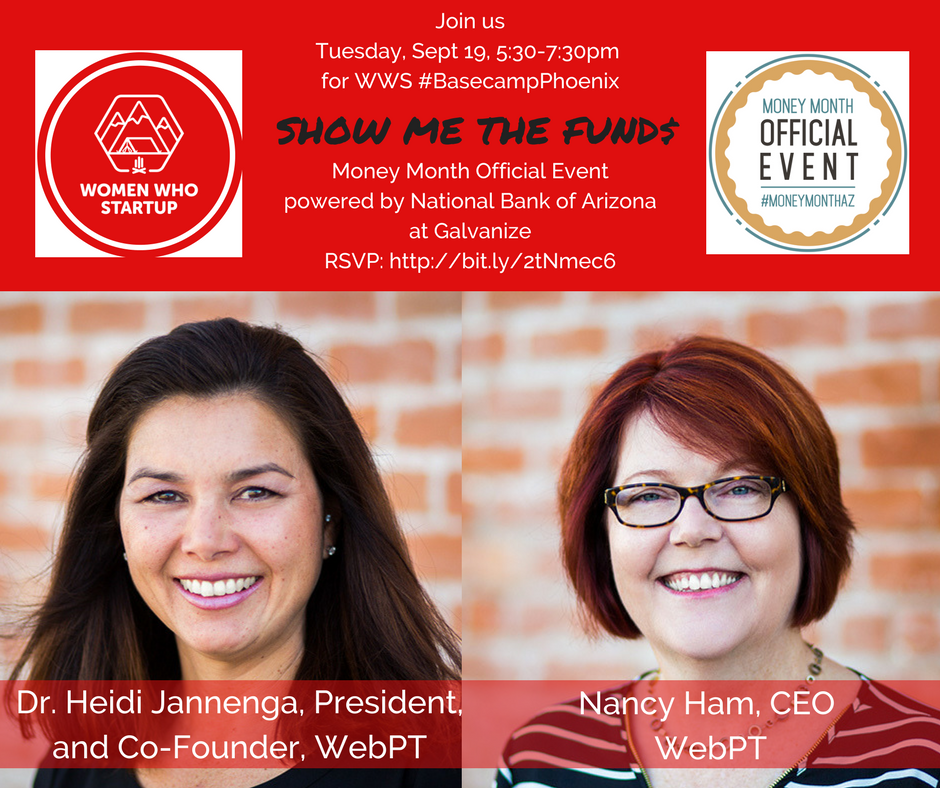 Dr. Heidi Jannenga, Co-Founder and President of WebPT
Dr. Heidi Jannenga PT, DPT, ATC/L, is the co-founder and president of WebPT, the country's leading rehab therapy EMR platform for enhancing patient care and fueling business growth. Since the company's launch in 2008, Heidi has guided WebPT through exponential growth. Today, it's the fastest-growing EMR in the country, employing more than 300 people and serving more than 70,000 therapy professionals at more than 10,000 clinics. WebPT has also ranked five consecutive times on the prestigious Inc. 5000 list and twice on the Inc. 500.

Prior to co-founding WebPT, Heidi practiced as a physical therapist for more than 15 years. Today, she regularly speaks as a subject-matter expert at local and regional technology, entrepreneurship, and leadership events, as well as industry conferences.
Nancy Ham, CEO of WebPT
As CEO of WebPT, Nancy Ham is focused on guiding the company through its next phase of growth, bringing with her a wealth of experience in developing, growing, and operating private and public healthcare IT companies.
During her robust career, she has achieved powerful results in healthcare IT and was named one of Health IT's 25 Most Powerful Women Thought Leaders by HealthData Management. Prior to WebPT, Nancy served as CEO of Healthagen Population Health Solutions, an Aetna company. There, she oversaw several tech businesses, including Medicity, the market leader in clinical data exchange and interoperability. Nancy also previously served as CEO, president, and a director of MedVentive (later acquired by McKesson), and has held executive roles at Sentillion, ProxyMed, Healtheon/WebMD, and ActaMed Corporation.
Event Agenda
5:30 - 6pm Drinks, Snacks, and Networking
6:00 - 6:15pm - Welcome & Intro to WWS from Robin Bramman
6:15 - 7:00pm Featured women innovator's, entrepreneur's interview with WebPT President & Co-Founder, Dr. Heidi Jannenga and CEO, Nancy Ham and co-host Kristin Slice from Maricopa SBDC
7:00 - 7:30pm Open Mic Q&A from audience - bring your SaaS and money month questions
I will co-host this event with Kristin Slice, Maricopa SBDC & Empowered PhXX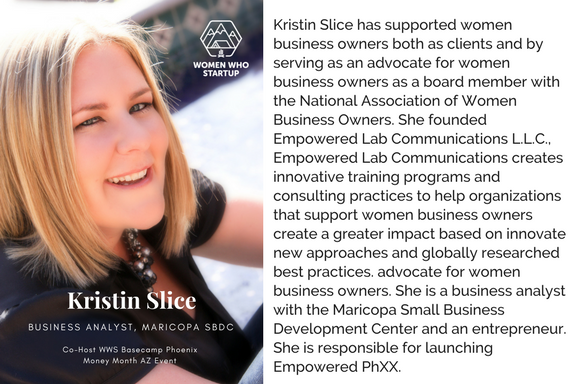 Co-hosted by Robin Bramman, City Leader, Women Who Startup Basecamp Phoenix
Robin is a seasoned entrepreneur, Senior Personal and Business Brand Consultant and Founder of Brandtini a Brand Essentials Marketplace for startup entrepreneurs. Her personal mission is to help individuals and businesses find their "PP", Perfect Potential. She is also a founding member of TechLadies in NY, connecting women to the best jobs in tech and a Board Member for the CO+HOOTS Foundation, a local nonprofit catalyst supporting equity through entrepreneurship. You can reach Robin on Linkedin and email her your list of Women Who Startup in Arizona that you would like to learn more about at a WWS event at robin@brandtini.com.
Co-Organizers and In-Kind Sponsors
Kristina Hallberg, Health Mixologist and Coach at KristinaHallbergRDN.com and Ann Ebert, Social Media Mixologist and Lead Social Trainer at Feed The Funnel Marketing. Carly Gilleland, Video Mixologist and Owner of Good Vibe Media.
Presented at Galvanize in Phoenix - WWS Global Venue Sponsor
Galvanize is the front door to the tech community and provides workspace, education and events for the tech community and women startup professionals. Ask to schedule a tour before the meetup.

What is Women Who Startup?
Women Who Startup is a community driven platform to celebrate, connect and empower female entrepreneurs in Colorado and beyond. Follow us @WomenWhoStartup Learn more about us: womenwhostartup.co
Powered by National Bank of Arizona.
Learn more about all #MoneyMonthAZ events at www.MoneyMonthAZ.com/Events