Come join the adventure Louisville!!!!!!!!!
About this event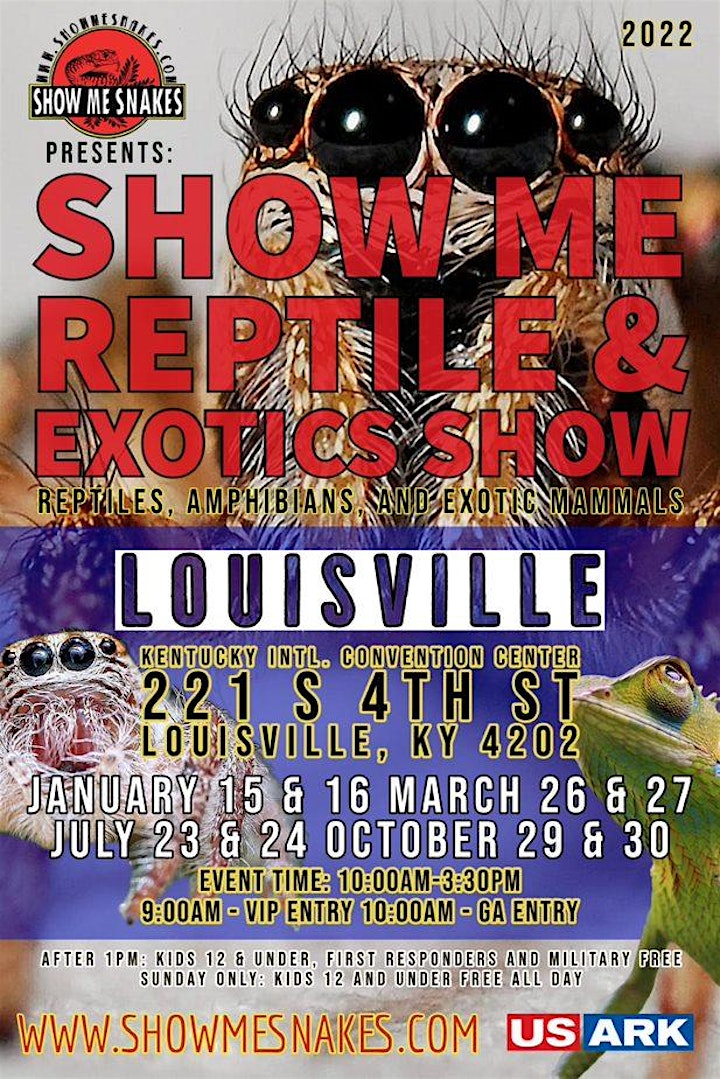 Show Me Snakes presents:
Show Me Reptile & Exotics Show
Dates:
January 15 & 16
March 26 & 27
July 23 & 24
October 29 & 30
Times: 10:00am-3:30pm
Location:
Kentucky International Convention Center (KICC)
221 S 4th ST
Louisville, KY 40202
Tickets available:
https://www.eventbrite.com/o/show-me-snakes-23204638345
Admission costs: $10-$20
Admission options:
GA: 10:00am entry
VIP: 9:00am entry
Weekend Warrior: $20 For 2 day shows only. Includes VIP both days and RAD entry.
We accept all forms of payment online and at the door.
All dates & locations listed here:
https://showmesnakes.com/all-show-locations
What to expect to see:
https://www.youtube.com/watch?v=NeQNDttc9c8
Description:
We are a premiere reptile expo bringing quality and variety. Our events are affordable for the entire family.
Experience, learn, and maybe even bring home a new family member.
WWW.SHOWMESNAKES.COM
Email: support@showmesnakes.com
Become a vendor:
https://docs.google.com/forms/d/e/1FAIpQLSdElFeJBloAn2h6ZpJbFWBVZFfJ6qO6Asl8MWf55JV4IwBvyQ/viewform
Requests will not be officially approved through FB messenger
Children under 12, first responders, Military, free ALL WEEKEND.
There are no refunds or transferable credits at all for any reason
Military and veteran discounts for service members only with ID
Pricing my vary at any time without notice