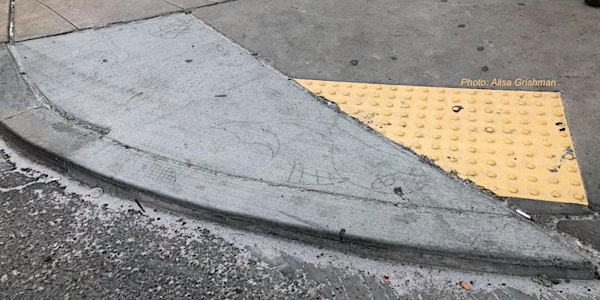 Show and Tell: A Dis/Ability Symposium
Event Information
Location
Point Park University Center For Media Innovation
305 Wood Street
Pittsburgh, PA 15222
Description
An event to share creative and academic work around the issues of disability, accessibility and inclusivity.
Featuring
Point Park alumnus and former Walt Disney World
Entertainment Costuming Manager
Brian Rutherford
in conversation with
WESA's Bill O'Driscoll
****************ONLINE REGISTRATION IS CLOSED, BUT WALK-INS ARE WELCOME**********
The schedule for the afternoon will feature presentations by:
(2:15 p.m.) Jennifer Szweda Jordan and Erin Gannon of Unabridged Press discussing the group's media projects

(2:30 p.m.) Michelle Steiner, teacher's aide from Butler, discussing learning disabilities

(2:45 p.m.) Regan Tischler, Point Park public relations student, discussing narcolepsy
(3 p.m.) Jade Steele, Point Park education student, discussing Certified Autism Centers
(3:15 p.m.) Tirzah DeCaria of Creative Citizens Studio, discussing a summer workshop at the Andy Warhol Museum
(3:30 p.m.) Emily Harnett, Point Park theater student, performing a spoken-word piece about mobility disabilities
(3:45 p.m.) Rianne Lindsey, Point Park theater student, discussing representation in film and theater
(4 p.m.) Alicia DiGiorgi of Pittsburgh Playhouse, explaining its Inclusivity Committee
Plus, at 4:15 p.m., featured speaker:
Brian Rutherford to be interviewed by Bill O'Driscoll of WESA

About our featured speaker, Brian Rutherford:

Brian Rutherford fell in love with the theater arts at a young age, named Outstanding Theatre Student at his West Virginia high school. He then earned a bachelor of fine arts degree at Point Park University.
Brian worked for 11 years at Walt Disney World, serving as a Cast Member in such roles as Costume Assistant with Creative Costuming and Entertainment Costuming Manager at the Magic Kingdom. While there he also met his wife Kristie, and had a son.
Then disaster struck – Kristie became ill, went into septic shock, and eventually lost her leg. On the eve of her return home from a rehabilitation facility, Brian suffered four strokes, losing his eyesight at the age of 38.
Brian returned to Pittsburgh to be near to family, friends and peers in the theater community. He now works at the Blind and Vision Rehabilitation Services of Pittsburgh sewing in the textiles department. To help individuals in the community with vision loss experience theater, Brian also serves as an audio description coordinator for the Pittsburgh Cultural Trust and Pittsburgh Public Theater, and an audio description consultant for the city's Prime Stage Theatre.

In May, he was named winner of the 2019 Peter J. Salmon Employee of the Year Award by the National Industries for the Blind at the organization's national symposium in Washington D.C.
Admission to the Dis/Ability Symposium is free and the event is open to the public.

****************ONLINE REGISTRATION IS CLOSED, BUT WALK-INS ARE WELCOME**********
Please email sfederoff@pointpark.edu with any necessary accommodations, which we will be happy to provide. A sign language interpreter will be interpreting the event.
Our partner in integrating people with disabilities into media work, the Point Park Center for Media Innovation, hosts this event in its state-of-the-art space at 305 Wood Street, in downtown Pittsburgh. The university's Center for Inclusive Excellence is supporting this effort.
Date and time
Location
Point Park University Center For Media Innovation
305 Wood Street
Pittsburgh, PA 15222