Show #3- The Open Mic Proving Grounds -Presented By Keep Moving Forward USA
An open mic series competition where YOU the artist get to prove you have what it takes to win over an unbiased crowd & a chance to network.
About this event
July 27th is show #3 of 4 preliminary rounds that'll take place here in San Antonio. This show is a competition series where artists will compete in an open mic format to win over the crowd who will eventually decide which winners will move on to what we are labeling our upcoming "Championship Show" on August 24th, 2021. There will be 25 artists *max* performing at each of the four shows planned at the shows new venue home, Treasure Events. Each show will have 3 winners. Artists will perform ONE track in a random drawing order and in sets of 5. One person from each group of 5 will move on to perform a SECOND song the same night. At the end of our 5 sets of 5 performers, each winner will perform again and only the top 3 winners will move on to perform at our championship round concert. The overall winner and winners will be selected to perform at a multitude of shows curated in the future by Keep Moving Forward USA & Boss Promotions all over the state of Texas.
** This Eventbrite is for the July 27th show only.**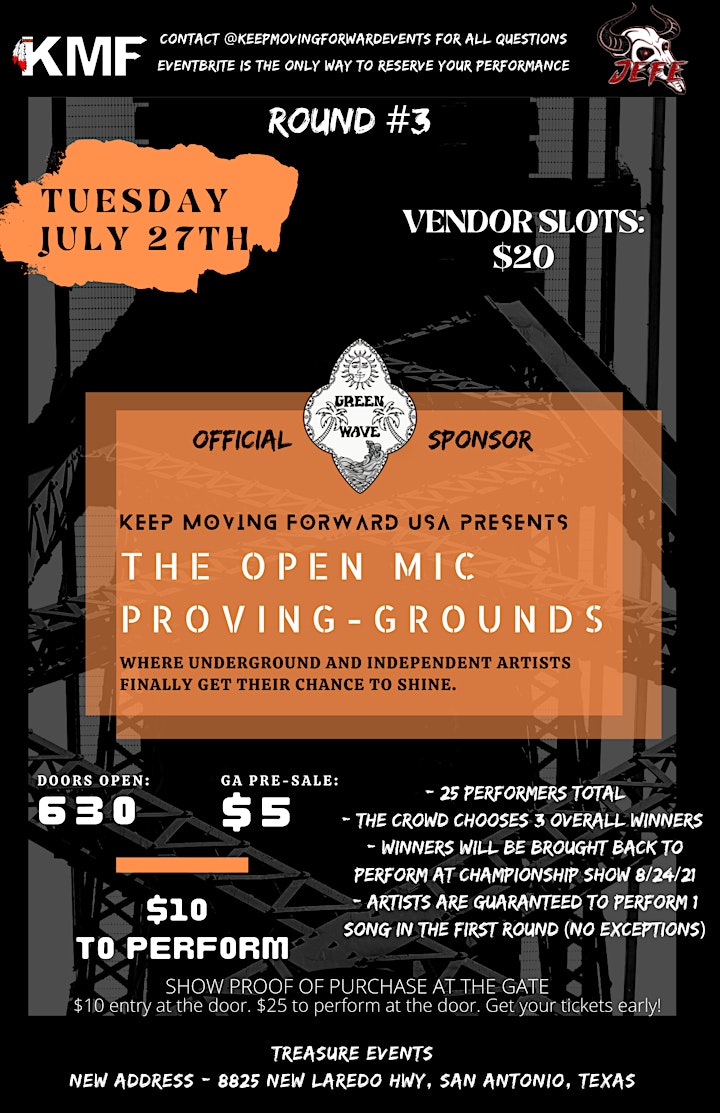 Organizer of Show #3- The Open Mic Proving Grounds -Presented By Keep Moving Forward USA