About this Event
As the Brontë sister wrote, "The ties that bind us to life are tougher than you imagine." Shovels & Rope, the musical duo of Michael Trent and Cary Ann Hearst, embody that bond. Married for a decade, their covenant extends to blood and beyond: as parents, bandmates, and creative collaborators who can now add the pursuits of festival curators, film subjects, and children's book authors to that mighty list. Having released four studio albums and two collaborative projects (Busted Jukebox, Vol. 1 & 2) since 2008, Trent and Hearst have built their reputation on skill, sweat, and, yes, blood. Now, with the tough and elegant new record By Blood, as well as their High Water Festival in their hometown of Charleston, South Carolina, "Shovels & Rope: The Movie", and the picture book "C'mon Utah!", Shovels & Rope are primed for their biggest year yet.
Accomplished musicians in their own right prior to dedicating themselves full time to Shovels & Rope in 2011, Trent and Hearst have made a career together by seizing opportunities and never resting on their laurels or being complacent in doing something just because. Carving out a niche in the music world with strong, roots/indie/folk/rock inspired efforts like 2012's O' Be Joyful, 2014's Swimmin' Time, and 2016's inward looking Little Seeds, as well as their powerful live show, far-reaching tours, and myriad TV and festival appearances, Shovels & Rope have earned the right to follow their own muse. And so, in an effort to satisfy their numerous creative interests and adapt to a changing industry, Trent and Hearst have firmly planted their flag in realms beyond recording and releasing albums.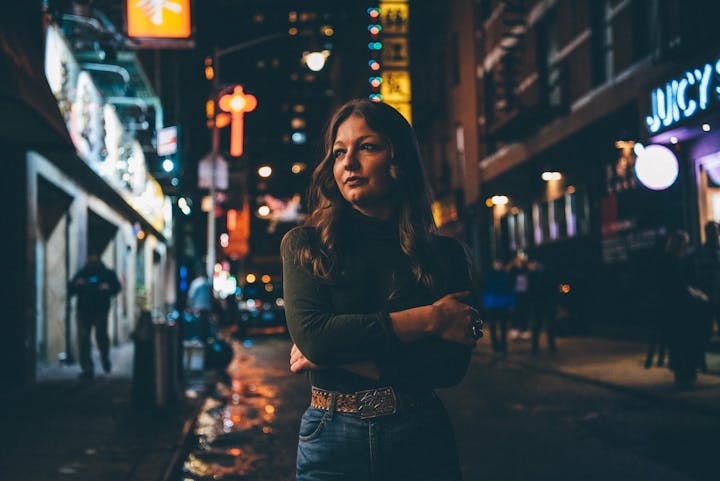 I've Got A Way, released in 2016, established Kelsey Waldon as one of Nashville's founders of the female-pioneered twang revival—a movement that is quickly redefining the modern country music narrative. The album ranked on NPR's Fresh Air host Ken Tucker's "Top 10 Favorite Albums of 2016" alongside Beyonce, Miranda Lambert, and Stax legend William Bell. The album's shining single, "All By Myself" was also named on NPR's list of "Top 100 Songs of 2016." The video for the single, filmed in her hometown of Monkey's Eyebrow, was featured on Rolling Stone Country and Billboard. NPR's Ann Powers, one of the most notable supporters of I've Got A Way, admired the record's "delightfully direct language and delivery enhancing vivid musical settings that demonstrate her vast understanding of the traditions she mines."
Since the release of I've Got A Way, Waldon has been busy touring the country with a tight-knit band of extremely talented musicians opening for artists such as John Prine and Jamey Johnson. Waldon has played on the Grand Ole Opry and has been featured on some of the country's biggest festival lineups, including ROMP Fest, Pickathon, Willie Nelson's Luck Reunion, National Folk Festival, and Gasparilla, to name a few. But despite the fame and notoriety she's seen in the past three years, Waldon remains humbled by her success, "I've spent a huge majority of my life studying my favorite records, my favorite songs, and my most-favorite singers," she says, adding, "you never stop learning or gaining from it. I'm still doing it all the time."
When Cris Jacobs began dreaming about a follow-up to his critically acclaimed 2016 album Dust to Gold, he realized early on he'd have to do things differently this time around. His life had changed drastically since writing those songs: he'd toured extensively and attracted a legion of new, devoted fans; he'd come off the road into a world, with its divisive rhetoric and troubling headlines, he no longer recognized; and, most importantly, he'd gotten married and had his first child. Things had changed, and Jacobs had, too.
Color Where You Are is the work of an artist at an exciting new stage in his life and career, ready to use his talents to share a little beauty with the loved ones and fans who have already given so much to him. The title nods to Jacobs' experience writing the album, which, as he puts it, he had to do "between tours, coming home, changing diapers, fixing things around the house.... You name it." He no longer had the luxury of waiting for inspiration to strike, so he colored where he was.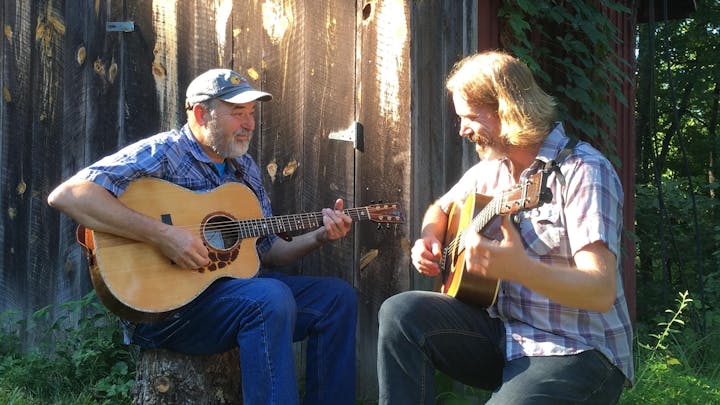 This album represents a labor of love for two friends and mutual musical admirers. I first met Robin at the Wayne Henderson Festival and Contest in 2005. Robin was a judge of the guitar contest and I won that year. Some recall Robin hurrying out of the judging booth asking, "Who played that Forked Deer?" Later that year we got to spend some quality time together at the Walnut Valley Festival in Winfield, KS, where we both competed in the National Flatpicking Championship. I took second place that year. Robin had already claimed his championship in 1985, and I eventually won in 2008. In subsequent years Robin and I found ourselves on faculty together at Steve Kaufman's Acoustic KAMP in Maryville, TN, and Augusta Bluegrass Week in Elkins, WV, where we built up a friendship and some good twin guitar arrangements for the evening concerts. One night at a jam session Robin asked, "How old are you?" On my response, Robin said, "You're the same age as one of my boys." That's when Robin became my Flatpicking "Pa" and I became Robin's Flatpicking "Son". We like to carry on with this role for a good laugh every now and then: "Don't thrash me Pa, I been practicing!"…"Son, Get a switch…"
The opportunity finally arrived in August 2017. I secured a few days off of my busy Summer schedule of performances with Grant Farm following Augusta Bluegrass Week, rented a car, and drove to St. Albans, the Kessingers' hometown in Kanawha County, WV, to stay with Robin and his wife Mary for a few days. Robin's nephew-in-law, Bud Carroll, a veteran musician and studio engineer, had just relocated his Trackside Studios to his cabin home near Point Pleasant, WV. Bud had the days available. The tracking took place Monday and Tuesday, Aug 7-8. Robin and I had communicated ahead of time about a few songs and tunes, and we had a couple existing arrangements, but most of the program was worked up the evening before tracking.
We both wanted to dig up some long-time Kessinger family songs and tunes that Robin had learned from his Great-Uncle, Clark, and his Dad, Bob. Many of these had not been played in a while. Clark Kessinger was one of the most renowned and influential old-time fiddlers of all time, and Bob Kessinger was a well-known mandolinist and singer who performed with The Mountaineers for many years on WCHS TV and Radio in Charleston, WV.
Performers
Date and Time
Location
Refund Policy