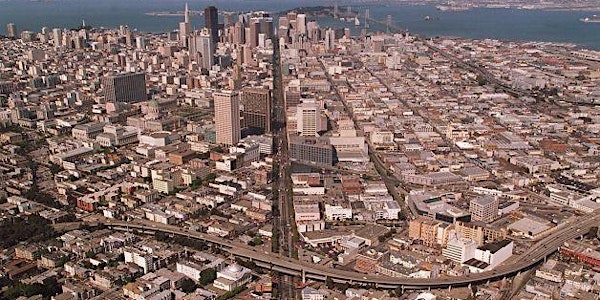 The Future of San Francisco Freeways - State and Local Perspectives.
Most of us agree that the Central Freeway is an eyesore. But, should it be removed? Join us for a conversation about the implications.
When and where
Location
Manny's 3092 16th Street San Francisco, CA 94103
Refund Policy
Contact the organizer to request a refund.
About this event
1 hour 30 minutes

Mobile eTicket
The Central Freeway is more than just an eyesore. It is a vestige of car-centric infrastructure that has blighted San Francisco communities for decades. Its presence divides the Mission and SOMA districts, while causing significant local pollution that affects nearby residents. Four of the ten most dangerous intersections in San Francisco are part of or underneath the Central Freeway.
It's long been City policy to explore alternatives to the freeway, and more people are now calling to remove the remaining Central Freeway stub over 13th and Division streets. The freeway removal will create many opportunities for desperately needed new housing, an expansion of public transit, and new parks within an SF neighborhood that is afforded the least amount of green space in the city.
Join us at Manny's for a panel discussion on the Central Freeway and what its removal would mean for San Francisco.
About Our Panel
About Tom Radulovich
Tom is a longtime advocate for livable cities where people and nature can thrive together. He serves as Executive Director of the nonprofit Livable City, which advocates for a greener, healthier, more equitable, and more walkable San Francisco, provides open streets through programs like Sunday Streets, and supports grassroots initiatives to make neighborhoods more livable. He was an elected member of the BART Board of Directors for two decades, including two terms as president. He lives in the Mission, where he enjoys tending his neighborhood's sidewalk gardens.
About Rich Hillis
Rich Hillis is the Planning Director for the City and County of San Francisco. Mr. Hillis is responsible for overseeing long range city planning, development review, and environmental review for most physical development in San Francisco. He served on the San Francisco Planning Commission for eight years before becoming Director of the Planning Department.
Prior to joining San Francisco Planning , Mr. Hillis served as the Executive Director for the Fort Mason Center for Arts & Culture where he led its reinvigoration, investing over $60 million into the historic campus and providing a stable and vibrant home to dozens of arts organizations and events. Before joining the Fort Mason Center, Mr. Hillis served as Deputy Director of San Francisco's Office of Economic and Workforce Development, where he managed all aspects of the redevelopment of Treasure Island and Yerba Buena Island into a new 8,000-unit, mixed-use neighborhood, led efforts on priority Port development projects, and oversaw efforts to develop and implement a comprehensive strategy for development along Octavia Boulevard. Previously, he was the San Francisco Recreation and Park Department's Director of Partnerships and Property, managing RPD's assets and concessions.
Mr. Hillis has an Master's degree in Public Policy from the University of Chicago and a Bachelor's from the State University of New York at Albany.
About Daniel Owens
Daniel Owens is an SFUSD high school educator and activist who has lived in the Mission District since 2006. Originally from San Diego, he moved to the Bay Area for college and received his California teaching credential from San Francisco State University. His current work focuses on teaching computer science skills to predominantly newcomer students from Central and South America. He sees the service he provides to SFUSD students, and his focus on SF livability, as inextricably linked. When he's not trying to tear down freeways or obsessing over SF urbanism, he is composing and producing music.
About Senator Scott Weiner
Elected in November 2016, Senator Scott Wiener represents District 11 in the California State Senate. District 11 includes all of San Francisco, Broadmoor, Colma, and Daly City, as well as portions of South San Francisco.
In the Senate, Senator Wiener works to make housing more affordable, invest in our transportation systems, increase access to healthcare, support working families, meaningfully address climate change and the impacts of wildfires, reform our criminal justice system, reduce gun violence, reduce California's high poverty rate, and safeguard and expand the rights of all communities, including immigrants and the LGBTQ community.
Senator Wiener has authored 42 bills that have been signed into law. Among them are SB 35, a landmark law to streamline housing approvals in cities not meeting their housing goals; SB 855, which makes California the national leader in mental health and addiction care access by requiring insurance companies to cover all medically necessary mental health and substance use disorder treatments; SB 822, which enacts the strongest net neutrality protections in the nation; SB 1045 and SB 40, which expand and strengthen California's conservatorship laws to help individuals who are living on our streets with severe mental health and substance use disorders; SB 700, the largest investment in clean energy storage in California history; SB 923, which modernizes California's eyewitness identification standards to ensure innocent people are not sent to prison; SB 136, which reduces mass incarceration by repealing California's most commonly used sentence enhancement; SB 219, which protects LGBTQ seniors in long-term care facilities.
Senator Wiener is the immediate past chair of the California Legislative LGBTQ Caucus, and serves as the Chair of the Senate Mental Health Caucus. He also serves as Chair of the Senate Housing Committee and the Senate Committee on Legislative Ethics, and is a member of the Public Safety Committee, Judiciary Committee, Governance and Finance Committee, Health Committee and Select Committee on Mental Health. He serves as Vice Chair of the California Legislative Jewish Caucus and as the Senate's Assistant Majority Whip. He is immediate past Chair of the California Legislative LGBTQ Caucus.
Before his election to the Senate, Senator Wiener served on the San Francisco Board of Supervisors, representing the district previously represented by Supervisor Harvey Milk. During his time on the Board of Supervisors, Senator Wiener authored a number of first-in-the-nation laws, including mandating fully paid parental leave for all working parents, requiring water recycling and solar power in new developments, and banning public spending in states with LGBTQ hate laws. He focused extensively on housing and public transportation, authoring laws to streamline approvals of affordable housing, to legalize new in-law units, and to tie public transportation funding to population growth.
Before his election to the Board of Supervisors, Senator Wiener spent 15 years practicing law: as a Deputy City Attorney in the San Francisco City Attorney's Office, in private practice at Heller Ehrman White & McAuliffe, and as a law clerk for Justice Alan Handler on the New Jersey Supreme Court. Senator Wiener co-chaired the Alice B. Toklas LGBTQ Democratic Club, BALIF (the Bay Area's LGBTQ bar association), and the San Francisco LGBTQ Community Center, as well as serving on the national board of directors of the Human Rights Campaign, the nation's largest LGBTQ civil rights organization.