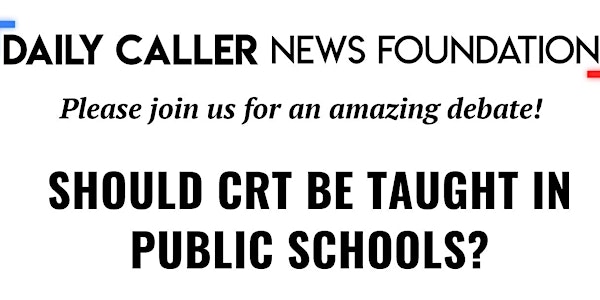 Should CRT be taught in public schools?
Please join us at Emory University as we explore the topic: Should race theory discussions be regulated in public schools?
When and where
Location
Harland Cinema - inside the Alumni Memorial University Center at Emory University 630 Means Drive Atlanta, GA 30322
About this event
Doors open at 4:30 and the debate will begin at 5:00 pm. If you have any questions about attending please contact Whitney Tipton at wtipton@dcnf.org or (310) 220-9911.
DIRECTIONS:
Public Parking is available on the Peavine deck: address: 29 Eagle Row, Atlanta, GA, 30322. The sign in front of the visitor lot actually says 27 Eagle Row.
From there, take a left up Eagle Row, before the Stop sign take a right and walk up toward the George Woodruff Physical Education Center. Go left at the end of the path (instead of going into the Woodruff Center) and follow that to the Tennis Courts. Turn right and walk past the tennis courts (courts will be on your left). At the end of that path is the Emory Student Center. To the right of the entrance is a large flight of stairs (you are still outside). Take those steps up and you will be in front of the Mary Gray Munroe Theatre. The Harland Theatre is also in this building -- head to the right and take a left along side of the building and you will come to an entrance about halfway down the building. The doors say you are entering the Mary Gray Theatre. After you enter head up the stairs on the right. Continue down that hall and take the 1st left. The 1st door on the right after that is the Harland Theatre.
See the images below for the Parking and walking instructions.