Shorts & Shots with Glow Networking

Saturday, March 26, 2011 at 6:00 PM (EDT)
Event Details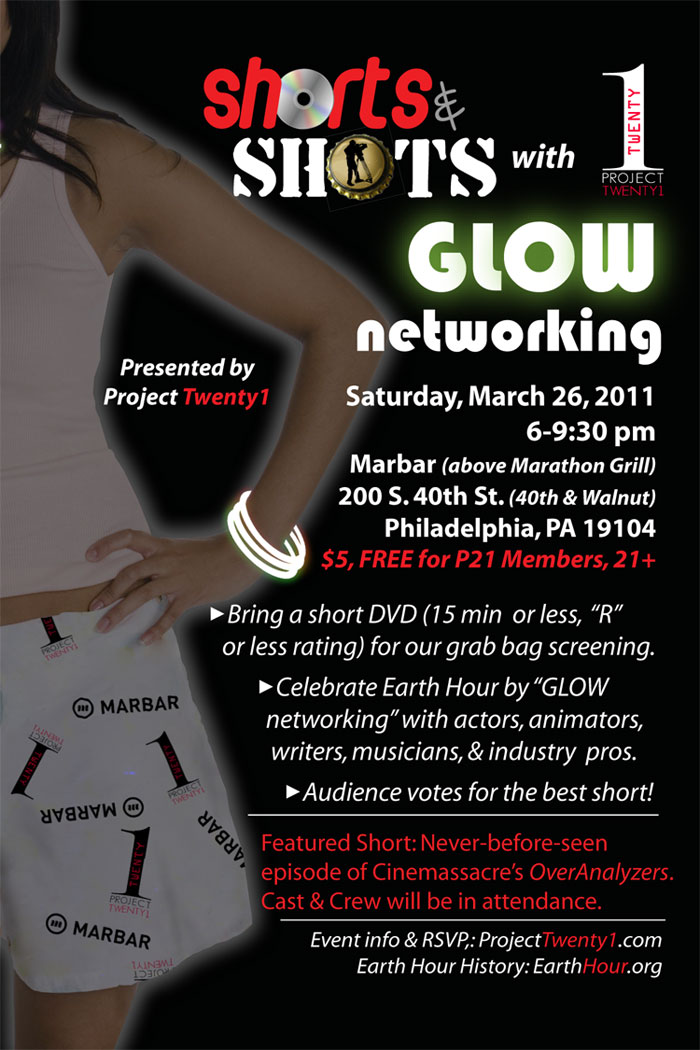 The night will start off with an open-mic indie movie screening ("Shots & Shots"), where short films, animations, music videos, and trailers (15 minutes or less, R-rated or less) will be pulled out of a grab bag at random. "Green-Themed" films will automatically receive priority screening!

Enjoy drink specials from 6-8, ($3 Yuengling Lagers and Yards Draughts, $3 Well Cocktails, $5 House Red & White Wines, and $5 Absolut Cocktails).

At 8:30 sharp, the lights will go out for a round of hilarious and fun Glow Networking".  Film industry professionals "network in the dark" wearing color-coded, reusable LED lights based on their profession (Ex: Green=actor, Purple=musician, Blue=Animator, Red=Filmmaker, Orange=Writer, and Yellow=general movie lover) in celebration of global Earth Hour.

Big gift bags of prizes from Sony & Dymo will be distributed to the best films of the evening (selected by the audience) at the end of the night.
Featured Short of the Evening*: Premiere of an unseen episode from "OverAnalyzers", the newest web series by Cinemassacre, and also starring some of the crazy Project Twenty1 crew. Most of the cast & crew of the series, will be in attendance.
 (not in competition for "Best Short of the Night")
FAQ:
What is Earth Hour?
Earth Hour is an event organized by WWF (World Wildlife Fund) asking households and businesses to turn off their non-essential lights and other electrical appliances for one hour to raise awareness towards the need to take action on climate change. In 2008, Project Twenty1 was a part of the grassroots movement that made Pennsylvania the first state to officially celebrate Earth Hour, which allowed the United States to join the other 96 countries on 6 continents in celebration.
What is Shorts & Shots?
Shorts & Shots is a casual, open-screen-style event for independent artists, filmmakers, and animators, and the people that love them! Screening includes a networking mixer filled with filmmakers, animators, musicians, talent, and industry professionals, all there to drink, watch films, and meet the artists behind them
.

What is Project Twenty1? Project Twenty1 is a 501(c)3 not-for-profit organization that Exhibits, Promotes, Inspires & Connects creatives through film and animation events, festivals, and programs.
So far, we have over $1000 worth of prizes from Sony and Dymo that will be gone at the end of the night!

What Kind of Short shoud I Bring?
Please check to make sure your disk works before you come! We are not responsible for glitchy disks, but we'll do the best we can to give you an awesome screening. Viewer discretion advised for potential R-Rated content. Short and visually exciting films and comedies are better suited for this event than dialog-driven or heavy dramas, but all are welcome! Music videos, animations, and short comedies play really well. 
What are the prizes?
So far, we have over $1000 worth of prizes from Sony and Dymo that will be gone at the end of the night!

What If I'm Shy?  Susie Filmmaker  (Stephanie Yuhas) will be in attendance to help you. She loves connecting people, so if you are looking to pair up with anyone in particular, just as her and she'll try her best to help. This is an fun, open forum for networking and film discussion, so don't be shy!
How Do I Get my Short Featured?
Want to get your short featured at a Shorts & Shots Event? Project Twenty1 will randomly choose films fromtheir Film Library after the 2011 Project Twenty1's call-for-entries begin  Not only will you qualify to screen as a featured program at "Shots and Shots", but you qualify for a theatrical screening as a part of the Philadelphia Film & Animation Festival, Philadelphia Filmathon, and dozens of partner fests. More info about that coming to ProjectTwenty1.com soon!
Attendee List
Sort by:

Date

|

First Name

|

Last Name
When & Where

Marbar (above Marathon Grill)
200 S. 40th St. (40th &Walnut)
Philadelphia, PA 19104


Saturday, March 26, 2011 at 6:00 PM (EDT)
Add to my calendar
Shorts & Shots with Glow Networking