Shortly After BIFF – Best of BIFF Short Film Benefit. Food, Film, & Fun sponsored by Made In Nature.

Friday, March 20, 2015 from 6:00 PM to 9:30 PM (MDT)
Event Details
Shortly After BIFF – Best of BIFF Short Film Benefit
Food, Film, & Fun sponsored by Made In Nature
Doors & Event Start: 6:00pm
Film Start: 7:00pm
Event End: 9:30pm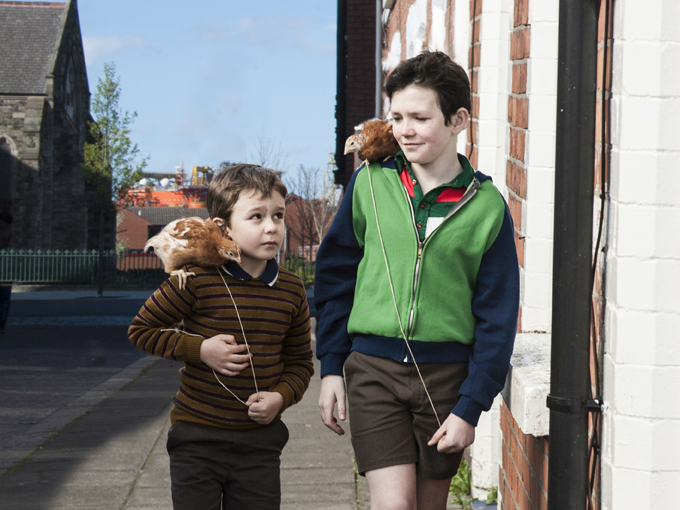 Miffed that you missed the Boulder International Film Festival? Don't fret. Join us for a great evening to benefit BIFF with delicious and inspired organic food, drinks, prizes and lots of fun, provided by Made In Nature. Following the fun, we'll be showing the Best Shorts reel at eTown Hall. Don't miss it the second time around – or better yet, come see them again!


---

Sprout
South Korea, Short Film, 2013, 20 min
Winner at the Aspen Shortsfest

Bory, a 7-year-old girl, goes to the market to get sprouts, meanders through sunlit gardens and people's houses, watches a stick-ball game and listens to people's conversations on the street. On the way back from the market, though, she gets lost and wanders through the living room of a very old man in a straw hat. He seems friendly, but can he help her find her way?

Subtitled
Directed by Ga-eun Yoon

---

Pony Place
Netherlands, Short Film, 2013, 11 min
Winner at the Aspen ShortsFest

When young Emma is prohibited from taking her iPad on holiday, she asks her Grandma to look after her realistic digital horse farm. The task proves a bit more stressful than Grandma and Grandpa expected.

Subtitled
Directed by Joost Reijmers


---

Rabbit
France/USA, Short Film, 2014, 17 min
Direct to BIFF from Sundance 2015

With a possibility of reducing her sentence in a Washington maximum-security prison, a female prisoner volunteers for the prison pet partnership program (PPPP). Now, alone in her cell, she struggles to connect with Alex, the rabbit.

Directed by Laure de Clermont-Tonnerre


---

Boogaloo and Graham
United Kingdom (Northern Ireland), Short Film, 2014, 14 min
Nominated for a 2015 Academy Award

Jamesy and Malachy are over the moon when their soft-hearted dad presents them with two baby chicks to care for. Raising their tiny charges, declaring themselves vegetarian and dreaming of running a chicken farm, the two boys are in for a shock when their parents announce that big changes are coming to the family.

Directed by Michael Lennox


---

Every Day
USA, Short Documentary, 2014, 12 min
Direct to BIFF from Sundance 2015

At 86, Joy Johnson is well known on the "Today Show" where she appeared after every race to get a kiss from Al Roker. She didn't start running until age 60, and in 2013, she was the oldest woman to ever run the New York City Marathon. Her time was a respectable eight hours, but her best time at the marathon, in 1999, was three hours, 55 minutes. Joy, in person, is exactly like her name implies.

Directed by Gabe Spitzer
Have questions about Shortly After BIFF – Best of BIFF Short Film Benefit. Food, Film, & Fun sponsored by Made In Nature.?
Contact eTown
Organiser
eTown's mission is to educate, entertain and inspire a diverse audience, through music and conversation, to create a socially responsible and environmentally sustainable world.
eTown Hall is located in the heart of downtown Boulder, Colorado. A world-class performance venue, full service recording studio and community center, eTown Hall is also home to the famous eTown radio show. A non-profit organization since 1991, eTown has been committed to environmental education and "doing the right thing." This building, converted from an old church facility, is quite possibly the greenest music and media center in Colorado!
eTown Hall is unique – not another venue in the country like it. It's recycled (a former church), rebuilt (a total renovation from the ground up), renovated (state of the art sound systems, recording studio) repurposed (a green building that makes its own solar power, has extremely efficient heating and cooling, used recycled and repurposed materials in the renovation) and reinvigorated (the community LOVES eTown Hall!) .
eTown Hall Refund and Exchange Policy: eTown does not provide refunds or exchanges for any ticket purchases. If you have further questions, please call us at 303-443-8696, ext. 100.
When purchasing a ticket to an event at eTown Hall, you will be automatically signed up for the eTown mailing list. You will have the option to opt-out of this list at any time.
NOTE: If you are trying to reach us over the weekend about a weekend show or event, the best way to get in touch with us is by calling our Box Office at (303) 443-8696, ext. 117. Someone should be on-site a couple of hours before doors open the day of the show to answer your call, or return your message as soon as possible.