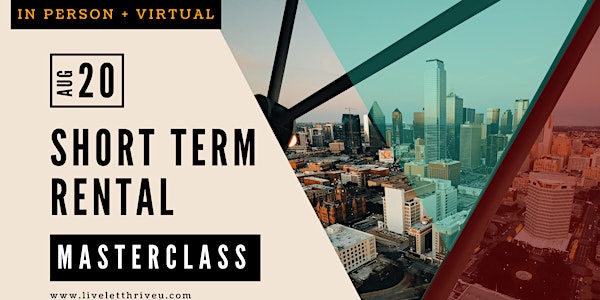 Short Term Rental Masterclass - Acquisitions and Operations| LLT U
Learn To Effectively Acquire, Optimize & Operate Your Short Term Rental Biz and Take It To The Next Level
When and where
Location
Common Desk - Deep Ellum 2919 Commerce St #165 Dallas, TX 75226
Refund Policy
Contact the organizer to request a refund.
Eventbrite's fee is nonrefundable.
About this event
Back AGAIN by popular demand. If you missed the last event, you don' want to make that mistake again as tickets sell out fast. (Additional seats will NOT be opened after we are sold out.)
"DISCOVER HOW TO BUILD A PROFITABLE STR BUSINESS" And How You Can Do It Even If You're Struggling To Get Your First Property, Have No Real Estate Knowledge or Sales Experience!"
It is a 3-hour workshop, where the Live Let Thrive Team will teach you our proven strategy right from scratch, going into immense detail on why, what, and how to do specific little-known critical things to propel your business to the next level. It is designed to help you explore those ideas that have been brewing in the back of your mind for days, months or even years! This masterclass will help you validate your business niche, develop the necessary skills to get ready for launch and as well as educate you with the top mistakes that 99% of the people make.
Feel like you have wasted so much money and so much time trying to get started with no results? 😕
This Masterclass is for anyone interested in starting WITH or WITHOUT EXISTING STR operations and willing to take on a PROACTIVE approach in their business and holistic thinking. This Masterclass will be JAM-PACKED with solutions, basic acquisition techniques, lead generating, best practices for operations, and examples of pitches and TEMPLATES that you can use right away.
What we have been able to create and what our students are creating is a more strategic and focused effort on the critical parts of the business (and unfortunately) where many people fail or not maximize potential. With a more competitive market across the US.
That being said we want to teach you exactly how we've been able to grow our businesses SUBSTANTIALLY with detailed strategies to kickoff your STR business. These strategies have helped us and our mentees create a "sustainable business model" for all seasons. These include:
→ How to Find & Analyze Properties
→ How to maximize Rental Revenue
→ Standard Operating Procedures (SOP) and Best Practices for Running Your Business
→ What you NEED inside your short term rental and Upselling Opportunities 
→ Managing Cleans & Resolutions Like a Pro
And if you listen to our podcast, Live Let Thirve, you'll hear plenty of extraordinarily successful entrepreneurs. And almost everyone talks about how important it is to learn from a coach or expert who's already been there and done that. These incredible people take MASSIVE action by surrounding themselves with mentors and like-minded peers in their industry.
****ALL ATTENDEES WILL RECEIVE A 10% DISCOUNT TO OUR FULL COMPREHENSIVE COURSE (LAUNCHED FALL 2022)****
BONUS!!!!!!
👍Secret Strategies — Learn unique tips and secret strategies on why certain things matter and why other things don't and how to best use them to give you an unfair advantage for your business
🙅🏽‍♀️#1 Mistake — Discover and Avoid the TOP Mistakes you are making in Your Business That Could Be Costing You Thousands of Dollars
😷Understand The Pandemic Effect — How can you diversify and limit risk against inflation and other external factors
📄 How to market your STR for more direct bookings
💻ONLINE OR IN-PERSON Event — This is a live and interactive masterclass
Frequently Asked Questions
Is it in-person Masterclass or virtual Masterclass? This is a virtual Masterclass and you can attend it from the comfort of your home OR in person with the availability to network with other students.
Would this masterclass be helpful to people who have existing STR businesses as well? Definitely! The business strategies are geared towards everyone including beginners and existing owners that have been operating for a while.
Would you help me decide which business model is best for me? Yes, we cover about the different business ideas and the process of researching the niche, so that you can choose the best business niche to move forward and launch your niche
How will I access the virtual option? You will be sent an email with the virtual webinar invitation link 24 hours prior to the event. Please email info@liveletthriveu.com with any questions.
Here is what attendees said about the past events:
"Loved the Masterclass. I have attended many workshops, and I think this is the best workshops I have ever attended."
—Bob G.
"Thanks for this informative masterclass! Love being in-depth workshop. I was able to implement some strategies within 24 hours and they started working right away. It gave me a blueprint on how I can make my operations successful "
—Amrin D.
"Awesome Masterclass, loved each and every minute of it. Thank you so much Myka and Steve for sharing so many advanced tricks in such a simple manner. Keep up the good work and God bless you for giving me hope."
—Miriam B.