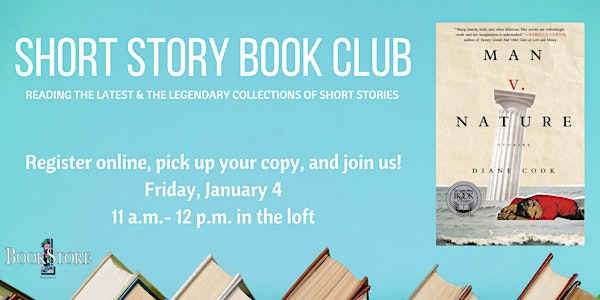 Short Story Book Club "Man v. Nature" by Diane Cook
The Short Story Book Club led by Bryn Durgin. This month's selection is "Man v. Nature" by Diane Cook
When and where
Location
Bookstore1Sarasota 117 S. Pineapple Ave. Sarasota, FL 34236
Refund Policy
Contact the organizer to request a refund.
About this event
In this monthly book club dedicated to reading collections of short stories, January's pick is Man v. Nature, Diane Cook's refreshingly imaginative, daring debut collection of stories that illuminates with audacious wit the complexity of human behavior, and the veneer of civilization over our darkest urges.
The benefit of our Short Story Book Club: If you only read one or two of the stories, you can still meaningfully participate and not worry about spoiling a book you're only halfway through. If you're not wild about one short story between the covers, chances are that you'll find at least one with which you'll fall in love.
We will meet in person at our store location at The Mark, 117 S. Pineapple Ave. The book club is $16 which includes your copy of Man v. Nature to be picked up at Bookstore1 anytime before our meeting.
Special Bonus: Diane Cook will be appearing in the loft at Bookstore1 on January 20 at 6 PM in collaboration with the The Hermitage Artist Retreat. In the program "The Art of the Story Collection," Cook will read selections from Man V. Nature and discuss the intricacies of weaving a story collection. Registration is required ($5 per person). Click here for tickets: https://form.jotform.com/223216791070148
About the book:
Told with perfect rhythm and unyielding brutality, these stories expose unsuspecting men and women to the realities of nature, the primal instincts of man, and the dark humor and heartbreak of our struggle to not only thrive, but survive. In "Girl on Girl," a high school freshman goes to disturbing lengths to help an old friend. An insatiable temptress pursues the one man she can't have in "Meteorologist Dave Santana." And in the title story, a long-fraught friendship comes undone when three buddies get impossibly lost on a lake it is impossible to get lost on. Below the quotidian surface of Diane Cook's worlds lurks an unexpected surreality that reveals our most curious, troubling, and bewildering behavior.
Other stories explore situations pulled directly from the wild, imposing on human lives the danger, tension, and precariousness of the natural world: a pack of "not-needed" boys takes refuge in a murky forest where they compete against one another for their next meal; an alpha male is pursued through city streets by murderous rivals and desirous women; helpless newborns are snatched from their suburban yards by a man who stalks them.
As entertaining as it is dangerous, this accomplished collection explores the boundary between the wild and the civilized, where nature acts as a catalyst for human drama and lays bare our vulnerabilities, fears, and desires.
About the author:
Diane Cook's fiction has been published in Harper's Magazine, Granta, Tin House, Zoetrope, One Story, Guernica, and Best American Short Stories, edited by T.C. Boyle. Her nonfiction has appeared in the New York Times Magazine and on This American Life, where she worked as a radio producer for six years. She earned an MFA from Columbia University, where she was a Teaching Fellow. She lives in Oakland, California.
..........................................................................
All signed up and unable to go? Please let us know! Seating is limited and there may be people on our waitlist who would like to to take your place. Please send an email to bryn@sarasotabooks.com ASAP and hopefully we'll see you next time.
Click here to go to the Bookstore1Sarasota website.