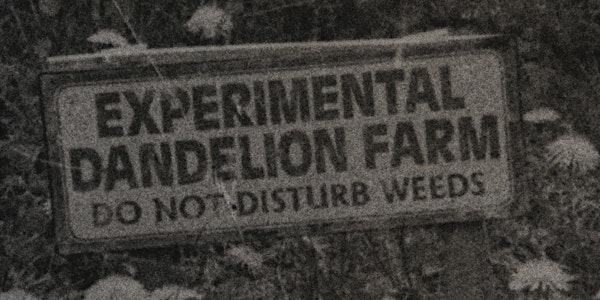 Short Film Program: Interspecies Love Song
When and where
Location
The New School Kellen Auditorium 66 5th Avenue New York, NY 10011
Description
Short Film Program / Imagine Science Film Festival
In the complex web of interactions that make up life on earth, communication across species lines is common and essential. Predator-prey and symbiotic relationships loom large, but there are also many less obvious variations on these themes. Humans form unlikely bonds with the animal kingdom, flowers deploy elaborate systems of semaphore to entice pollinators, and other species sense and interact with those around them by means we can only begin to imagine. This program is a love song to nature, to all that we are losing or have lost to extinction, and to the surprising ties existing between us all.
The film program will be followed by a panel discussion with filmmakers Anna Lindemann (Ant Sisters) and Jessica Beshir (Hairat), dolphin cognition and communication scientist Diana Reiss, and moderator Davida Smyth (Associate Professor of Biology at The New School).
Film line-up (TRT 78 min):
Attraction (Emily Scaife | 5 min | UK | 2017)
Urges in the undergrowth, erupting fungal fantasies, bursting botanicals; the dust and desires of a tiny alternative universe.
Hairat (Jessica Beshir | 7 min | Ethiopia / Mexico / USA | 2016)
Yussuf Mume Saleh journeys nightly into the outskirts of the walled city of Harar to bond with his beloved hyenas, a ritual he has practiced for over thirty-five years.
Ant Sisters (Anna Lindemann | 4 min | USA | 2018)
A woman takes inspiration from the social lives of ants in a letter to her own estranged sister, and discovers what it takes to survive as a collective.
Animal Behaviour (Alison Snowden & David Fine | 14 min | Canada | 2018)
Dealing with what comes naturally isn't easy, especially for animals.
Becoming (Jan van IJken | 6 min | Netherlands | 2017)
In great microscopic detail, we see the 'making of' an Alpine Newt in its transparent egg from the first cell division to hatching. A single cell is transformed into a complete, complex living organism with a beating heart and running bloodstream.
Out of Sight (Su Rynard | 7 min | Canada | 2018)
Ever wonder what the world might look like beyond the visible light spectrum?
Wolves from Above (Demelza Kooij | 6 min | Scotland | 2017)
It is evident that the wolves are communicating, but we as human viewers are not sure what is happening. The tranquil silence draws the spectator in and allows the viewer to discover a different wolf.
To Get in Touch With Crows (Rhona Muehlebach | 7 min | USA | 2016)
The presenter tries to engage with crows in the local park and finds herself unexpectedly emotional about the events unfolding.
The Tasmanian Tiger (Vergine Keaton | 13 min | France | 2018)
A Tasmanian tiger wanders around in his zoo enclosure. A glacier is slowly melting. Facing its predicted disappearance, nature exerts its fury, bursts over the frame and resists its extinction by transformation.
See Weeds (Dawn George | 3 min | Canada | 2017)
An examination of three weeds – coltsfoot, dandelion, and goldenrod and each weed's direct effects on film stock via hand-processing with eco-processing techniques.
De Natura (Lucile Hadzihalilovic | 6 min | Romania | 2017)
Water, earth, air, fire. And two children at the height of summer.