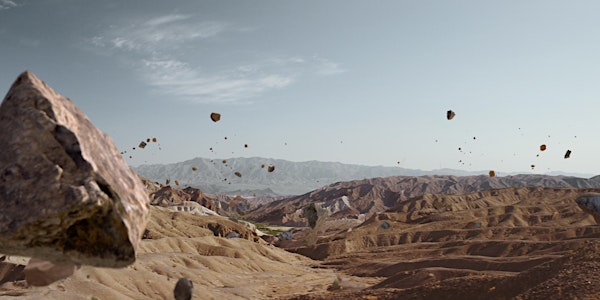 Short Film Program: Climate Flux
When and where
Location
The New School Kellen Auditorium 66 5th Avenue New York, NY 10011
Refund Policy
Contact the organizer to request a refund.
Description
Short Film Program / Imagine Science Film Festival
Melting ice caps, ocean acidification, drought, massive dust storms. What scientists have warned of for decades are now inescapable realities. Weather is changing rapidly, and with it, our lives. In considering the many factors most likely to shape human survival over the decades to come, climate change is inescapable and dire. This was the one program we absolutely had to have this year, even before we'd begun to receive all the essential films that make it up. A study of the global systems that, ever increasingly, map the future.

The film program will be followed by the panel discussion Translations: Approaching Scientific Issues Through Art with artist/filmmakers Cecelia Condit, Michelle Gevint, and Zahra Al-Mahdi, moderated by The New School's Elaine Savory.
Film line-up (TRT 83 min):
Santa Ana (César Pesquera | 8 min | Spain | 2017)
This devilish horror art-doc elucidates the mysterious link between evil and the infamous Santa Ana Winds through a collection of visual allegories and testimonials from denizens of the deserts.
Wind Should be Heard Not Seen (Claire Sanford | 13 min | Canada | 2018)
A lyrical journey through countries and cultures connected by an unlikely foe: dust. Originating in the deserts of Western China, gigantic dust clouds rise, engulfing everything in their path as they travel the world.
Imperial Valley (cultivated run-off) (Lukas Marxt | 14 min | Germany / Austria | 2018)
Corporate agricultural production interests successfully cultivate and exploit the Sonora desert through a gigantic irrigation system but the system is approaching ecological as well as economic disaster.
High and Dry: Cutting Fog for Science (Daniel & Rebecca Grossman | 3 min | USA2 | 2017)
The forests of Wayqecha, Peru rely on moisture from clouds to sustain themselves but climate change is moving that cloud layer higher every year. Plant ecologist Dan Metcalfe is in the midst of a bold experiment: by eliminating the cloud layer from a portion of the forest, he is attempting to see what exactly will happen as the cloud forest dries out.
Corals - Ancient Survivors (Louise Polain, Daniel Stoupin, & Pete West | 12 min | Australia | 2018)
Ancient, beautiful, fragile, vulnerable yet somewhat resilient, corals have inhabited out planet for hundreds of millions of years. Now groundbreaking cinematographic techniques expand the limits of our senses and perceptions to capture these animals from a new perspective.
Ice Alive (Eddie Frost | 20 min | UK | 2018)
Joseph Cook is taking a closer look at the microbial life that can be found all over the planet's glaciers and ice sheets. It is increasingly clear that this rich ecosystem affects the melt rates of polar ice and snow and could be accelerating climate change.
Pizzly Bear (Cecelia Condit | 4 min | USA | 2017)
Taking place in an imaginary toy landscape, "Pizzly Bear" is a very real story of the cross between a Grizzly and Polar Bear.
The Sweet Stench of Sulfur (Michelle Gevint | 9 min | USA | 2017)
Mythical and apocalyptic components merge into what seem like fragments of a dream, to examine human interaction with nature and how nature reclaims itself through natural disasters.