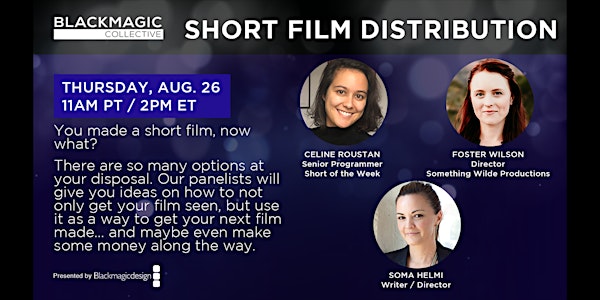 Short Film Distribution
Join us LIVE to find out all there is to know about Short Film Distribution! Stick around to get all your questions answered!
About this event
So, you made a short film, now what? Most filmmakers spend a hundred hours prepping, shooting, and editing their films only to just throw them up on YouTube and hope they get seen. There are so many more options at your disposal. Our panelists will give you ideas on how to not only get your film seen but use it as a way to get your next film made...and maybe even make some money along the way. 
We will be picking a winner for a seat of DaVinci Resolve Studio ($295 value) from our LIVE attendees, so make sure to join us! Must be a member to win (free to join).
To learn more about Blackmagic Collective and everything we offer and sign up visit BlackmagicCollective.com​
Presented by Blackmagic Design.
**
Guests:
Foster Wilson, Director (Something Wilde Productions)
Celine Roustan, Senior Programmer (Short of the Week)
Soma Helmi, Writer / Director
**
Bios:
Foster Wilson is an award-winning director, filmmaker, and Emergence Award Recipient. She earned her BFA at NYU's Tisch School of the Arts. Her comedy short film Made Public, starring Jeanine Mason and Josh Zuckerman, has screened at over 40 festivals around the globe, and garnered a dozen awards. Other notable films include: Waffles, Platypus, Mía, Love Scenes LLC, and DAME. Foster is an alumna of the Ryan Murphy HALF Initiative and the Alliance of Women Directors Short Film Initiative, co-founder of Something Wilde Productions, and member of the Los Angeles Women's Film Collective. She is a recipient of the 2020 SHIFT Creative Fund and the Panavision New Filmmaker Grant for her next film, 5 Stages of Grief. Rep: Verve and Fourth Wall Management.
**
Céline Roustan is the industry relations manager, development associate and a senior programmer of the popular website Short of the Week. She is also a programmer for the Palm Springs ShortFest and the Dublin International Film Festival, an associate programmer at SXSW, a prescreener at TIFF and a programming consultant for Quebec City's FCVQ. Recently, she started consulting on shorts release and sales strategy. She does find time to watch feature length films and serves as the Africa/Middle-East region programmer of the Palm Springs International Film Festival.
**
Soma Helmi, born to an Indonesian father and a Polish mother, a Bali native herself, began her career as an art director for J. Walter Thompson in Jakarta and later worked as a creative assistant for Catherine Hardwicke. Soma directed all 20 episodes of Season 3 of Snapchat's original series The Dead Girls Detective Agency, and her work has screened at Sundance, Outfest and Amazon's New Voices Film Festival, among many others. Named one of the "eight directors to watch" by the Alliance of Women Directors, she was a participant in Blackmagic Collective's Future Women of TV 2020 initiative before going on to create and become program director for Blackmagic's Breakthrough Initiative for BIPOC TV writers and directors.