Join us for a night at the drive-in! The Shoreline Short Short Film Festival is coming back for its 5th year.
About this Event
Spend your evening with ShoreLake Arts as they celebrate a very special night at Shorewood High School with filmmakers from all around Washington State. Attendees will have the option to vote for their favorite film to win the People's Choice Award to conclude the evening.
The Shoreline Short Short Film Festival aims to support emerging and developing filmmakers in Washington State. Entries are judged by an esteemed jury of local filmmakers and advocates.
Each ticket is for the entry of one car, and will come with a custom made goodie box.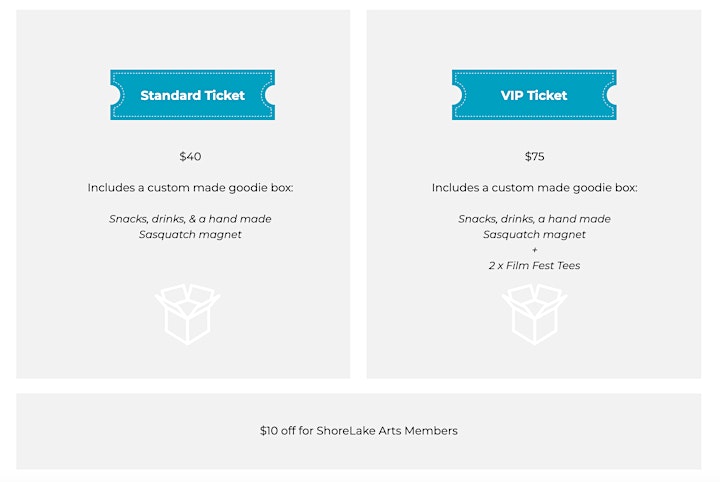 Extra Event Details
Arrival:​ Cars arrive 7-8pm (strict cutoff time). Introductions start at 8.15pm, films start playing at 8.30pm. Estimated finish time around 11pm. Please plan to stay throughout the entire event, as leaving in cars can be disruptive to those watching the films.
IMPORTANT: Wet weather: In the case of extreme rain or high winds, we have 2 backup dates reserved: #1 Sunday, April 25th or #2 Sunday, May 9th. Same start time. If you can't attend the backup date, we will provide a link for you to watch the movie at home in your own time.
Awards: You will have the chance to vote for People's Choice Award after the films finish, then after 5 minutes of voting, awards will be immediately announced, and prizes will be awarded to film makers at the event.
Parking: We park cars according to size (large in back and small in front).
Social distancing: You must stay at least 6 feet away from other people, and mask must be worn at all times.
Members receive $10 off their ticket price: Interested in becoming a ShoreLake Arts Member? Click here. Memberships are critical to providing access to the arts in our community.