About this Event
Please join us for an evening of catching up with old friends, and some of the people you never thought you'd see again (but it turns out weren't that bad after all).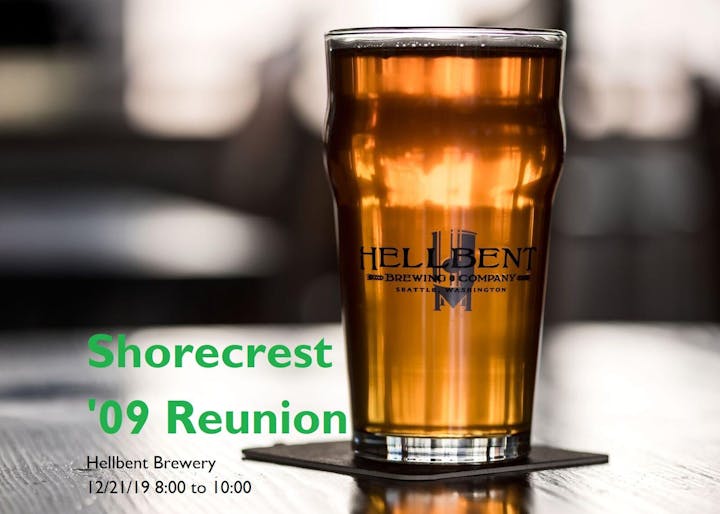 EVENT DETAILS
12/21/2019
8pm - 10pm
Hellbent Brewery, 13035 Lake City Way NE, Seattle, WA 98125
TICKETS
EARLY BIRD PRICING ON NOW - Save money by buying a ticket early, and help us pay for the space and drinks! - $15
DOOR TICKETS - $25
FAQ
Who is running this event?
Joanne Santomauro (Munekawa), Max Cho, Maddie Schlesinger, Jordan Hoefer, Allyssa Berger.
What is the event, anyway?
It's just a casual night where we've reserved some space at the Hellbent Brewery to meet up with all the people you haven't seen in a decade from Shorecrest Class of 2009.
Do I need to dress up?
This isn't a fancy event; only if you want to! No dress code. Please wear at least some clothes though, you know, for the rest of our sake.
What does my ticket get me?
Admittance to our reserved space, drink tickets (quantity TBD), and an ultra-posh high end premium name tag sticker (just kidding, we're picking that up at Staples) so that you don't have to pretend to remember people's names.
Can I bring additional guests?
You're welcome to buy tickets for one or two additional non-Shorecrest guests, or buy tickets on behalf of other Shorecrest classmates. If you have extenuating circumstances that are out of the ordinary, please be polite and contact max@maxcho.com to arrange that.
I didn't graduate from Shorecrest in '09, can I attend this?
Maybe. If you have a more complicated Shorecrest story (you didn't graduate but were in a similar class year, or transferred schools, or something more complex) please contact max@maxcho.com and discuss with him; we want to include everyone and we probably will find a way to get you in.
I have more questions!
Please contact max@maxcho.com to get your additional questions answered.