Description
Each year, hundreds of thousands of birds migrate to the San Francisco Bay estuary and stay for the winter. These include many species of shorebirds, including the willit, greater yellowlegs, long-billed curlew, least sandpiper, western sandpiper, and dunlin, which are commonly seen at Sears Point at this time of year. Join Sonoma Land Trust's docent bird guides for a walk along the tidal marshlands to observe these and many other bird species who utilize this rich habitat with its abundance of food.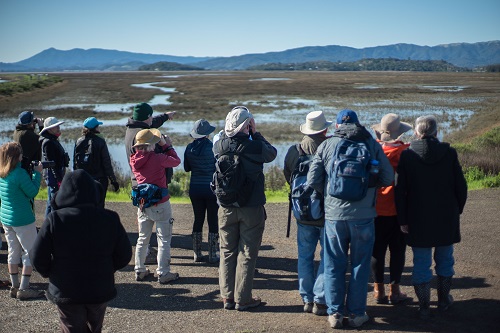 About the Baylands

The Sonoma Land Trust acquired its first Baylands property along Highway 37 in the mid 1980s. Other acquisitions followed, culminating in the purchase of the Dickson Ranch in 2004 and the North Point Joint Venture property in 2005. Together, these properties comprise the Sears Point Restoration Project integrating agriculture with a segment of the Bay Trail and large scale habitat and tidal wetlands restoration. Today the Land Trust owns or holds easements over most of the land on both sides of Highway 37 from the Petaluma River to Sears Point and Tolay Creek, excluding the Port Sonoma marina.
If you have any questions please contact us at outings@sonomalandtrust.org or (707) 526-6930 x 110.