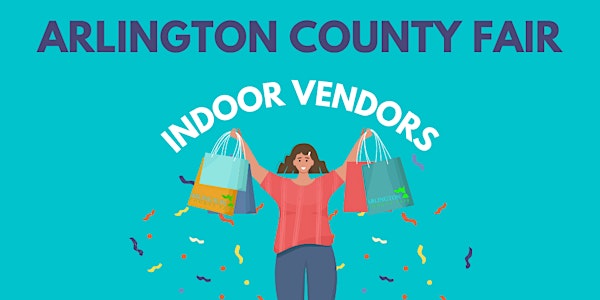 Shopping & Info at the Arlington County Fair
Did you know that the Arlington County Fair showcases local businesses and organizations?
When and where
Location
Thomas Jefferson Community & Fitness Center 3501 2nd Street South Arlington, VA 22204
About this event
Join us in the air conditioned gymnasium and stroll through our vendor aisles. Support local artists and engage with organizations and business owners. The Arlington County Fair brings you the BEST OF ARLINGTON!!
Participating Vendors (and more coming!)
Adopted Imaginations
Arlington Independent Media (AIM)
Amazing Greg's Lens Cleaner & Gifts
Amazing Thinzs
American Legion Post 194
Anna Elsa Design
Arlington Democrats
Arlington Families for Safe Streets
Arlington Historical Society
Arlington Weaves
Art by Zachary Sasim
Beansproutcreative
Bella's Vela & Aromas
Bicycling Realty
Boncuk Creations
Bradshaw Sauce Co
BSA Scouting in Arlington and McLean; Cubs, Girl and Boy Troops, and Teen Venturer Programs
Candles
Center for Employment Training
CM Bars LLC
Code Ninjas
Colibri Crafts
Collector's World
Comcast
Cutco
CVS/Aetna
Dazzling Art by MK
Denise Storck
District 27 Toastmasters
Divine Healing LLC
Dream Project
Edward Jones Co.
Edward Jones Investments
Elevate MD
Elite Orthodontics Nova
ENDependence Center of Northern Virginia, INC
Fit District
Friends of Arlington's David M. Brown Planetarium
Giffords
Giffords: Courage to Fight Gun Violence
Health Connect America, Inc
Heartland Foods
Hello Wellness
Holly Pulsifer
Icon Line Design
Ismega Designs
Jem's Jems Jewelry
Kheloney
Kitchen Saver
Laura's Raw Honey
Leaf Guard
Lee's Pride Pals
Legion of Mary
Lisa's Beauty Store
mandmsolis customs
Marva Collins Cottage School
Max's Mixtures Hand Poured Candles and Hand Crafted Soaps
Mobile Tranquility
Molasses Sunshine Studio Designs
Naturistic Shoe Design
Nectar of the Vine
Northern Virginia Softball Umpires Association
NOVA Plumbing and Drain Specials, LLC
NOVA Spine & Rehab Center
NOVALACIRO
Outdoor Lab
Paintings by Ryland
Palmercare Chiropractic
Paparazzi Accessories
Paparazzi Jewelry
Paris Love Jewelry
Prince William Home Improvement
REACH for Uganda
Read Early and Daily
Rocket Fizz Alexandria
Safi Home Health Care LLC
Sandra Lemus
Save the Children Action Network
Silklights LLC
Smart Energy Contracting
Solar Energy World
Specters Anonymous
Store Pera
Sustainable Mobility for Arlington County
Swade Woodworks
TCS Building
Terrabauble
The Arlingtones
The Water Bearers Cup
Theo for Arlington
Tobi's Play Kits
True Honey Teas
Veterinary Emergency Group
Washington Metro
Washington Mystics
Wax Hands
WTS International