Description
PLEASE BE ADVISED: if you have any problem making your purchase on this site, please go to our website where you can purchase your space....www.survivestrivethrive.org or call 484-524-3614
Also, all info with an * must be filled in on the checkout form or the form will not allow you to checkout. If the question does not apply to you, simply enter (N/A)
All FREE ADMISSION tickets are gone, gone, gone. EARLY BIRD Tickets are $10 for one day and $15 for both days UNTIL 10/25 when tickets increase to $20 for one day and $30 for both days
Children with parents are FREE....but its suggested that you come and enjoy yourself and make this a 'FOR ME' day....
If you have a promotional code, enter your code and then look for the ticket that correlates to that code...
Special guest appearance by WALLO 267
CALLING ALL DANCERS and DANCE GROUPS....whether you just want exposure or whether you want to dance to compete. We have two dance segments only one is a competition which Barbizon Chique will award FREE entry into their Annual Talent Competition to the winner of the Black Expo dance competition. This prize is worth ($1,000)
Vending for Saturday, Dec. 14th and two-day vending is SOLD OUT....Spaces available for Sunday, Dec. 15 only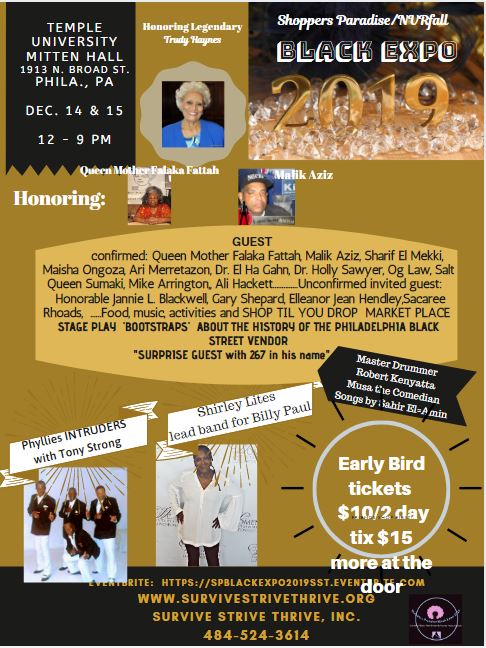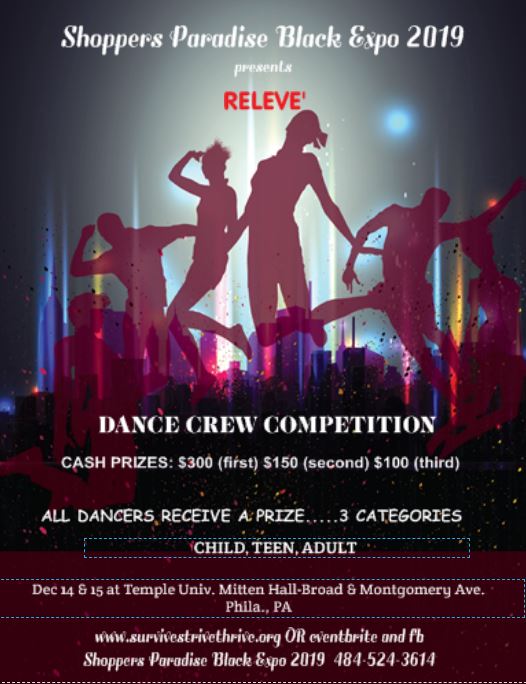 there's Something for Everyone at the SHOPPERS PARADISE BLACK EXPO 2019 hosted by Survive Strive Thrive, Inc and NVRFall Studios -- Sat. Dec. 14 & 15 from 12pm to 9pm JOIN US as we SALUTE Legendary Trudy Haynes one of the first black women of TV news
QUEEN MOTHER Falaka Fattah - Community Activist Malik Aziz and Queen Sister Sacaree Rhoads - SPECIAL Guest Speaker Sharif El-Mekki PERFORMANCE BY Phyllies own INTRUDERS with Tony Strong ....Surprise guest appearance by WALLO267
If you are a dance group, a fashion designer, speaker or Community Organization and you want to be a part of the Expo, there is still time….contact us immediately call 484-524-3614
________________________________________________________________________
Meet the Millennial owners and Designers of NVRFall Studios….boasting 11 thousand likes on Instagram their designs are off the chain.
Discover all the ins and outs of BIPOLAR DISORDER that is plaguing the African American family...Dr. Holly Sawyer, author of "Its Time……... toTalk About Trauma" will discuss this topic and answer your questions.
Small Business Meet & Greet and Networking Session...learn tricks of the trade and see how other businesses are surviving
Fashion Show with some of Phillys top Designers….whose who in the designing arena
Cancer Survivors Inspirational Meet & Greet and healing circle hosted by Dr. El Ha Gahn wholistic herbalist and expert in Natural Healing
International Marketplace of over 60 small businesses where you can SHOP TIL YOU DROP and for a small fee, get all your gifts wrapped.
TWO COMMUNITY FORUMS:
A forum on Reparations hosted by Ari Merretazon

"Whites/Blacks lets talk using Reparations to Heal" host TBA

A forum on Stopping the Violence "A tribute to Nipsey Hussle" co-hosted by Donald DeLarge Sr., OG Law, Malik Aziz
DANCE GROUP COMPETITION
The hottest dance group competition this side of the Delaware River….Competitions in 3 categories (child, teen, adult)
Stage Play about the history of Philadelphia Black Street Vendors ….see the 1st preview of this amazing play depicting a very important era in black economics "BOOTSTRAPS" is a must see play
All Day Pinnochle game and Chess games. And an indoor Eagles tailgate on Sunday
Word with Friends Tournament….Bring your 'A' game. Compete with 40 other word nerds for bragging rights
Soul Train Line Dance Party --
Community Speakers (NOI boots on the ground) --
Music
Awards Ceremony
We invite Community Organizations to join us in hosting this amazing event
Two days of power packed excitment and provocative activities