Description
Shop 'n' Swap
July 11, 6-9pm Lexus RiverCenter 633 W 3rd St, Covington, KY
RSVP: shopswap.eventbrite.com
Lots of clothes but nothing to wear? Enjoy a evening full of frugal fashion and fun! Event is free to attend and includes shopping, a clothing swap, fashion show styled by Brown Pearl LLC, drinks, sweet bites, DJ'ed music, giveaways, and complimentary makeovers! All attendees will receive a reusable tote bag filled with swag, and the first 50 attendees will receive a free movie screening pass!
Sponsors include: SugarSnap! Sweet Treats, Mary Kay by Sahara, All N 1 Studio Photography, BestResults360, Starks Enterprises, Younique with Tiffani Adams, Busom Buds, Silpada with Jane Klumb
To participate in swap, mail/deliver gently used, clean, fashionable women's clothing items to the Cincy Chic office at 463 Ohio Pike Suite 301 Cincinnati, OH 45255 by 5pm on July 7. Must include name, email address, and phone number with items. "Swap Bucks" will be assigned and provided to participants upon arrival based on the value of items submitted. So, the more you bring, the more you can swap! Questions? Call 513-721-2445. You do not need to submit items for the swap to attend event.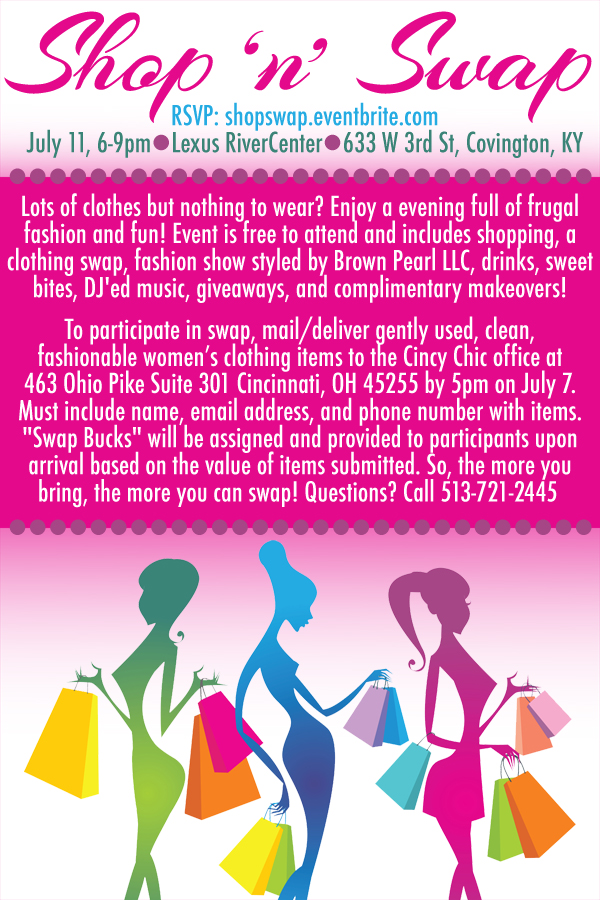 Organizer of Shop 'n' Swap
Cincy Chic is the only online lifestyle publication for women in the Greater Cincinnati area. Each week, this dynamic e-zine publishes a feature story, columns, and five editorial departments in the following topics: health, beauty, fashion, social and career. Events include fashion shows, lunch 'n' learns and philanthropic fundraisers.
This online-only publication was recently honored with "Best New Product or Service" and "Marketing to Women" WE Celebrate awards from the Cincinnati USA Regional Chamber of Commerce.