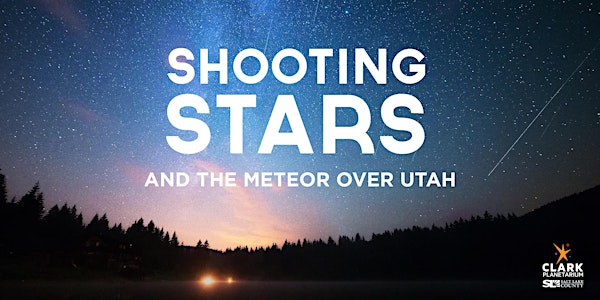 Shooting Stars and the Meteor Over Utah
On August 13, a boom was heard over the Salt Lake Valley. Join us as we learn more about the meteor that soared across the morning sky.
When and where
Location
Clark Planetarium 110 South 400 West Salt Lake City, UT 84101
About this event
What was that sound? On August 13, a loud boom was heard over the Salt Lake Valley. Within hours it was determined that the noise came from a meteor traveling through the sky. Meteors, sometimes called shooting stars, are pieces of dust and debris from space that burn up in Earth's atmosphere, where they can create bright streaks and, at times, loud booms.
Join us on Saturday, October 8 at 5 p.m. and learn about meteors and the meteor event that occurred over Utah in August. Dr. James Karner, Research Associate Professor of Geology & Geophysics at the University of Utah will teach us about these amazing "shooting stars" and will also be available to assist in identifying potential meteorite samples.
Come early and enjoy our on-site activities between 3 p.m. and 5 p.m.
Bio: Dr. Karner is a research associate professor in the Geology and Geophysics Department at the University of Utah and a member of the Clark Planetarium Advisory Board. He is also the co-principal investigator for the Antarctic Search for Meteorites (ANSMET) Program. The study of ANSMET meteorites has greatly extended our knowledge of the materials and conditions in the primeval nebula from which our solar system was born, revealed the complex and exotic geologic nature of asteroids, and proved that some specimens represent planetary materials.