In Houndstooth Cottage gallery space will be paintings, videos, photos, as well as artifacts from the making of the film Half Cocked.
About this event
ROOM 214
Clandestina is glad to collaborate with HoundsTooothCottage and host their curatorial project Shooting Blanks : The Art of Half-Cocked as part of the gallery's program for the first edition of TOGETHER.
Tony Kapel and Maitejosune Urrechaga curate a program that will include screenings of Half-Cocked, other Rumur films, and a slideshow + Q&A on Galinsky's photo book "Decline of Mall Civilization." In 1995, the Half-Cocked soundtrack was released on Matador Records. The cast included members of the bands: Rodan, The Sonora Pine, June of 44, Ruby Falls, LungFish, Slint, Nation of Ulysses, Shipping News, Boondoggle, The Grifters, Sleepyhead, Freakwater and Crain.
*Exhibiting artist Announcement*
Akeo Ihara / Allison Wolfe / Amy Davis / Andrew Bordwin / Barbara Johnson / Brian Lynch / Bob Fay / Cynthia Nelson / Catherine Irwin / David Pajo / Erin Smith / Gail O'Hara / Greg King / Ian Svenonius /Janet Beveridge Bean / Jason Noble / Jon Brumit / Jon Moritsugu / Jon Moses / Kevin Corrigan / Leslie Gomez-Gonzalez / Letha Rodman Melchior / Luis Collazos / Jeff Mueller / Jennifer Rogers-Anderson / Maitejosune Urrechaga / Michael Galinsky / Ron Liberti / Pat Graham / Sean Meadows / Suki Hawley /Tara Jane O'Neil / Tara Key / Theresa Kereakes / Tim Furnish / Tim Foljahn / Thom Snively
November 29- December 5, 2021
(hear what you see)
IN THE COMMON SPACE
SATURDAY Dec. 4, 2021
4 pm "The Decline of Mall Civilization"
Book slide show and Q&A
By: Michael Galinsky
6:30 pm "Half-Cocked"
Film Screening and Q&A
by: Suki Hawley & Michael Galinsky
followed by a walk to and viewing of the gallery space.
8:00 PM
HoundsToothCottage Lot Party: Into the PULP
with
Gown, BORRI, Rat Bastard, Nightly Closures, Pocket Of Lollipops, KC Jankem +more
*BYO*
PUBLIC HOURS
Tuesday, November 30 -
Saturday, Dec 4
11 am — 6 pm
Sunday, Dec 5
11 am — 5 pm
PRIVATE VIEW
Sunday, November 28
3pm — 5 pm
by invitation only
Monday, Nov 29
5pm PRESS PREVIEW
6pm VIP OPENING
8pm Opening Party
Sponsored by :
Puresalem Guitars
Homermade Custom Drums
Big Cypress Distillery
Clandestina Miami
Ron Liberti
www.houndstoothcottage.com
COVID GUIDELINES & ENTRY PROTOCOL
HTC/RNBB Art Fair is just a few weeks and we are more than excited to welcome you. Our highest priority remains the health and safety of its staff, exhibitors, and visitors. To make our fair a safe event for everyone, we are suggesting mask indoor wether vaccinated or unvaccinated.
TRAVELCHECK
We recommend you verify the travel rules and regulations that apply to you.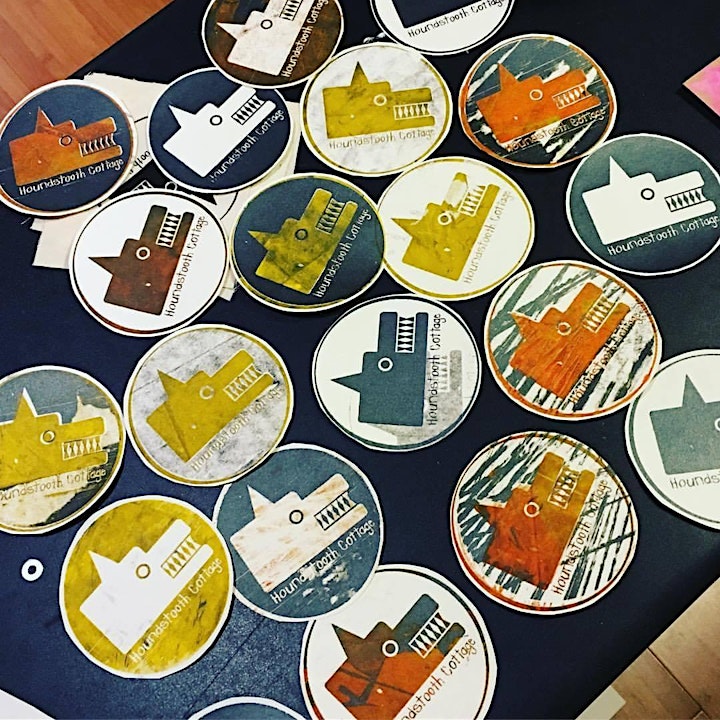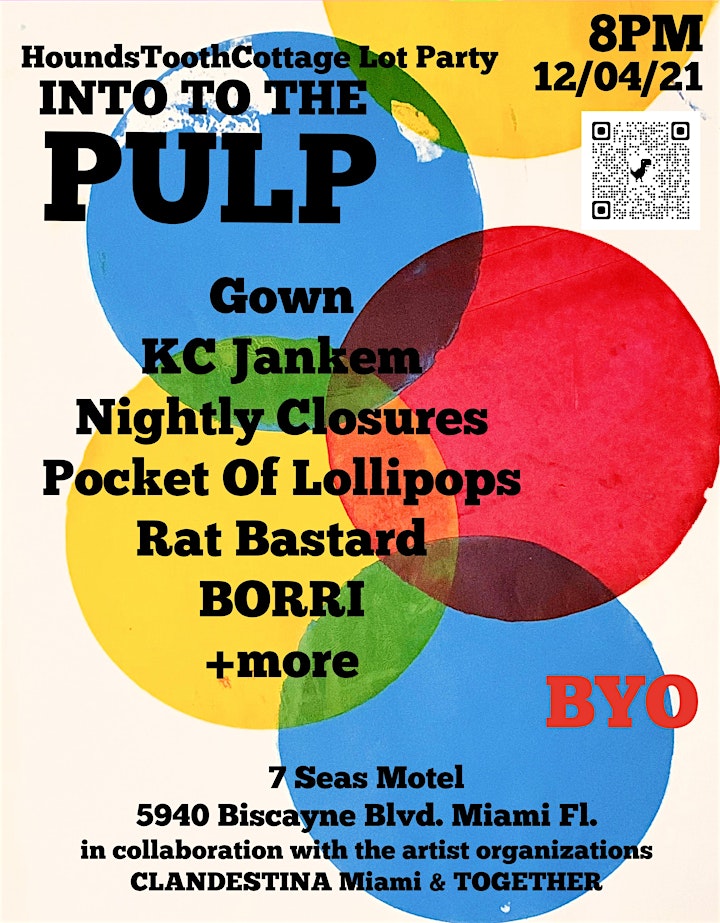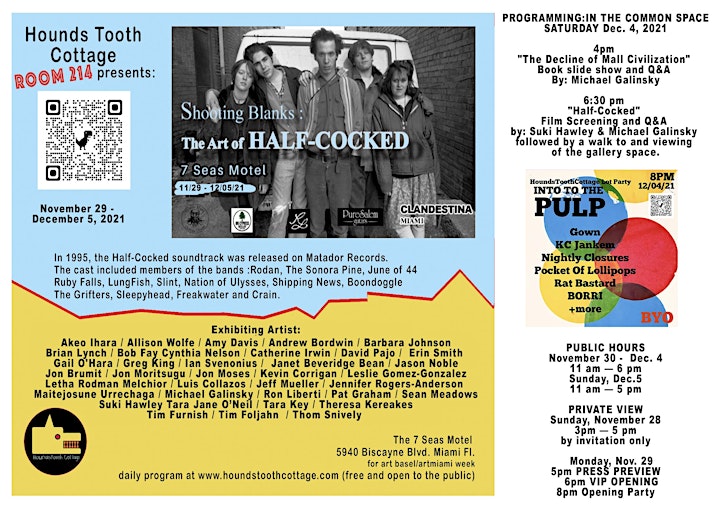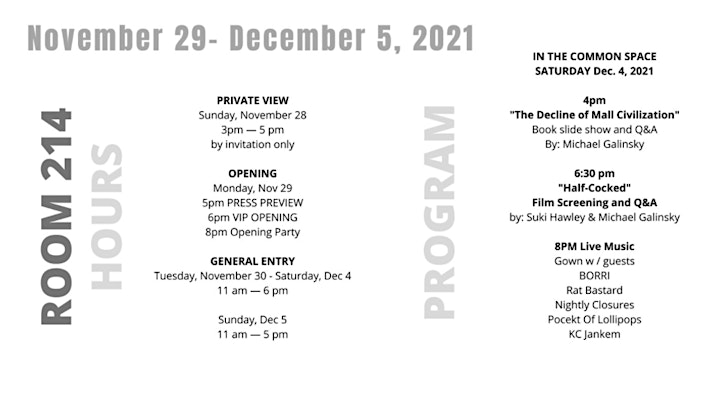 Organizer of Shooting Blanks : The Art of Half-Cocked