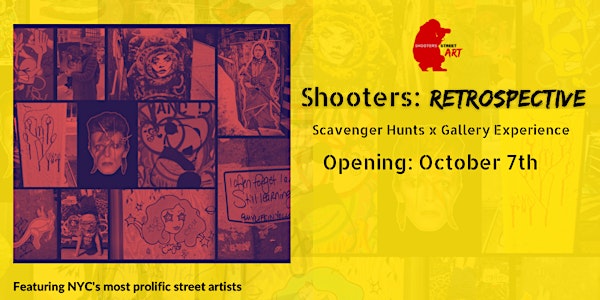 Shooters: Retrospective: Art Show & Scavenger Hunts
Celebrating 3 years, Gallery show x Scavenger Hunts x Artist & Photographer Talks. NYC's most active artists all in one show.
When and where
Location
One Art Space 23 Warren Street New York, NY 10007
About this event
www.shootersstreetart.com
3 Day immersive art experience commemorating NYC's Street Art Scavenger Hunt
Confirmed Artists : Sac Six, Sinclair The Vandal, Dylan Egon, Clockwork Cros, Isabelle Ewing, 0h10 M1ke, The Postman Collective, Uncuttart, Lecrue Eyebrows, Early Riser, Androi Oi, Billy Barnacles, Marzipan Physics, My life in Yellow, Konstance Patton, SteelFistVelvetGlove, Raddington Falls, Miyok Madness ...
Featured Hunts: Fire Flower & Stickermaul
Feature photographers: Ana Candelaria, Street Art Desire, Photomaul, Joe Evokes, Cats Coffee Creativity, Ollie Anders, Je De Valle, Katie Godowski
Created as a means to activate the street art community and encourage gatherings outside of traditional settings, the Hunt has become a huge success. In celebration of three years in action we are thrilled to announce "Shooters Hunt: Retrospective", a gallery show and activation series celebrating the hunt experience, our community and our journey so far.
Shooters Hunt: Retrospective - Friday - Sunday Oct 7-9 Gallery
Street Art Scavenger Hunts - Outdoors - Scavenger Hunt (Sat/Sun) (2 Grand Prizes)
Framed/Canvas photos prints
Multimedia presentation featuring photos & videos from past events
Limited Edition Collaborative Merch
Established in 2019, Shooters Street Art is a lifestyle media brand that fosters the relationships between street art enthusiasts and artists. Shooters has been producing Shooters:Hunt, a street art scavenger hunt for three years.
Exploring NYC's diverse neighborhoods, from the Lower East Side to Brooklyn, hunters search for new works of art, racing to win their very own original art prizes!
___ Charity
Verses Project - www.versesproject.org - Named after NYC Hip Hop Artist Vice Verses. The fund provides quarterly grants to artists in need. The organizational goal is to provide artist direct grants towards active projects to help them complete their goals. A portion of the funds raised will be used to provide the following awards:
1 Photographer Grant
1 Visual Artist Grant