Description
Register before December 12th and we can mail your Zoo admission and parking tickets.
Tickets can also be picked up at store. Registrations after December 12th must pick up tickets in store.
Contact learn@mpex.com to arrange mailing or pick-up.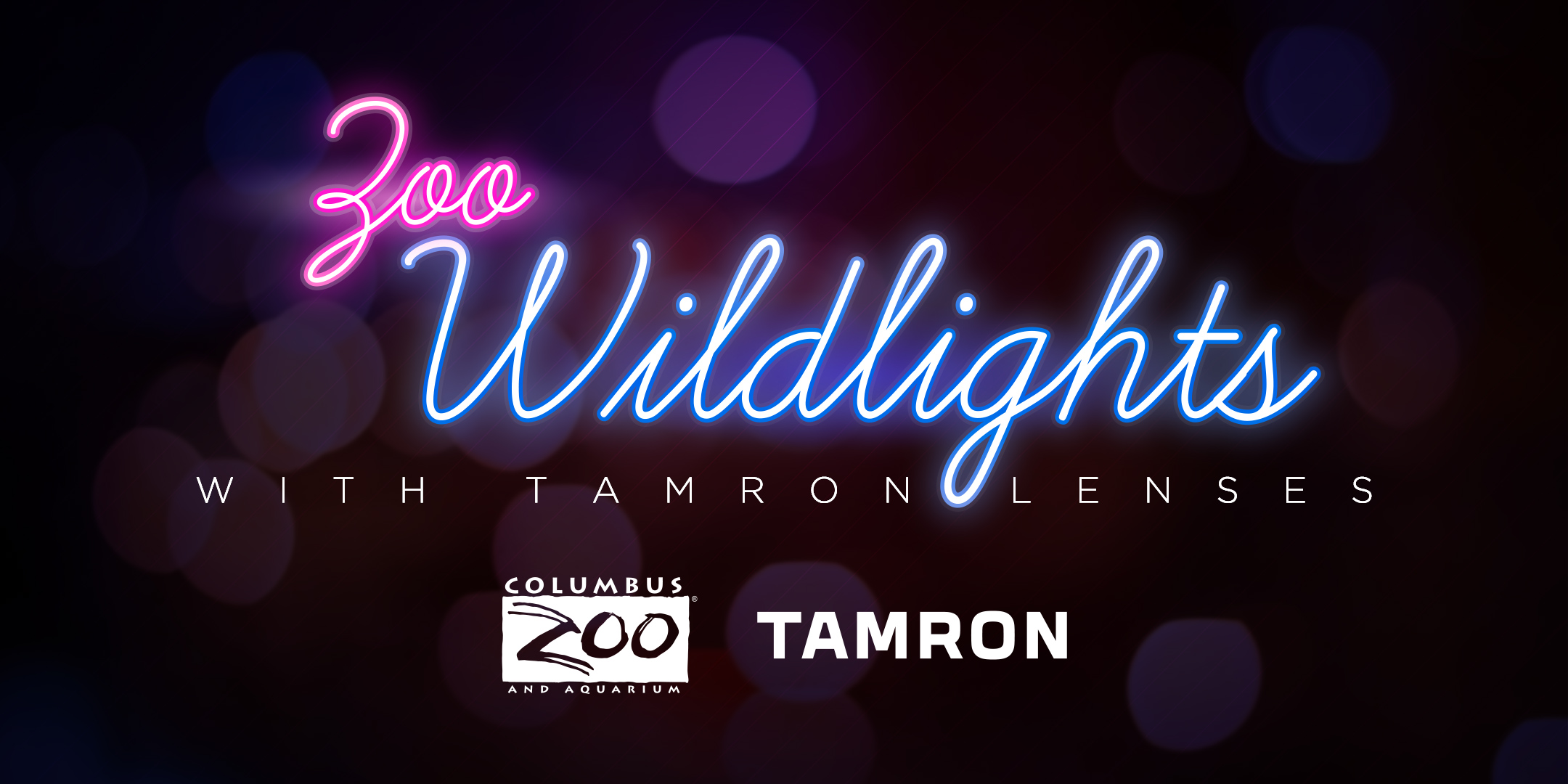 Participants in the "Shoot the WILDLIGHTS" event will have the opportunity to try out a variety of superb Tamron lenses in Canon, Nikon and Sony mounts! We will have a private room that we can use between the hours of 6pm and 8pm to rent complimentary Tamron lenses, grab a cup of Hot Cocoa and warm up for a minute!
Some guidelines for the class and walk:
Photography

Anyone can take photos and video at the Columbus Zoo and Aquarium, including Zoombezi Bay, for private, personal use only. Taking photos or video for commercial purposes, including for stock images, commercial products and other commercial purposes is prohibited. See our Location Filming Policy for additional information.

If your photos are for noncommercial purposes (including student projects), you may come to the Zoo as a regular Zoo visitor (admission costs will apply; please see website for current hours and prices) and take your photos provided all the following apply:

1. Photos cannot be sold or published
2. No tripods or monopods are permitted to block visitor walkways
3. Selfie sticks may be used but cannot cross zoo barriers or negatively impact other guests
4. Plugging into Zoo electrical outlets is strictly prohibited
5. The party is not permitted to stop Zoo traffic in order to take the photos
6. The party is not permitted to disrupt Zoo visitors, staff or the animals in any way
7. For the comfort of the animals and visitors, please NO Flash photography indoors
8. No special assistance shall be given (e.g., golf carts, security, etc)
9. Guests not adhering to these policies may be asked to leave the premises

The creation of photos or video for commercial purposes, including stock imagery, commercial products, portraiture (including engagement photos and graduation photos*) and other commercial purposes is prohibited. See our Location Filming Policy for additional information.

On occasion the Columbus Zoo will photograph or film visitors for the Zoo's educational or promotional use. Guest entry to the Columbus Zoo, Zoombezi Bay or Safari Golf Course grants the Zoo permission for use of these images.

Columbus Zoo and Aquarium frequently visits stock photography websites and other wildlife photography sources. If an animal or location is recognized as being the property of Columbus Zoo and Aquarium and the photographer did not have written permission from the Zoo's Community Relations department, Columbus Zoo and Aquarium reserves the right to contact both the photographer and the company representing the photographer to seek reparations.

The Columbus Zoo reserves the right to approach photographers/videographers in the park about their work. If the appropriate permission has not been granted, they will be asked to return their equipment to their vehicle before enjoying the rest of their visit at Columbus Zoo and Aquarium.

*The Zoo appreciates our guests desire for these types of photos, but due to the negative impact on the visitor experience and the staff time involved in fulfilling all of these requests, we cannot at this time accommodate these requests.

Drones are prohibited and the use of such devices requires prior written approval from Columbus Zoo Senior Team.
FAQs
What are my parking options at the event?
Parking is included in ticket price, so no worries there!!! A parking pass will be provided with each ticket purchased through this page!
What can/can't I bring to the event?
Please no tripods or monopods allowed at this event for the safety of others! Be sure to bring your favorite camera and dress warm!