Description
Join us for the first event in the 2019 Shoobx Startup Series! We're pleased to present another great series of events featuring real life stories from startup founders, investors, and community members.
On April 9th, we'll discuss "Startup Snafus: Avoiding Common Founder Mistakes." Hear experienced voices in the innovation ecosystem talk about founder fails. Our panelists have firsthand stories in areas ranging from growing a team, to dealing with legal documents, to fundraising, and beyond. They will share their insights so that you can keep your own company on the road to success!
Our panel will feature the diverse perspectives of entrepreneurs, attorneys, and startup mentors, including:
Erica Rice, Foley Hoag - Erica Rice is a Partner in the Business Department at Foley Hoag, where her practice is focused on representing buyers and sellers in mergers and acquisitions and other strategic transactions, as well as counseling early and mid-stage companies regarding entity formation, founder's arrangements, financings, licensing agreements, exit strategies and general corporate governance.

Christian Magel, Venture Lane - Christian Magel is the founder of Venture Lane, a hub for early stage tech startups in the heart of Boston. He is an international startup veteran, coach and advisor, business angel and expert for go-to-market strategies, communication and international rollout.
The discussion will be moderated by Lynne Zagami, Head of Customer Success at Shoobx.
Sponsored by: Wolf & Company, P.C.
Wolf & Company is the largest regional accounting firm in Massachusetts. Based in the heart of the Innovation District of Boston, the firm has a significant focus on working with technology related startups. The firm takes a holistic view of developing relationships with entrepreneurs, which include: discussing tax planning strategies and incentives, providing guidance and advice as companies start fund-raising efforts, making introductions to people in their network who can help you take your company to the next level and providing accounting, tax and risk management services as you grow.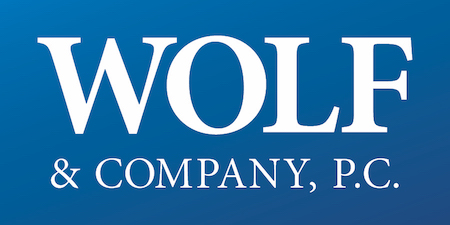 Hosted by: WeWork

WeWork is a global network of workspaces where companies grow together. Teams of any size can find refreshingly designed collaborative space, private offices, and meeting rooms that energize their employees and their guests. But WeWork is so much more than four walls—providing community, amenities, events, and technology to evolve space into experience.