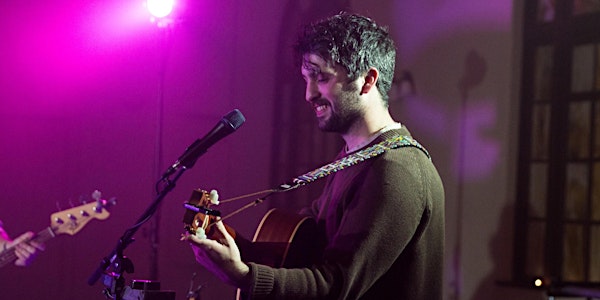 Shoecraft, Among Authors, Tom West @ FREMONT ABBEY
Sessions in Place presents: Shoecraft, Among Authors, Tom West
When and where
Location
Fremont Abbey Arts Center 4272 Fremont Avenue North Seattle, WA 98103
Refund Policy
Refunds up to 7 days before event
About this event
This is a live studio experience. Upon buying this ticket, you accept the possibility that you might be on camera
---------------------------------------------------
See Updated Public Health Safety Info at the bottom of this page under Abbey Arts Presents
Thanks for helping keep our community safe!
---------------------------------------------------
Shoecraft has patiently carved out a unique sonic identity and is fueled by a passion to contribute to the rich lineage of artists hailing from the Pacific Northwest.
Their early recordings gently piece together sparse acoustic instrumentation, clearly derivative of their vulnerable beginnings, inspired by the likes of Sufjan Stevens, The Innocence Mission, Andy Hull, and S. Carey.
A lyrically intriguing and musically emotional indie art rock band from Seattle Washington, Among Authors is fronted by singer and keyboardist Ian Ketterer. After undergoing open-heart surgery at the age of 23, Ian, with a new lease on life, relocated the band from Wisconsin to Seattle, WA to greater push their music career.
Among Authors has always been completely independent in all forms of the word. Their debut full-length album "I AM BECOME" was recorded over a 4-year span in the band's basement. All songs were self-written, produced, engineered, mixed and mastered. The album originally released on April 6th, 2017, and received a limited edition 180-gram Vinyl release in December later that same year. The debut album features the single "Imitation House" and great artists like Andrew Joslyn (Tom Chaplin, Macklemore, Ayron Jones) along with many friends and family lending their talents.
Since the release of the album Among Authors has received critical acclaim for both their recordings and poignant live performances. Bob Boilen of NPR Music (Founder of NPR Tiny Desk) recently said: "…a stunning set of songs lead by singer Ian Ketterer filled with heart, fury and some of the best rock-based music we've seen on this tour." While listing "I AM BECOME' as one of the best albums of 2017, Steven Graham from 107.7 wrote:"From my first listen to their single 'Imitation House' I fell in love with these dudes and their Explosions In The Sky vibes. This album from Among Authors really doesn't sound like anything else happening in Seattle right now." On August 24th, 2018 Among Authors performed Live on KEXP for the first time. This performance has been seen around the world, amplifying their trajectory.
Among Authors is wasting no time, and are now back in the studio working on their eagerly awaited sophomore album.
Tom West is a singer-songwriter with a distinctive, androgynous vocal style and propensity to write catchy, tender folk songs often embellished with ambitious arrangements and cinematic flair.
Following a covid enforced touring hiatus during which he returned to Australia through most of 2020 & 2021, West will be returning to the road less travelled: with tour dates in November set to celebrate his releases over the previous few tumultuous years.
His 2020 album 'Antarctica' was written during a period after his father died from Motor Neurone Disease and released, with the generous support of his community of fans via Kickstarter, during Covid isolation after his album tour was cancelled. Produced by Allen Tate (San Fermin) in Brooklyn, NY it features a collection of songs that have proven to enthrall audiences around the word with West's forthcoming style and honestly behind his storytelling and music.
ABOUT SESSIONS IN PLACE:
If you enjoy what Sessions In Place is creating, please consider a monthly donation at patreon.com/sessionsinplace to assist in making the live streams continue to happen.
Sessions in Place is a live-streamed, socially-distanced concert series based out of the Seattle area. We believe that #MusicIsEssential, and that now is a great time to enjoy live music at a distance.
This broadcast is taking all necessary precautions to help prevent the spread of COVID-19. Crew members are maintaining appropriate distance between one another and are wearing face coverings.
Note: Your email will be shared with Sessions in Place for marketing purposes only and will not be sold. You may also be added to the Abbey Arts email list which has an easy single click opt-out option.
@ Fremont Abbey Arts Center
7p doors, 7:30p show
All ages, some seating available, bar w/ID
ABBEY ARTS EVENT INFO:
Check tickets for show time
Fremont Abbey is ADA accessible on either level.
We have a mix of normal chairs, some tall chairs, and standing room in back.
Seating is not reserved unless noted.
Please refrain from talking or texting during the show.
No video from the seating area please.
Please limit photos during the show so as to not distract other attendees from the experience.
We are an all ages venue. Kids 10 & under are free at Abbey Arts concerts & arts events unless noted.
Entering the venue indicates agreement to adhere to the Abbey Respect Policy. All are welcome.
ABBEY ARTS, SEATTLE | NONPROFIT 501C3, NON-RELIGIOUS, EST. 2005
Presenting welcoming music, arts & cultural experiences for people of all ages & incomes.
Home Venue: Fremont Abbey, 4272 Fremont Ave North, Seattle, WA 98103 / 206-414-8325
Note: All ticket sales are final unless noted. Lineup and performers are subject to change, no refunds for change of support acts.