Shoda Memorial Public Lecture
Description
The Shoda Memorial Lecture series is organised by the Aerospace Sciences Divison in the School of Engineering, University of Glasgow. The upcoming lecture on "Wonders of the Jet Engine - The Science and Art behind Turbo-Jet design" will be delivered by Dr. Shahrokh Shahpar (Rolls-Royce) on 4th June, 6-7pm in the Sir Charles Wilson Building, University of Glasgow. Doors will open at 5:30pm and refreshments will be served before the lecture.
Wonders of the Jet Engine - The Science and Art behind Turbo-Jet design.
This Lecture delivers a basic introduction to the Turbo-Jet Engine and about what makes it challenging to design and optimise. Examples are taken from various current, modern Rolls-Royce jet engines components as well as some future concepts. The lecture will also provide some historical perspective of Rolls-Royce Engines from early days of piston engine into the jet-age of Airlines today.
Speaker Biography:
Dr. Shahrokh Shahpar is a Rolls-Royce Associate Fellow in Aerothermal Design Systems and the manger of the 3DGEMO team which is part of the CFD Methods within the Rolls-Royce DSE (Design System Engineering) for over 15 years. He focuses on producing design systems and associated optimisation tools for aero-engine components. He has a national and international reputation in the field of CFD meshing and automatic aerothermal design optimisation of turbomachinery components and systems, publishing more than 110 internal and external technical papers and hold eight patents. His current research is on uncertainty quantification and robust design. From 2018 he has moved to the Rolls-Royce Innovation Hub, Future Methods division of central technology where he focuses on development and application of Adjoint based MDO technique for turbo-machinery components.
Shahrokh has a first class honours degree and PhD on Hypersonics Flows including Real Gas Effects from Manchester University. He is a Fellow of the RAeS (Royal Aeronautical Society), Associate Fellow of AIAA (American Institute of Aeronautics and Astronautics). Appointed Visiting Professor at Imperial College Aerospace Engineering department and also the Institute of Engineering System & Design, Faculty of Engineering Leeds University, since July 2010. Associate Editor of the Royal Aeronautical Engineering Journal (Aerospace) since 2005. Shahrokh has also been a previous winner of the team and individual entry for Sir Henry Royce Award for Technical Innovation in the year 2002, 2006, and also 2018.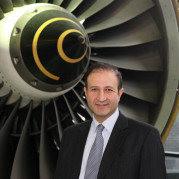 History of Shoda Lecture:
The University of Glasgow has had a long association with Japan that started in 1873 when the University played a most important role in the establishment of the Imperial College of Engineering in Tokyo. This resulted in many Japanses students travelling to study at Glasgow. Among these was on Tiasio Shoda who arrived in Glasgow in 1911 at the age of nineteen. He studies shipbuilding engineering at the University and graduated with a BSc in 1916 and therafter became an apprentice at Dunmuir & Jackson for one year before returning to Japan and entering the Kobe Shipyard of Mitsubishi. Later he manufactured the Japanese best able fighter, the Zero, and was involved in its mass production during the Second World War. He wont on to a most distinguished career becoming Vice-President of Mitsubishi Industries. In 1988 he returned to Glasgow at the age of ninety-six to receive an Honorary degree of Doctor of Science. In 1997 the Shoda Chair (together with an annual lecture) was established. At his request, fund-raising took place in Japan to establish the Shoda endowment. Fund-raising was spearheaded by his son A Y Shoda and, in Scotland, by Professor Hugh Sutherland. In 1977 the Principal of the University of Glasgow, Sir Kerr Fraser, established the Chair and designated Professor Galbraith as the first holder.