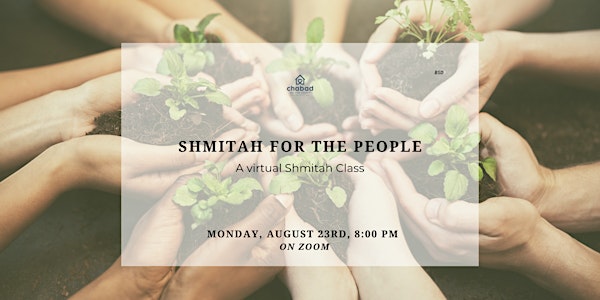 Shmitah For the People
Join us as we explore the Laws of Shmitah in this real learning for real life crash course!
Refund Policy
Contact the organizer to request a refund.
About this event
You're invited to join us for a fascinating class where we'll discuss the significance behind the laws of Shmitah and its practicality in our daily lives.
Did you know? This year we begin the Shmita cycle and enter a 'sabbatical' for all agriculture in Israel.
What: What is Shmita all about?
When: Monday, August 23rd, at 8:00 PM
Where: In your own homes (Zoom in)
Guest Rabbi Daniel Grabsky will explore and clarify in detail the laws of Shmitah in this 60-minute Crash Course!
Rabbi Daniel Grabski was born in Belgium and has lived in Israel for the last 30 years. In the last 15 years, he has settled in Jerusalem. He has been teaching and practicing Rabbanous for more than 20 years.
We hope to see you there!
Rabbi Eli and Sarah Naiditch