Description
I am co-facilitating this awesome yoga & wellness experience with Elika Aird and Malaika Omawale.
SIGN UP NOW as there is LIMITED SPACE and this workshop WILL SELL OUT!

"Shiva/Shakti Rhythm for the Spring Equinox"
A Playful Yoga,Dance and Meditation Practice to Create Balance as the Season Shifts

Saturday,MARCH 30th, 2013
1-3pm
NIROGA
1808 University Ave
Berkeley, CA 94703
THE EVENT DETAILS:
March 20th 2013 marks the Spring Equinox!

Colds, Sinus Congestion and emotional dullness are common signals and indications in the body that inform us that the seasons are changing. We can also feel emotionally stagnant during late Winter, making the transition to Spring challenging. According to Ayurveda, disease can only take root in the body in-between seasons. So it is advised to cleanse and renew the body and mind before the change of seasons. Making sure to move the body through yoga and dance will invigorate the body and generate warmth to reduce phlegm/mucous and lift our Spirits!
Come join us as celebrate Spring while exploring the dance of Shiva/Shakti (Divine Masculine/Feminine) through the practices of:
-Mantra
-Pranayama
-Asana
-Dance
-Meditation
When you balance Shiva/Shakti energy you can tap into boundless energy and potential that will spark creativity, abundance, strength and success in ALL facets of your life.
We are excited to share this integrative practice to awaken the Goddess within us ALL! The Time is now, SIGN UP NOW as this workshop has LIMITED SPACE and WILL SELL OUT!!!
INVESTMENT:

EARLY ACTION INVESTMENT- $30 before 3/29/13 ( includes a BONUS! a free holistic health consutlation)

GENERAL INVESTMENT- $40 at the door
ABOUT THE PRESENTERS:
Elika Aird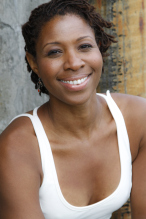 As a lifelong dancer, Elika was naturally inclined toward the fluid practice of Vinyasa, but has also been influenced by the alignment principles of Anusara and Iyengar traditions. Her classes range from restorative and insightful ~ to a flowing dance that strengthens the body and enlivens the soul. After completing a 200-hr certification at Peachtree Yoga Center, she began studying with Shiva Rea and has completed a 500-hr Prana Flow Certification with Shiva Rea. Elika is trained in the mindfulness based Whole Birth© Yoga system, complemented by her training as a DONA Int'l Birth Doula. Along her path she has been inspired by many gurus including Gurmukh Kaur Khalsa, Erich Schiffman, Giselle Mari and Michelene Berry. Elika is passionate about bringing holistic practices to men and women everywhere – incorporating the principles of Ayurveda and Pranic Energy Healing into her classes and workshops. After years of working in the corporate world and teaching at CNN and Coke in Atlanta, Elika continues to help professionals find work-life balance, teaching yoga and meditation in various studios throughout the Bay Area as well as at Google and Stanford University.
Malaika Omawale

Malika began practicing yoga in 2005 while living in San Francisco, California. During the first 6 years of her yoga practice, she studied under excellent teachers from various traditions. The styles of yoga include but are not limited to Anusara, Forest Yoga, Raja and integral yoga, ashtanga and vinyasa yoga. These diverse yoga influences mirror her life experience of having lived in different countries around the world. The result is a colorful fusion of yoga styles that can be experienced in her classes. In 2008, she earned a yoga teacher certificate through Niroga Institute. She is eternally grateful to all her teachers and to the practice itself for bringing her home time after time. As a lifelong dancer and teacher, yoga has been an enhancing compliment to her classes and to her life in general. Yoga has been an instrumental tool in her growth as a person and has been a guide in her journey towards healthy lifestyle education. She truly enjoys sharing the benefits and tools that yoga provides with people who are open to this transformative practice.