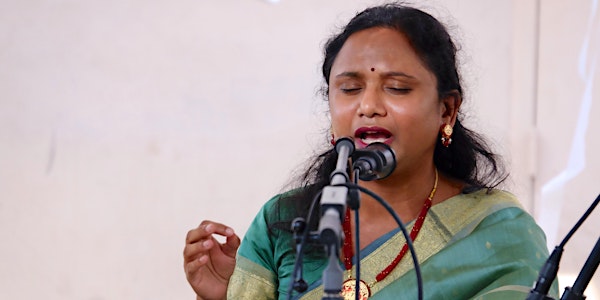 "Shiva Ratri" w/ Kamini Natarajan
"Shiva Ratri" w/ Kamini Natarajan
When and where
Location
First Congregational Church of Los Angeles 540 South Commonwealth Avenue Los Angeles, CA 90020
About this event
On the auspicious occasion of Shiva Ratri, the night of Shiva, let us celebrate life. It is a celebration of Shiva- the blue colored Hindu God depicted with a serpent around his neck. Shiva is the Param Yogi- the meditator with matted hair, with third eye, a crescent moon on his head, a small hand drum "Damru" in one hand and a trident "Trishul" in another. He is considered the destroyer of ego, evil and negative thoughts.
As our world stands today, let us take this day to meditate upon our lives and lives of others we share our planet with. Let us meditate on the special blessing called life and how we can come together, stand together with those in need of our support.
Om Namaha Shivaya
Interested in this event? Don't miss Kamini give a talk at the PRS about Shiva Ratri. More info available here. Saturday, Feb. 4 at 4:00 pm.
Artist Bio
Kamini is a Indian Classical Hindustani Vocalist based in Los Angeles area. She likes to incorporate various global sounds into her music. She truly believe that music unites and brings us closer.
Kamini's music flows from the spirit within. Through inspiration she weaves the intricacies of Eastern melody and rhythm with western harmony. Her journey of music was initiated by her mother Uma Natarajan , who is a trained Carnatic and Hindustani Indian Classical vocalist. Kamini spent over a decade to learn Indian classical music and won several national level awards in various competitions. She graduated in Vocal Hindustani music from Khairagarh University- India. Kamini is one of the youngest graded singers from All India Radio (national radio station of India) and Doordarshan( National TV channel of India).
She has performed at various venues in India and USA. Kamini's versatility and deep knowledge in music allows her to easily sing and improvise over wide genres of music. She has collaborated with musicians of various music genres- from Rock to Persian ! Kamini's music is spiritual and soulful, her rendition of Ragas creative and free flowing.