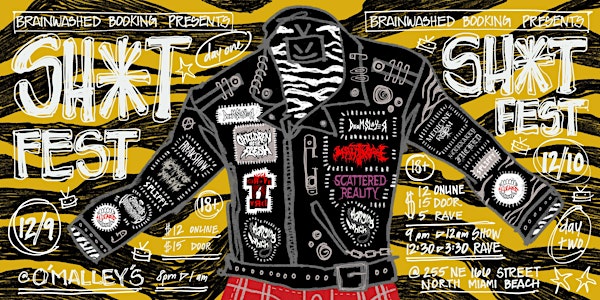 SHiTFEST: DAY ONE
BRAiNWASHED BOOKiNG presents... SHiTFEST; TWO-DAY SOFL DiY FEST FEATURiNG TWO STACKED LiNEUPS OF BANDS, RAPPERS, DJ's, VENDORS, + MORE!
When and where
Location
O'MALLEY'S 1388 FL-7 MARGATE, FL 33063
Refund Policy
Contact the organizer to request a refund.
Eventbrite's fee is nonrefundable.
About this event
BRAiNWASHED BOOKiNG presents...
SHiTFEST; A TWO DAY SOFL DiY FEST WiTH DAY ONE @ O'MALLEY'S iN MARGATE & DAY TWO @ THE WAREHOUSE iN NORTH MiAMi BEACH FEATURiNG TWO LOADED ROSTERS OF ARTiSTS, BANDS & VENDORS HEADLiNED BY CHiLDREN OF THE FLESH, NGY, DOOMSLAYER, HANGiNG WHiCH, CORNER OF YOUR EYE, CASTRATiON UNDER THE MATRiARCHY, SPLiFFY & MORE!
DOORS @ 8PM, STARTS @ 9.
ONE & TWO DAY TiCKETS CAN BE PURCHASED HERE OR FOR $15 AT THE DOOR.
FOOD, SNACKS, & DRiNKS WiLL BE AVAiLABLE FOR SALE!
LOT & STREET PARKiNG iS AVAiLABLE NEARBY FOR THOSE WHO ARE DRiViNG.
RULES/SAFETY REGULATiONS:
- THiS iS AN 18+ EVENT! BRiNG iD, WE WiLL CHECK AT THE DOOR! PLEASE BE ADViSED, THERE WiLL BE A BLACKLIST.
- NO WEAPONS, SECURiTY ON SiTE.
- NO RACiSM, SEXiSM, QUEERPHOBiA, BiGOTRY, HARASSMENT, OR OTHER FORMS OF FUCKSHiT WiLL BE TOLERATED. YOU WiLL BE BLACKLiSTED & KiCKED OUT WiTH NO REFUND, DON'T TRY ME.
- WE RESERVE THE RiGHT TO TURN YOU AWAY AT THE DOOR WiTHOUT REFUND & WiTH NO REQUiRED EXPLANATiON iF YOU ARE BLACKLiSTED.
- ANYONE WHO DOES NOT COMPLY WiTH THESE RULES & REGULATiONS WiLL BE FORCiBLY ESCORTED FROM THE PREMESiS & HANDLED ACCORDiNGLY.
REFUNDS ARE ON A CASE BY CASE BASiS.
DM @THE.DOOMSLAYER ON iG iF YOU HAVE ANY QUESTiONS, COMMENTS, CONCERNS, OR iSSUES!